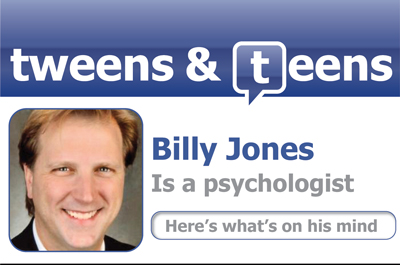 Suffering is part of the human condition and it comes to us all. The key is how we react to it, either turning away from God in anger and bitterness or growing closer to Him in trust and confidence.  ~ Billy Graham
Most often, this blog discusses issues facing parents with Tweens and Teens; however, this month, I'm going to do something different. I'm going to share a true story that has touched me deeply and may do the same for you. I believe it will help us all put the "problems" of dealing with tweens and teens into the proper perspective.
A few weeks ago in Sunday School, we were talking about our children (tweens, teens, and in-between) and a couple in the class, Al and Cindy, began sharing a story about their son, Holden, who passed away at 10 months of age from a rare illness known as "Omphalocele," a birth defect in which his intestines, spleen, and liver were all are born outside his body and covered by a thin membrane.
Overall, Holden had three major surgeries and at 5 months of age went into respiratory arrest. Cindy had to administer CPR to her own child. His lungs were damaged, there was pressure from his Omphalocele, scar tissue from a tracheotomy, and he was aspirating so they had to use feeding tubes. Then bronchitis set in.
During his last five months of life, he was on numerous antibiotics, had obstruction of his bowels, was dehydrated, and was on constant pain medication. The respiratory arrest had caused brain damage, though the doctors didn't know the extent. Over the next few months, his brain continued to shrink and, at the end, an MRI revealed he only had 50% of his brain left.
Al and Cindy faced the most difficult decision of their lives: Would they continue to allow Holden to live or allow him to go be with the Lord? After constant prayer and coming to the realization that Holden would have significant brain damage requiring constant medical attention for the rest of his life, they decided to let him go be with the Lord. He passed away in their arms. Though they are not the only couple that has ever faced this situation, I don't believe any parent will have to make a more difficult decision.
As Cindy shared their story, I began to tear up, along with everyone else in the class. Al and Cindy have endured about as much pain as a parent can.  Losing a child is the greatest tragedy that can happen to parents, though not knowing whether your child will live or not may be equally as difficult.
It would have been easy for Al and Cindy to become angry, bitter and resentful. But they didn't. They somehow found the courage to remain faithful and positive. I can't begin to understand all they've gone through, but I do understand this: Their story makes me go straight to my own children, hug them as tightly as I can and tell them how much I love them. At this point, no annoying behavior my children have ever done, or ever will do, matters as much as having them here with me. We can figure the rest out together.
I've begun to realize how petty I can be about the difficulties I face with my own children. Little things like not turning off the bathroom lights, leaving toys in the hallway, and trying to manipulate situations are no longer as annoying as they were in the past. Boyfriends, girlfriends, arguing, defiance, cursing, and everything else that comes with being a parent doesn't seem as important or pressing as it once did.
I imagine that Al and Cindy would give everything they own to experience with Holden any problem that we've ever had with our own children. But they can't. They never will.
Al and Cindy have agreed to share excerpts from their story with us below. After you read it, go hug your kids — no matter how old they are. Tell them how much you love them. I know I will.
Holden – Our Sunshine in Heaven
What do you do when a doctor takes all your hope away from your unborn child and suggests you terminate?  In shock, you share with him that this miracle is from God and was given to your family for a reason. We had no idea that we would only have Holden for ten short beautiful hard months after he was born. I started desperately praying and asking God to give me the strength to get through this journey. That's when a very special verse came into my family's life: Isaiah 41:10.
Here is a small glimpse of my journals (five full journals in all) that I started that very day and have not stopped since. I knew God was taking us on a roller coaster ride with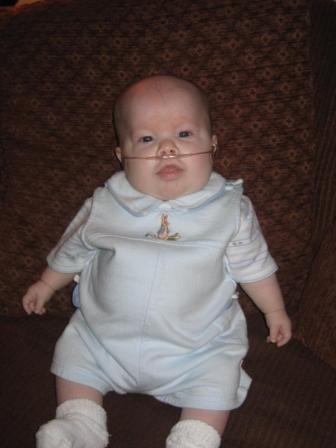 Holden and my family. The main thing God wanted me to do was TRUST HIM.
December 2008: The Love of a Mom
I'm sitting here next to you writing in my journal. I get emotional just touching you and thinking of how much I want to hold you (can't – your on the ventilator) and take you home for Christmas. I love you so much. It's amazing how much love God gives a mommy. I love looking at your swollen sweet face. You are a treasure, little man. All my pain, stress, emotions and heartbreak is worth it, child of mine.
February 2009:  Holden's Sweet Homecoming
Today we brought Holden home from the hospital. We were welcomed on a cold, rainy night by all of our wonderful friends. I saw signs held up by children (one said "Holden rocks"!), lots of clapping and cheering, the house decorated with streamers, a cake and my three children with smiles from ear to ear!  My whole family was finally together! I could breathe again.
May 2009:  Scariest Moment of my Life
Holden stopped breathing today. I had to administer CPR into my child's lifeless body.  I begged and pleaded on my knees with everything I had for God not take Holden away from me. I had an emotional breakdown that day. He was airlifted to Little Rock, and it was the longest three hour drive of my life not knowing if my baby was going to live or die.
September 2009: Devastatingly Beautiful
Go to Jesus, Holden. Go to Jesus.  It's okay to leave me, I love you. Thirty minutes after we took Holden off life support he went to be in Jesus' arms. Our ultimate prayer of healing was answered after months and months of pain.
God just healed him in Heaven and not on this earth. Hard to swallow, but so true. I remember bathing my baby for the last time and it how it felt so natural and wonderful to do this last thing for him and knowing his spirit was already in heaven.
September 26, 2009:  Saying Goodbye
Holden's funeral was a celebration of his short meaningful life. I remember my pastor saying Holden is in the land of the living, and we are in the land of the dying. Wow!  It was such a profound statement for me and I had to soak it in especially when I missed my baby more that words could express.
In closing, I just want to say that my overwhelming pain through the past year and half has turned into overwhelming healing. God in so many ways is keeping Holden's memory alive. You cannot imagine what that does for brokenhearted momma. See, it's okay to talk about Holden and his death. When you don't say anything, it's like it never happened, and I live with it every day. His name brings music to my ears and joy in my tears. God gives and he takes away, and then he gives again.
I want people to know I have five children – three on this earth and one perfect in heaven and another miracle of life coming this May (2010).  His faithfulness is unfathomable. I'm so humbled to share my story of hope and what God has done for me. Losing a child is the hardest thing a parent can go through, but you don't have to face it alone. God will give you all the comfort you need to go forward in your life.
In His Grip,
Cindy and Al