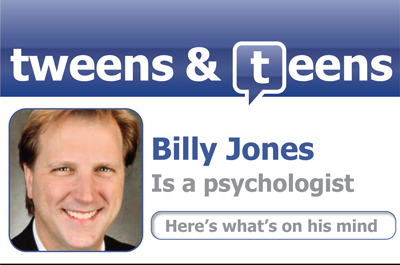 Tweeting, blogging, texting. Remember when we just talked to each other? Author Unknown
Welcome to the May edition of Teens and Tweens. Before we go further, I'm going to admit something: I have texted while driving, not just once, but on numerous occasions. But now it's over. I've done some research into the topic for this month's article, and the research is beyond convincing. If you need help convincing your teenagers that texting while driving really is a big deal with life-altering consequences, show them — with facts, photos, studies, videos and

news stories — what can happen when somebody behind the wheel sends a quick text message that he or she thinks is "no big deal."
As a parent, your own level of focus behind the wheel will also set expectations for your kids. If you're distracted while you're driving, chances are they will be, too, when it's their turn to get behind the wheel.
I happened across a study that was conducted over an 18-month period in which cameras were used to catch people texting while driving. This was then compared with automobile accidents, etc. The results showed that the collision risk was 23 times greater if the drivers were texting.
In another study conducted in Virginia, 46% of 16 and 17-year-olds admit to text messaging while driving, with AAA indicating that the risk for a car accident increases by 50% for those who text while driving.
While many states have outlawed texting and driving, some states have actually had an increase in automobile claims by young adults since that law went into effect. While nobody can say for sure, one person speculated that since texting and driving was against the law, the person would put their hands in a position that was even lower than normal so he or she could text and not be seen, which, of course, only served to slow the reflexes and distract the driver even more.
In an article published in 2010, Reuters indicated, "Drivers distracted by talking or texting on cell phones killed an estimated 16,000 people from 2001 to 2007." This is an astounding and frightening number to be sure.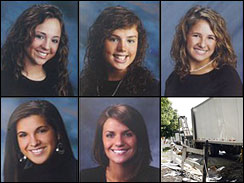 It's even more frightening when you hear the real-life stories and see the photos of the people who have died as a result of texting and driving (these pictures and information were obtained via Google and the website textingndriving.com):
Bailey Goodman, 17, was killed along with four of her fellow cheerleaders when she swerved into oncoming traffic, hit a tractor-trailer and her SUV burst into flames.
Five days earlier, the five teenagers had graduated from high school. Two minutes before the crash was reported, her phone was used to send a text greeting to a friend.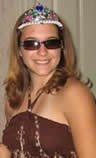 Ashley D. Miller, 18, (far right) veered into oncoming traffic and hit another car head-on while she was texting. She and the other driver, a 40-year-old mother of 1, were killed instantly.

Dana Trammell, 17, (right) was texting someone on her way to her first day of school of senior year when she crashed and was thrown from her vehicle. She was pronounced dead at the scene.
The following You Tube video is a Public Service Announcement created in the United Kingdom to show teens the dangers of texting and driving.  It has been shown to scores of high school students throughout Great Britain and is graphic for a reason.  Texting can be dangerous and there is no doubt about it when you see this video.
WARNING: This is very graphic and, although it is a simulation and not a real accident, it really gets the point across. After viewing it, many high school students have said that they will no longer text and drive, so it does seem to be working. Let's hope they were being honest. Some teens also said that, if they are in a car where the driver wants to send a text, they will offer to send the text for the driver so that his or her eyes can stay on the road.
Here's the video:
If this video does not convince you, then I'm not sure what will.
Until next month, be safe while you're driving. I know I will.
billy