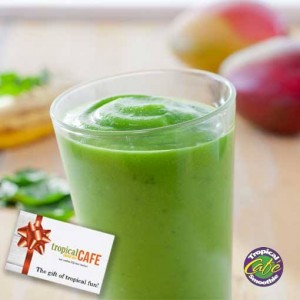 Some people are hard to buy for, but we haven't met anyone yet who doesn't like food and a fun drink. One of our website sponsors, Tropical Smoothie Cafe, is making gift cards a lot more fun this year by giving you a holiday bonus. When you buy a $25 gift card, you get a free smoothie! (And it's a big 24-ounce smoothie. You'll get one free smoothie for each $25 gift card you buy.)
So that's a little something for your gift recipient and a little something for you, too. Everybody wins.
People who are new to Tropical Smoothie Cafe are always pleasantly surprised when they find out how amazing the food is there. Here are some of the popular dishes being served up this season at Tropical Smoothie Cafe.
Island Buffalo Sandwich: It comes with FRANK'S RedHot Buffalo Wing Sauce and features grilled chicken, mozzarella and gorgonzola cheese, tangy, house-made slaw tossed in a citrus dressing and covered with buffalo cheese spread, served on freshly toasted brioche bread.
Moho Mojo Chicken Club: It's served with bacon, avocado, zesty mojo sauce, and topped with a signature slaw. It's a full-flavored sandwich served on freshly toasted brioche bread.

If you're in the mood for one of their famous smoothies, there are a few new holiday choices you won't want to miss.
Feeling naughty? Try the Blueberry Pom Truffle Smoothie featuring Ghiradelli White Chocolate. (Did someone say white chocolate? Yes, sign me up for "naughty.")
Feeling nice? Try the Blueberry Bliss Smoothie made with blueberries, strawberries and bananas. (This one has plenty of antioxidants and it's tasty, too.)
Giving Back: We're so proud to be promoting a company like Tropical Smoothie Cafe because they stay focused on things that truly matter. Every summer in June, they host National Flip Flop Day which raises money for a non-profit organization called Camp Sunshine. Camp Sunshine is a camp specifically for families who have a child dealing with a life-threatening illness.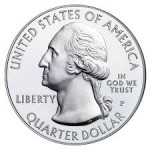 During the holidays (Dec. 1st to Dec. 27th), Tropical Smoothie is inviting its customers to donate just one quarter (25 cents) to Camp Sunshine during each visit. While that one quarter doesn't sound like much, the coins definitely add up to huge benefits for the camp when you consider how many people visit Tropical Smoothie Cafes. For example, 200 quarters provides a DJ Masquerade Night for kids at camp. And 2,000 quarters will provide a horse-drawn carriage and sleigh rides for a night.
We hope you'll join us by visiting Tropical Smoothie Cafe often during December and help those quarters add up to new joy for the families visiting Camp Sunshine. It's an easy (and delicious) way for you and your kids to do something for others during the holidays. You can find a Tropical Smoothie Cafe in Fayetteville, Springdale and Rogers.