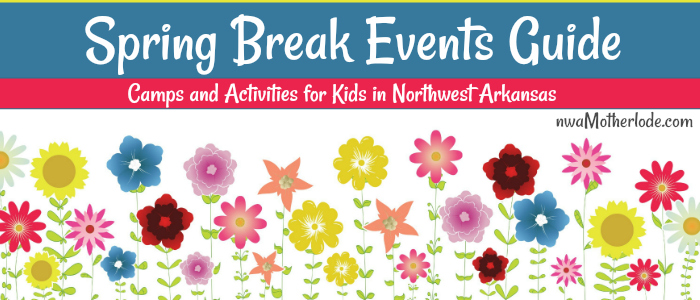 Who's ready for Spring Break? We are! So you can make a plan, we pulled together a great list of things to do and camps for your kids to enjoy.
Click on the name of the camp or activity for more information, cost and/or to register:
CAMPS:
Trike Theatre in Bentonville will host Spring Break Camp: Broadway Bound for kids in kindergarten through 6th grade. 8 AM – 3 PM. At these camps you can learn to be a Triple Threat! Young artists will stretch their acting, vocal and dance skills with classic Broadway tunes.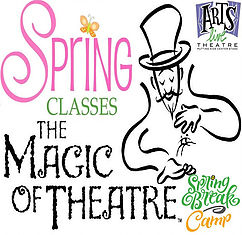 Arts Live Theatre will host three camps for kids all Spring Break Week. For kids ages 5-8: Let's Create A Play Together! 10.30 am – 11.30 am; For dids ages 9-12, there are two options: Broadway Bound Theatre! 9 am – 10.30 am or  Stage Combat! 11.30 am – 12.30 pm.
The Artist's Laboratory Theatre will host a Spring Break Improv Youth Camp for ages 8 through 12. Young artists will play fun and active games that strengthen their ability to think on their feet and create stories out of thin air as an ensemble.
Fayetteville Athletic Club in Fayetteville will have a Spring Break Camp for members and non-members March 19-23 for preschool kids ages 1 year to pre-k and for school-age kids 5-12. Arts and crafts, gym games, swimming, sports and a trip to Fun City.
Community Creative Center is hosting a Spring Break Pottery Camp. If your child is 8-14 and wants to learn how to make pottery with CCC's Teaching Artists, now is the time. Two different time slots this year, MARCH 19-23, 9-11:30am OR 12:30-3pm.
The Little Gym of Rogers will have camps the week of Spring Break from 9am-12 or 1-4pm. Different fun themes each day like Superheroes, Legos, Fantasy Castle and more.
Rogers Activity Center has School's Out day camps during the week of Spring Break.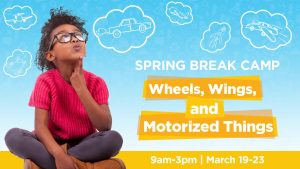 The Amazeum is hosting the Wheels, Wings, and Motorized Things camp every day of Spring Break for kids ages six to 11 years old.  The camps are inspired by the Amazeum's temporary Hot Wheels exhibit. Momentum, force, and friction are just some of the concepts campers will explore.
Camp Sequoyah Spring Break. Mount Sequoyah Center is excited to be hosting 3 days of activities for kids during the Fayetteville Public Schools spring break. Each day will be themed, but all will feature fun camp activities for kids ages 5 – 12. March 20-22,  7:45 a.m. – 5:15 p.m.
Spring Break Cooking Camp. Kids will puree, whip and bake their way to uncover baking mysteries at Young Chef's Academy. French macarons, cinnamon swirl bread, donuts, crepes and more! 4 Day camp, Tuesday – Friday, 10 a.m. to 1 p.m. $190 per participant.
Imagine Studios will host five days of art camps for kids ages 5-12. Paint ceramics, canvas, and more. Register for one session, two sessions or even all five.
NWA Legends Soccer. Camp sessions will be 2 hours long Monday – Friday of Spring Break, taught by a trained and experienced Legends coach.
Altitude Trampoline Park in Fayetteville has a Spring Break Special: receive $5 off when you dress up for their theme days March 19th-23rd.
EVENTS:
Spring Break Week at the Jones Center. The Jones Center is gearing up for a great Spring Break Week, March 19-25. Recreation venues, including the indoor pools complex and ice arena will be open extended hours with special discounted rates. Swim, ice skate, or both for just $3 per person. Parents and kids can enjoy special events all week long in addition to the extended public hours.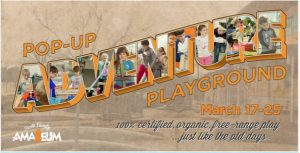 The Amazeum will host Pop-Up Adventure Playground March 16-25 (minus the 20th, since the Amazeum is closed on Tuesdays) at the museum's outdoor play space. Remember the days when you jumped on your bicycle, rounded up the kids in the neighborhood, dug through each other's garages for boxes, rope, blankets, wood scraps, or anything that you could use to build with, and found a vacant lot or friendly backyard and started constructing? One day it was a great castle. The next a mighty fort, or a sturdy ship, or just a unique playground. You hung the "no adults allowed" sign up and created a whole community, just you and your friends.  The Amazeum is bringing back those days as they turn their backyard into a Pop-Up Adventure Playground for kids of all ages. They'll have all kinds of materials available for building whatever kids imagine. Admission to Pop-Up Playground is included in daily admission or membership.
Shark School. Make a splash this spring break in the pools at the Bentonville Community Center. Tear through the water to complete a scavenger hunt, chase down some minnows, and transform into one of the ocean's most dangerous predators.  Shark School is March 19th-21st (9 a.m.-Noon) for kids ages 7-10.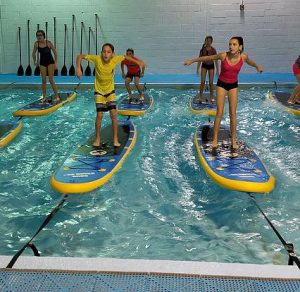 Spring Break Fitness Camp sponsored by Stand Up Paddle Boarding of NWA. Keep the kids active by joining SUP NWA for a week of non-stop activities including: games, obstacle courses, paddle boarding, swimming and crafts. The safe fun cam experience is designed to instill confidence, teamwork skills, endurance, and new friendships. The camp, from 8 a.m. to noon every day of Spring Break, is geared for children 5-13 years old.
Crystal Bridges' Spring Break Specials. Crystal Bridges will host "Spring Break Specials" starting Saturday the 17th (closed on Tuesdays, don't forget!). They'll have free art making, activities, and performances every day. These events are free and you don't have to register.
Fayetteville Public Libray. The Fayetteville Public Library will host Spring Break Movie Mania every day at 2 o'clock the week of Spring Break. They'll also have some other events that week including a daytime lock-in for kids in kindergarten through 4th grade.
The Springdale Public Library will host a variety of events during Spring Break, including a Minecraft Challenge, Lego Challenge, Craft Make & Take and Sewing Club workshops..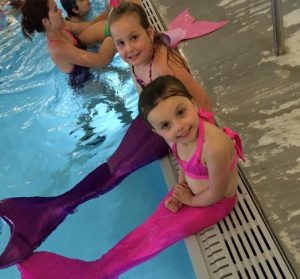 At Mermaid Academy, watch your feet become fins as you take to the water to learn all things mermaid this Spring Break at the Bentonville Community Center. Makeovers, treasure hunts, ocean games and more await your swimmer as they perfect the art of being the most graceful creature in the sea. March 19th-21st (9:00am-12:00pm) for kids ages 7-10.
The Janet Huckabee Arkansas River Valley Nature Center in Fort Smith will host a variety of Spring Break events, including guided hikes, nature crafts, meet a wildlife officer and programs on canoes and kayaks, etc.
Hobbs State Park has lots of fun programs planned for Spring Break week, March 17-25: Hikes, Flower Power, Puffballs in the Sky, Leave No Trace, Skulls, Venomous Snakes of Arkansas, Basic Camera Operation for Nature Photography, Cavity Nesters, The Lorax, Art in The Park, Tale of The Turtle, Get in Touch With The Trees, Arkansas Symbols, Bike Tour, Beneath The Surface, Earth Art, Decomposers, Toadily About Frogs, Owls, Backpacking 101, Slithering Around, and more, including a nighttime Astronomy program. You can be busy all day, every day of Spring Break. Hobbs State Park visitor center located on Hwy 12 just east of the Hwy. 12/War Eagle Road intersection. All programs are free.