The Art of Motion is offering six-week summer sessions for kids ages 2.5 and up in ballet, tap, and jazz.
The owner, Hannah, likes to be current, so if your kids are crazy over Elsa and Anna, consider signing them up for the"Frozen" camp. ♥ The "Frozen"-themed camp is for ages 2.5-4.5 and 4.5-7. These camps will be on a Monday, Wednesday, and Friday for 1.5 hours for one week and only cost $75! Click here to see the specific dates and to reserve a spot for your kids.
There are other camp options to choose from, including:
♥ Razorback Fan
♥ Broadway Babes
♥ Turns Tricks & Techniques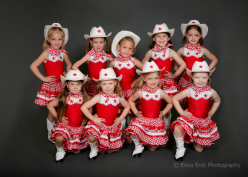 If you've been considering signing your kids (or yourself!) up for regular dance class, the Art of Motion also offer classes in ballet, jazz, hip hop, tap and tumbling for ages 2 1/2 through adults. One of the things we love about the Art of Motion is the emphasis on inner beauty and strength. How awesome is that?
We also like that you can try your first class for free! They offer the "Twinkle Toes" curriculum for young dancers ages 2.5-6, and have lots to offer kids in the 7+ range, too, including ballet, jazz, tap, and hip hop. You can register online or stop by the studio to take a look around.
FYI, the Art of Motion also has a competitive performance group called Fayetteville Youth Dance Company. It's an impressive group!
Mamas, we hope this helps you choose a summer camp — and possibly a new dance lesson home. Let Hannah and her staff know you heard about them on Motherlode if you stop by or sign up for classes! For a full listing of camps, find our Summer Camp Guide HERE.