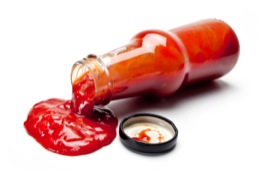 Last week I mentioned how my connect-the-dots stained carpet in my kids' playroom was miraculously healed via a professional carpet cleaning by Matt Lane of Heaven's Best Carpet Cleaning. (It's still looking great, by the way. The stains have not resurfaced yet and no one is more surprised than me.)
While Matt was at my house healing my carpet, I asked him for some insider tips on how to get stains out on your own, when there's not a professional carpet cleaner nearby. He was kind enough to give me a few home remedy tips that anybody can use when an accident happens.
HOW TO GET KETCHUP AND COFFEE OUT OF CARPET
Step 1: First things first. You need a good carpet cleaning product that you can grab and spray on the stain asap. Matt recommends this one that his company produces. He gave me a bottle, and I've already used it on my floor when one of the kids spilled hot spiced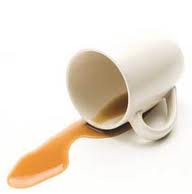 tea on the carpet. Worked great.
Apply the Heaven's Best Spotter solution using a damp towel. Leave for 3 to 5 minutes. Blot but don't rub it. If the stain is gone, finish with a water rinse, blot and dry it by standing or kneeling on white paper towels. If the stain is NOT gone, continue on to Step 2.
Step 2: Apply a solution of hydrogen peroxide to the stain. To make the solution, mix1/2 cup of hydrogen peroxide with 1 teaspoon of household ammonia. Be sure to use this mixture within 2 hours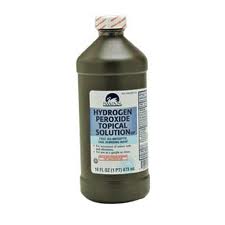 of mixing it. Let the solution stand for 2 to 3 hours under several clean white towels. Put some weight on top of the towels.
Put the hydrogen peroxide solution on again, repeating the process, until the carpet is clean. Blot it dry by standing or kneeling on several white paper towels.
Step 3: Apply white vinegar (undiluted), but only after the stain is removed.
Print out these directions and keep it somewhere handy so you'll know what to do the next time one of your kids drops a french fry loaded with ketchup on your carpet — causing you to jump up and spill your coffee, too! You can find more stain removal tips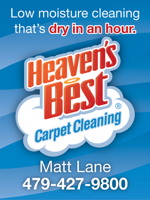 on the Heaven's Best website by clicking HERE.
If you'd like to score a bottle of the carpet cleaning solution we mentioned above, you can pick one up at the NWA Home Show coming up February 17-19th at the Springdale Holiday Inn Convention Center. Matt Lane will be there in the Heaven's Best Carpet Cleaning booth with an awesome giveaway drawing and lots more goodies .
If you need your carpets professionally cleaned, call Matt Lane at Heaven's Best at 479-427-9800.