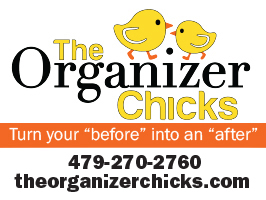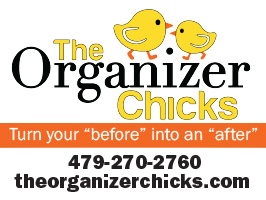 Remember back in January when we did a BIG giveaway courtesy of one of our sponsors, The Organizer Chicks? (Click here if you missed it.) Local mom Charice Handford was the lucky mama who snagged that big giveaway when her name was chosen at random among all the moms who threw their names in the online hat.
Charice teaches chemistry at Farmington High School. She has been dealing with some incredibly tough medical issues recently, so this giveaway win was a blessing because it meant that she had EIGHT hours of help from 2 professional organizers. (That's a value of $480!) Here's Charice (in the middle ) between Devon Steinhour, Lead Organizer (on the left) and Amber Taggard, owner of The Organizer Chicks.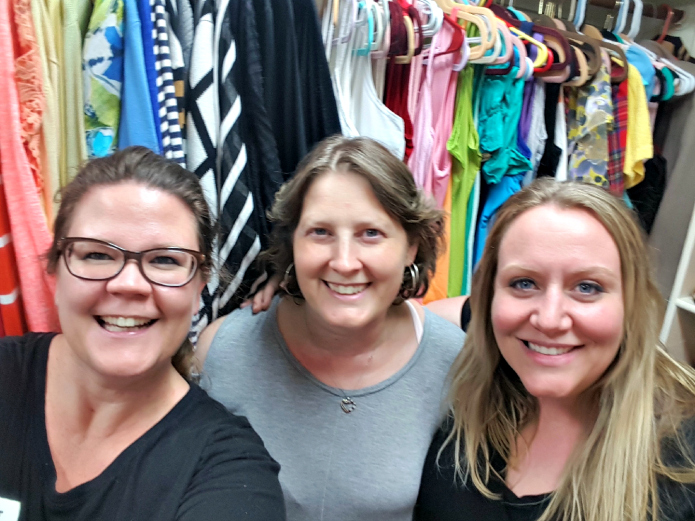 Amber said that Charice wanted their help to organize the walk-in closet in her master bedroom. These three ladies did a TON of work, which resulted in a fresh, clean look for her closet and a system that makes it so much easier to find what she needs. Look at the big difference!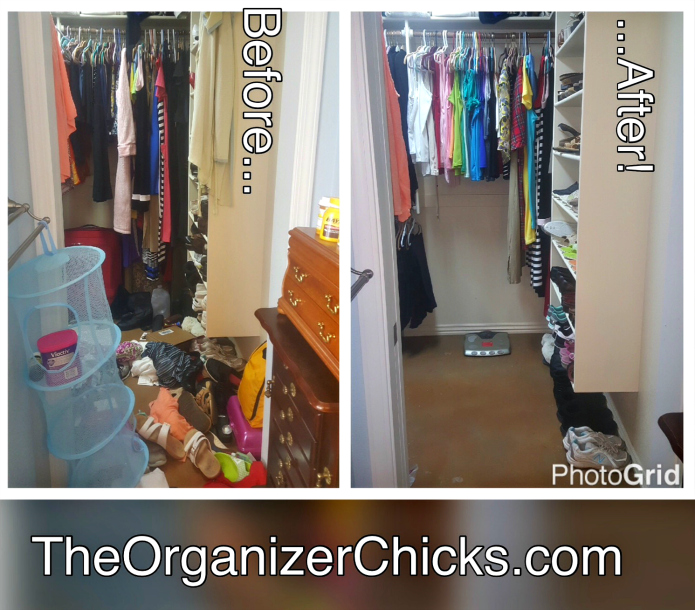 Amber said that organizing projects like this one can be very emotional, as it was for Charice, because so many of us have emotional attachments to things we own. Amber said it helps to have professionals coach us through these moments because they can show us how we're sometimes holding things "hostage" — keeping them "just in case." When we do that, it not only ensures that those things will continue to clutter our space and cause us stress, it also denies someone else the blessing of using that item.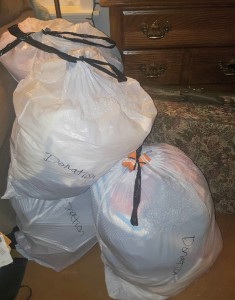 After working through emotional attachments to some of the things in her closet, Charice was able to set many of them free — which resulted in FIVE bags plus a suitcase full of items to donate! Amber said Charice's closet transformation isn't completely done yet, but it's well on its way to getting to its official "after," and it's functioning so much better now.
We want to say a big thank you to Charice for letting us share her story and her "before and after" photos. And a huge thank you to The Organizer Chicks and owner Amber Taggard and her Lead Organizer, Devon Steinhour for making this generous giveaway a reality. We know your work will continue to bless families in Northwest Arkansas — one decluttered space at at time.
For more info and before and after photos of transformations by The Organizer Chicks, click here to visit their website. Or if you'd like to talk about setting up a consultation with a professional organizer, call The Organizer Chicks at 479-270-2760. 
Save
Save
Save
Save
Save
Save
Save
Save