Mark your calendar for Thursday, May 25, 2017 because you're officially invited to our Moms' Night Out at the new Metro Appliances & More. (The Springdale location has now moved to 801 Metro Place, Lowell, Ark.)
A long-time website sponsor, our friends at Metro are preparing a special reception just for the readers of nwaMotherlode. The drop-in tour will happen between 5 to 7 p.m. on Thurs., May 25, 2017 and will include wine, cheese, snacks, tours, kitchen demonstrations, and fun giveaways — just for us!

Shannon and I were able to get our first look at it two weeks ago and our minds were BLOWN. Not only is the new location huge — more than 130,000 square feet of shopping space — it's also beautiful and state-of-the-art. (If you're a Fitbit user, you'll get a gazillion steps just walking around the store!)
We don't want to give too many details here because we want you to be as surprised as we were when you walk into the store for the first time. But we will tell you that, as soon as we stepped through the doors, our first reaction was "Wow!"
I kept getting the feeling that we had somehow stepped into a real-life Pinterest board because we walked from one dream kitchen into another, followed by dream laundry rooms and then dream outdoor patios. If you've ever dreamed of renovating or upgrading your kitchen, laundry room or backyard, you'll definitely be inspired when you take the tour of Metro's new location.
Can't wait to see it with all of you on Thursday, May 25th! If you have questions about the Moms' Night Out event at Metro Appliances & More, email us by clicking here. And we'd also love to know how many you'll be bringing so we can be sure to have enough food and wine! Please email or PM us with the number of friends!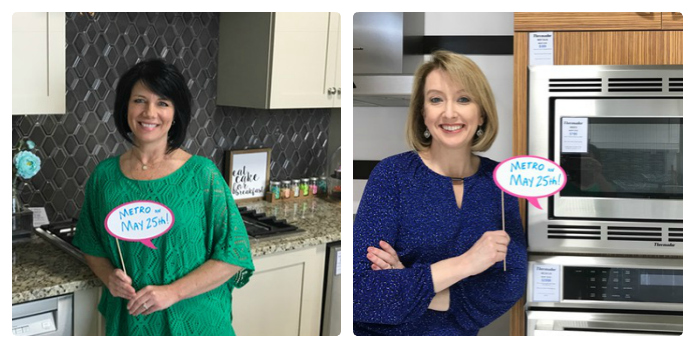 Save
Save
Save
Save
Save
Save
Save
Save
Save
Save
Save
Save