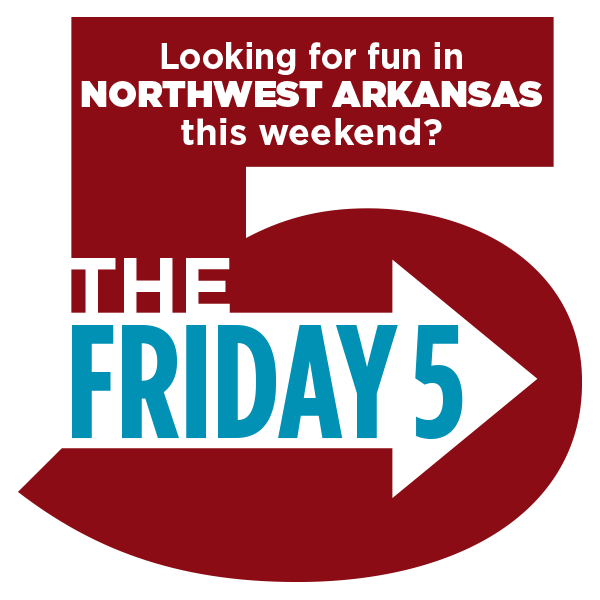 With all the Easter egg hunts this weekend, we've got more than 5 recommendations for things to do this weekend in Northwest Arkansas, March 26-27:
Free "Art With An Altitude" Kite Festival at Turpentine Creek, Saturday.
Turpentine Creek Wildlife Refuge hosts it's 26th annual Kite Festival celebration March 26, 2016. "Art With an Altitude," sponsored by KaleidoKites of Eureka Springs, is a free family event inviting attendees to bring their own kites or buy one at the refuge. The celebration includes vendors, contests and fun activities for parents and children.
KaleidoKites' experts will be available to assist children in kite making and flying techniques. Donations to the refuge requested for kite making assistance.
The event is one of the refuge's most popular events each year. Admission is free for kite flying; regular admission prices apply to tour refuge wildlife on display. Proceeds finance rescue and ongoing care for over 135 tigers, lions, cougars and other wildlife that make the sanctuary a life-long home.
Date: March 26
Location: Turpentine Creek Wildlife Refuge, Eureka Springs
More info: Click here or contact KaleidoKites at 479-253-6596, 888-836-6251 or email kaleidokites@hotmail.com. For details on Turpentine Creek Wildlife Refuge, visit www.www.turpentinecreek.org or call (479) 253-5841.
Easter Egg Hunt at Central United Methodist Church
Activities during the event will include craft stations, an egg hunt for little ones 3 and under at 2:15 p.m., and a larger hunt for older children immediately following. You can help continue the tradition with a donation of plastic eggs, non-food treats such as stickers, erasers, tattoos, etc., or wrapped candies that don't melt (no nuts). Families are asked to bring one dozen filled eggs for each child participating and an extra dozen for our guests to the church by March 13. Please drop off your donations in the atrium and help the church reach their goal of 3,000 eggs for local kids.
Little kids (3 and under) hunt at 2:15 p.m.
Bigger kids (4 and up) hunt immediately following little kids
Date: March 26, 2016
Time: 2:15 p.m.
Location: Central United Methodist Church in Rogers on New Hope Road (behind the church building at The Bus Barn)
More info: Click here
Easter at Orchards Park
Activities begin at 2 pm with fun inflatables for the kids as well as several food vendors. At 3 pm, the egg hunt will begin with over 40,000 eggs. There will be 3 separate egg hunts broken up into age groups for children 12 and under:
2 pm-Inflatable & Food Vendors
2:30 pm-Egg Hunt (Ages 7-12)
3 pm-Egg Hunt (Ages 4-6)
3:30 pm-Egg hunt (Ages 0-3)
Date: Saturday, March 26
Time: 2 p.m.
Location: Orchards Park, Bentonville
More info: Click here
Spring Egg Hunt, BGO
Head out to BGO for some fun in the sun, to hunt for treats and have some fun in the photo booth.
Date: March 26
Time: 3 p.m.
Location: Botanical Garden of the Ozarks
More info: Click here
Easter Eggstravaganza, Elkins
There will be free hot dogs, pictures with the Easter Bunny, inflatables and more. Two bicycles will be given away per age group. Age groups are 0-4, K-3rd grade, and 4th-6th grade. Hosted by Round Mountain Community Church.
Date: March 26
Time: Registration begins at 9:30, egg hunt begins at 10:30am.
Location: Bunch Park, Elkins
More info: Click here
Egg Hunt at War Eagle Mill
Easter Celebration with children's egg hunt, crafts, and a lunch special in the Bean Palace Café. Egg Hunt begins at 2 pm. Kids ages 0 – 12 can participate. Bring your own basket.
Date: March 27
Time: Egg hunt begins at 2 p.m.
Location: War Eagle Mill, Rogers
More info: Click here
Easter Sunrise Service
Celebrate the Resurrection of Jesus Christ at the Easter Morning Sunrise Service at The Great Passion Play at 7am at the foot of the Christ of the Ozarks Memorial Statue.
Date: March 27
Time: 7 a.m.
Location: Christ of the Ozarks, Eureka Springs
More info: Click here