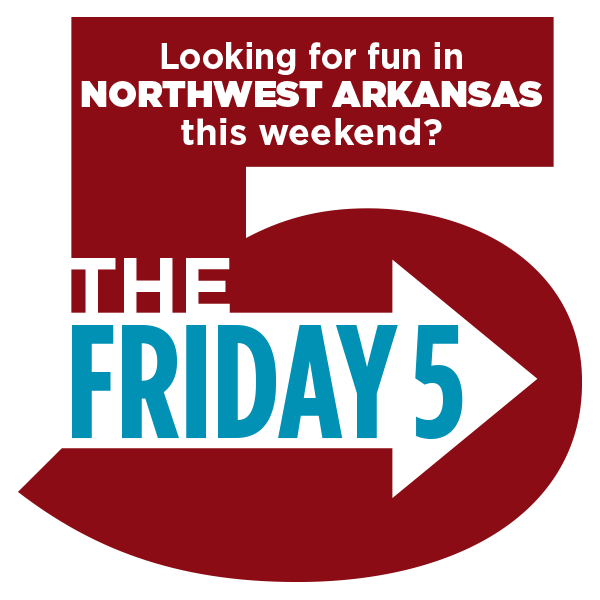 OK, so there are SIX things to do. Be sure to scroll down far enough to read about the Amazeum event happening on Saturday!

1. Cherishing Children Glow Run, downtown Rogers, Friday night. This glow-themed run is a family- friendly event that raises awareness to empower children to find their voice and speak up against abuse.
There will be inflatables and all kinds of kid's activities.
Click here to get the Glow Run scoop and to register.
2. 12th Annual Carving in the Ozarks, Eureka Springs, Friday and Saturday. This is Eureka's chainsaw carving festival.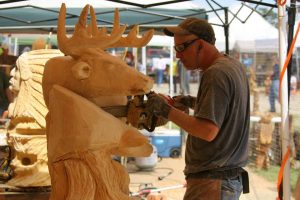 The carving begins on Friday morning and continues throughout the day — as well as Saturday until 5 p.m. Watch carvings of all kinds materialize before your very eyes.
On Saturday there will be free ice cream for kids 16 and under from noon to 5 p.m. provided by Big Dipper. And food vendor Sparky's will be serving food during the event. There will be an auction Saturday at 4 p.m.
The event is at the old Victoria Inn Parking lot on Hwy 62 East/ 4028 E Van Buren in Eureka Springs.
Click here for more carving info.
3. Reading with the Razorbacks, Saturday. Bring the entire family to the Fayetteville Public Library to meet the Razorbacks at 11 a.m. The Razorbacks will read to the kiddos, color, make book marks and sign autographs.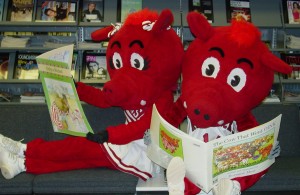 Each child who attends will receive a free book.
Click here for more information.
4. Pie-Palooza, Saturday. The new-ish pie show, Fork and Crust, is hosting its first ever Pie-Palooza pie event. It will be on Saturday, April 16th, from 11 a.m. to 4 p.m. and there will be pie flights, BBQ and music. No, not pie FIGHTS, pie "flights", meaning multiple types of "sample-sized" pieces of pie on a plate.
This event will be at Fork and Crust Pie Company at Village on the Creeks in Rogers.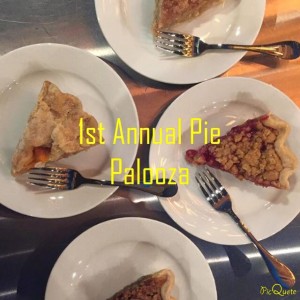 Click here for more pie-loving info!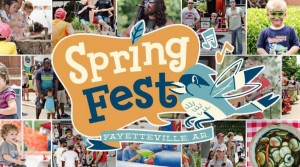 5. Spring Fest, downtown Fayetteville, Saturday. This is a free, family-friendly event with live music on three stages, a pancake breakfast, a 5K, a dog parage, bed races, kid zone, magician, face painting, shopping, food, beer garden.
Click here for more about what's happening at Spring Fest.
6. Scott Family Amazeum Hosts "Healthy Amazing Me", Sunday. On Sunday (April 17) from 1-5 pm, the Scott Family Amazeum will host "Healthy Amazing Me", a child-focused wellness event, sponsored by Arkansas Children's Hospital.
Activities featured during Healthy Amazing Me include:
Teddy bear clinic: bring a doll, teddy bear or other stuffed companion to learn more about. Find us on the second floor.
Smile Shoppe dental wellness cart: Professionals from Smile Shoppe Pediatric Dentistry will be here to demonstrate proper brushing technique. Found in the lobby.
Car seat safety check: (Weather permitting) Certified professionals will be here to check that car seats are properly installed and fitted. The child using the seat should be present. Located in the loading zone south of the main entrance.
Eye and brain dissections: Ever wonder what an eye and brain really look like? Our friends from University of Arkansas Department of Biological Sciences will be back and assisting guests with exploring eyes and brains. Studio Showcase, adjacent to the Art Studio
Fruit makey-makey: Did you know you can build a piano from fruit and vegetables? You can, and we'll show you how in the 3M Tinkering Hub. The 3M Tinkering Hub is for guests 7 years old and up.
Dance for Health: Kaleidoscope Dance will help kids get groovin' and movin'. Dance yourself silly in Learning Loft A, on the second floor.
Watch for other activities to pop up in the museum throughout the day.
Daily admission at the Scott Family Amazeum is $9.50 per person over 2 years old. There is no additional charge for Healthy Amazing Me thanks to Arkansas Children's Hospital. No advanced registration is required.