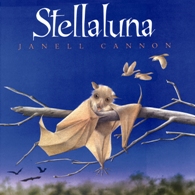 Edited to add: We'll select a winner at random on Sunday at 5 p.m. (Jan. 25). Get busy and leave a comment if you want to win these tickets! Winner announced Monday.

Baby bat Stellaluna jumps from page to stage and flitters to Walton Arts Center on Saturday, Jan. 31, at 11 a.m. Here at nwaMotherlode.com, we're giving away four tickets to this musical adaptation of the lovable children's book by Janell Cannon. The winner will also receive a gift certificate to Jose's Mexican Restaurant on Dickson Street to help pay for your family's dinner before the show.
How to enter: Simply make a comment on this post or e-mail us at mamas@nwaMotherlode.com and we'll be sure to sign you up. A winner will be chosen at random on Sunday and announced on Monday. As always, you'll increase your chances of winning the tacos and tickets by sending details about this giveaway to friends and CC'ing the mamas when you do. So if you send it to 20 friends/family, your name will be entered 21 times on the drawing spreadsheet.
This is one of my daughter's favorite books and we plan to be front and center at the theatre to see the play (best for ages 5-8) which features puppets as the bats and birds and actors who handle the puppets, sing, dance, and play the piano.
About the show: The story begins when baby bat Stellaluna is flitting along right on schedule until an owl attacks her mother one night, knocking the bewildered little bat out of her mother's loving grasp. The tiny bat is lucky enough to land in a nest of baby birds, but her whole world has just turned upside down. Stellaluna's adoptive bird mom accepts her into her nest, but only on the condition that Stellaluna will act like a bird, not a bat.
Soon Stellaluna has learned to behave like a good bird should. She quits hanging by her feet and starts eating bugs. But when she finally has an opportunity to show her bird siblings what life as a bat is like, all of them are confounded. Anyone who has ever been asked to be someone they're not will understand the conflicts and possibilities Stellaluna faces.
Tickets range in price from $10-16 and can be purchased by calling the Walton Arts Center Box Office at 479-443-5600 or visiting waltonartscenter.org.
Note: After the show, families are invited to explore the world of theater together by joining Bentonville's Tricycle Theatre professionals in a family workshop. Participants will play in the story, peek backstage, and learn more about live performance in this sharing experience.
See you at the show!