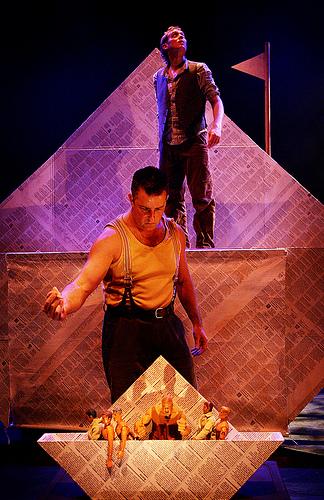 STOP! We have a winner! Congratulations to Lauren Levine, who won the four Walton Arts Center tickets and Jose's tacos!
Are you in the mood for some Jose's tacos and Walton Arts Center tickets? Then we've got the giveaway for you! A theater interpretation of the 1963 fantasy film, "Jason and the Argonauts" will voyage to Walton Arts Center on Sunday, November 8th at 4 p.m. And we're giving away FOUR free tickets! Are you in?
You already know how much we like to feed our friends, so you'll also win a gift certificate to Jose's Mexican Restaurant to enjoy before — or after — the show! Jose's is kid-friendly and serves up some awesome salsa! CLICK HERE to see a menu. They recently added some delicious new desserts!
How to enter: Just hit the word "comment" below and tell us why you could use a "date" with your kiddos. We know that life gets too busy sometimes and it's important to initiate some mom-and-me time. You can also e-mail your comment to: giveaways@nwaMotherlode.com. (As always, you can increase your odds of winning by e-mailing friends about the giveaway and putting our e-mail address in the CC line so we'll know about it!)
About the show: This spectacular performance by the Glasgow-based theater company, Visible Fictions, comes to life with only two actors. Simon Donaldson and Tim Settle creatively depict 150 various roles with the help of action figures that reference pop-culture classics like "Star Wars," "Back to the Future," and Leonardo DiCaprio in "Titanic." The figures become Jason's crew, along with the Greek characters Hercules, Orpheus and Euphemus.
New York Times calls the production a "sophisticated and altogether winning take on an ancient Greek myth. The audience greeted it all with giggles, guffaws, cheers and applause."
"Jason and the Argonauts" is based on an ancient Greek myth about a young prince who was denied his heritage by an evil uncle. The legendary hero leads a team of adventurers in a quest for the coveted Golden Fleece. This family-friendly performance combines monsters and mayhem with classic literature to please both children and adults. It showcases the power of theater to inspire imagination and the self-exploration that exists in everyone.
Tickets range from $8.50 to $14.50 and can be purchased by calling Walton Arts Center Box Office at 479.443.5600 or by visiting waltonartscenter.org.