By April Wallace, nwaMotherlode contributing writer and Northwest Arkansas mama
I don't know about you, but being stuck at home while so much is happening in the world means that my mind is a busy place. So many thoughts are running through that, at the end of the day, I feel a mental exhaustion as well as the typical physical exhaustion of being a mother of two boys (ages two and under).
My recurring thoughts might be a little different than the average person's, given that I'm a stay-at-home mom during the time that our whole nation's been ordered to stay at home. So here's what's on my mind most days.
Welcome to my life, world!
Seriously. This is pretty much the fire drill we stay-at-home-moms run from October to mid-March, the worst of flu season. Only now, the stakes are higher. And having just come off the tail-end of our regularly scheduled drill, I'm a little weary of this extended deadline. We miss our friends! We miss our extended family!
Gosh, I feel so much more important all of a sudden!
Now that thorough cleaning and cooking, meal prep and grocery pickups have suddenly become such extra important priorities, I'm feeling so appreciated and especially valuable to my family.
But now, seven weeks and counting into these extra measures, I'm weary of it, too.
These days I feel like our schedule is "Clean, clean, clean, clean, clean…start to sit down, then think 'I should wash all our hands again,' 'I should really start another load of laundry,' or 'That floor could use mopping…again.'" Enough, already!
Talk about a true incentive for my goals…
When I think of my ideal self, among many other things I imagine a woman who meal plans and makes grocery lists so well that she only goes to the grocery store once a week at most. Her recipes seamlessly dovetail with shared ingredients so things get used up before turning bad. She never has to stop in for a forgotten item or an extra meal option in case the one she originally planned doesn't sound good to the rest of the family.
Well, now…
All this social distancing forced me into following through on these intentions, and the result has been fairly satisfying. I can list our available meals off the top of my head. We're wasting less food now. Our pantry and refrigerator grow a little bare at the end of a week or two, and it gives me a chance to clean it more thoroughly before bringing in our new haul.
I feel reacquainted with my own house.
Right now, I cannot drop off my kids at my mother-in-law's house. I can't go to the gym or meet up with my personal trainer. No more coffees with friends or playdates. But you know where I can go? Upstairs, where we've barely spent any time since our two boys were born. Putting my toddler down for a nap in our guest room, letting my baby play in the unused nursery or taking a bath up there refreshes me because at least we are somewhere else.
We have cleaned out our garage, closets and other nooks and crannies. We spend time on the front porch, not just the back deck. And I have to say, I am appreciating this time to make use of our home in full rather than go to our usual spots and do our usual things.
But I also want a vacation (or at least a stay-cation)
First off, I just have to say that I'm grateful that my husband has been able to continue working and that the kids and I have been able to stay safe by staying home. We're very lucky and that's not lost on me.
But when I see that other people are reading books by the dozen, bingeing shows, making art or putting puzzles together and doing other leisurely things they ordinarily don't have much time for, I want to join the club! You should see my to-be-read piles.
For me, this is largely life as normal. I get up each day and my children need me in the same ways. It's tiring but also reassuring.
So much togetherness has mixed results
Many of my working mom friends, who are happy to be at home more with their little ones right now, have this exuberant energy for creating at-home projects, leading educational games and generally making constructive use of this time. Seeing all that goodness inspires me and reminds me to stick to my own efforts.
But our actual pattern right now seems to be one good day followed by a not-so-good day. Some days, I've got a clear enough mind to organize all that education and art and outdoor time. Other days, news and worry of the pandemic creeps in, exhausts me and leads to more cartoons, more snacks, more coasting. Mostly the act of caring for my two little ones around the clock with little to no breaks is what does it.
I try to keep in mind that the pendulum will swing back, I'm doing the best I can, and it will all even out in the long run.
The pressure is off
Now that we have no obligation for out-of-the-house activities, it's cut down on my workload in a couple of major ways.
This year we won't have an organized family birthday party for my toddler. Not having to make enough treats for 15 people, decorate and keep a party running will free me up to focus more on the birthday boy himself, and with any luck, enjoy it with him.
Also, how weird is it not really having to drive anywhere? For me that means not spending so much time packing a diaper bag with wipes, snacks and cups, toys or activities, extra clothes (and on and on).
Possibilities have opened up
In our house, I'm not the big shopper. Spending-wise, grocery shopping (and occasional book ordering) is where it's at for me. We tend to get our food from Walmart neighborhood market pickup, but I'm thoroughly enjoying the newly available (contactless) grocery pickup locations around Northwest Arkansas.
We have enjoyed locally grown meats and greens, locally made beer and cheeses by way of the Farmer's Table Cafe; local milk and family portions of soup and sourdough from Arsaga's Coffee Roasters; a variety of bread, meat, cheese and butter from Stone Mill Bread Company and vegetables from KT Produce.
And as a mother of babies, I have to say it's nice that more people are hopping onto platforms like Zoom to connect with each other. I can't tell you how much I've missed out on because I can't often be there in person, and I'm glad to have an 'in' again!
Feeding conundrum
Before this isolation began, I was close to beginning the weaning process with my 15 month old, but the pandemic has given me pause about this. Breastmilk provides your baby with antibodies that reduce the risk of viruses and disease. It's hard for me to consciously turn down this extra protection for my baby, but we've also fed so long that I'm longing for more personal space. So each day it comes down to these two opposing desires.
Once again, I'm thankful that this is all my problem is, but it's what weighs on my mind all the time.
Thankful my babies are just babies
At this stage, when Henry is just shy of 3 years old and Elliott just 1, I am especially relieved that I don't have to go into too much detail explaining this new phase to my children. Henry is more aware of the changes, of course, and asks occasionally to ride in the car or sadly says he wants to visit Grandma's house. Often I simply tell him that I want that, too, and we leave it at that.
It occurred to me that Henry understood more than I realized when he repeated a phrase from an NPR report I'd listened to about COVID, and I've watched carefully as he's dealt with his thoughts and emotions by playing ambulance driver or doctor-and-patient more than usual.
But most days they are just happy to be here, at home, where they have mine and Daddy's attention, a large green yard, plenty of books, toys and each other's company.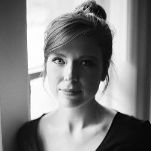 April Wallace is a stepmom to one smart, funny teenager, mama to two beautiful and curious baby boys and wife to a very kind and generous man. She spent the past decade as a news reporter, sometimes lifestyle writer, and recently left her job at the Arkansas Democrat-Gazette to be with her babies while they're still babies. When she gets a few minutes to herself, April loves to run local trails and read fiction. For more of April's posts on pregnancy, babies and toddlers, click here.