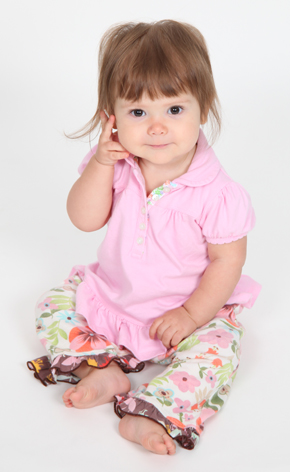 Oh baby, these yummy, 100 percent regionally-grown foods are just for you!
Oh Baby Foods is based in NWA and offers purees for babies and toddlers made from ingredients raised by regional farming families. They new baby food company officially opened nearly a month ago and the products are available online and at local grocery stores.
We asked mom and founder Fran Free Gunsaulis a few questions about Oh Baby and this new venture:
How old is Lucy and why did she inspire you to start Oh Baby Foods? Mama's baby just turned one year old a few weeks ago. One year ago I was in graduate school, studying Agricultural Economics, pregnant with her and looking forward to our new family. I wanted a career that would fit our new lifestyle, while upholding my personal standards of environmental and social responsibility. Lucy pulled the scales in her direction and here we are!
What's her favorite flavor? She loves Blue Plate Special mixed with plain yogurt or oatmeal.
Where are you from and where are your ingredients from? I'm from Southeast Arkansas, Dumas, where my family's farm is located. One of our veggie growing families is only 5 miles down the road from our farm. As a kid, I went with my grandparents to their farm and bought sweet potatoes and turnip greens. We would spend all weekend putting up greens! All of our ingredients come within a 300 mi of our NWA kitchen, with one exception this year: spinach.
So your husband grew up on the farm where you're living now? Yes, Johnny's family moved here when he was just a toddler. He and his dad still "toddle" around here, raising cattle.
What's your educational background? I have two agriculture degrees from the University of Arkansas in Fayetteville: an undergraduate degree in Environmental Soil and Water Science and a graduate degree in Agricultural Economics.
What did you do before becoming a mama and launching Oh Baby Foods? I ran the NW Office for Audubon Arkansas for three years before graduate school. Before that I worked with The Winthrop Rockefeller Institute on their Agricultural Tourism initiative. I've spent extensive time working in South America directly with organic growers and lecturing on women in agriculture and organics in the U.S. Other odd jobs: booth at the Fayetteville Farmers' Market, landscaping, waitress, cook.
Where can parents find your baby foods? In addition to home and office delivery via Old Soul Organics www.oldsoulorganics.com , and online at our website, we're in the freezer section of 11 brick-and-mortar stores: six Harp's locations in Fayetteville & Springdale, Ozark Natural Foods, Pinnacle Station Local Market, Cook's Natural Foods, Roger's Natural Foods and Vitamins, and Ozark Herb & Spice.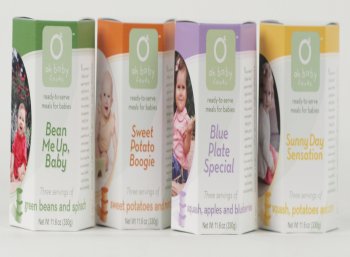 Why do you freeze rather than jar the foods? Good question; three main reasons:
Nutrition: we gently cook only to the temperature needed to be easily edible by babies' new digestive systems. Jarred foods are cooked to high temps and pressures to kill any bacterial spores that may survive anaerobic conditions and room temperatures. Not surprisingly, this also breaks down food and nutrient structures.
Delight for the senses: compare our foods with the jarred stuff. The color, smell, texture, and taste are undeniably superior.
Environmentally responsible: extensive thermal process is not required, that uses resources such as water, gas, electricity, and fuel. Our packaging is more lightweight than glass, so less transportation energy is needed. And because our ingredients are raised regionally and our products sold regionally, transportation needs are cut way back.
Can folks order straight from you? Yes! Visit the "Our Products" page on our website for more information: www.ohbabyfoods.com.
Tell us about your other products. You also have bibs, onesies and reusable shopping bags, right? We have great little gear for great little cutie pies! Our bibs, onesies (infant & toddler sizes), and reusable shopping bags are from a fourth-generation organic cotton farm in Texas. The Oldham Family of www.sosfromtexas.com grows, mills, and prints our products. Very cool styles that make great gifts. We also have "Oh Baby On Board" bumper stickers and gift certificates in denominations of $10, $25, and $50 that are a great way to introduce new parents to our products. Again, available on our website: www.ohbabyfoods.com  We'll be giving away a bag of Oh Baby goodies on NWAMotherlode soon!
When you're not making baby food, what do you like to cook? Right now my goal is to get more whole and complete grains on the dinner table…quite a challenge for us, a family that loves dairy more than anything! I make sure that we all get something green and something brightly-colored each meal. Lately we've been experimenting with dips and soups; Bean Me Up, Baby fits into so many decadent recipes, adding a healthy flair. I'm working on recipe ideas to share with other Oh Baby parents.
Are you a "country cook" or do you prefer gourmet foods? If ever there was a perfect mix of both, you're talking to her. My husband loves plain ol' meat and potatoes; I love color and texture on my plate. I prefer to twist southern faire just enough. Hello fresh herbs and little taste cartwheels where you least expect them!  We raise our own beef, so I have many opportunities to get creative with stuffing veggies and herbs into meats.
What are some of your other passions? My mom says that most of the time she calls us, I'm either cooking or washing dishes! There are several professional cooks in my family; guess that's where I got the "I love to fire up the oven and get fancy fever." I like to garden, read Kurt Vonnegut novels, and travel. I also love the outdoors and look forward to this spring when Lucy will be old enough to appreciate a camping trip.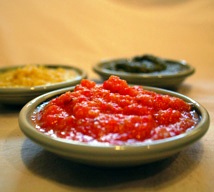 OK, I can't resist: If you were one of your Oh Baby Foods, which one would you be? 😉 Ooh! Fun question, Shannon. Hmm…I'd have to say that Sunny Day Sensation fits my personality: simple down-home foundation, but with a sophisticated tinge, a touch on the sweet side, with a little bite that not everyone knows how to process.  Wow, now that's cathartic!
What's this about your recycling program? Packaging was a big decision for me. Once I finally decided on which plastic composite was the safest for little ones, I was disappointed to learn that the City of Fayetteville does not recycle them. I just couldn't allow our recyclable containers to end up in the landfill, so the City introduced me to a direct purchaser of recyclables. Did you know that you can bring your clean Oh Baby cups and lids to one of our semi-annual recycling drives and I'll give you vouchers for our products? True! Visit our website for the latest.
Oh Baby Foods "aims to be a socially accountable, fiscally responsible, family business that provides high quality, safe, affordable foods for babies, while supporting regional agriculture." Yes, our mission fits us to a "T." I'm very proud of how our operations have absolutely met my personal expectations. I've gone into more detail about our programs on our website's FAQ page. Since we are so new, I'd appreciate hearing from other parents on what else they'd like to see their local baby food company do. I am your neighbor, after all.
For more info about Fran and Oh Baby Foods, click here!