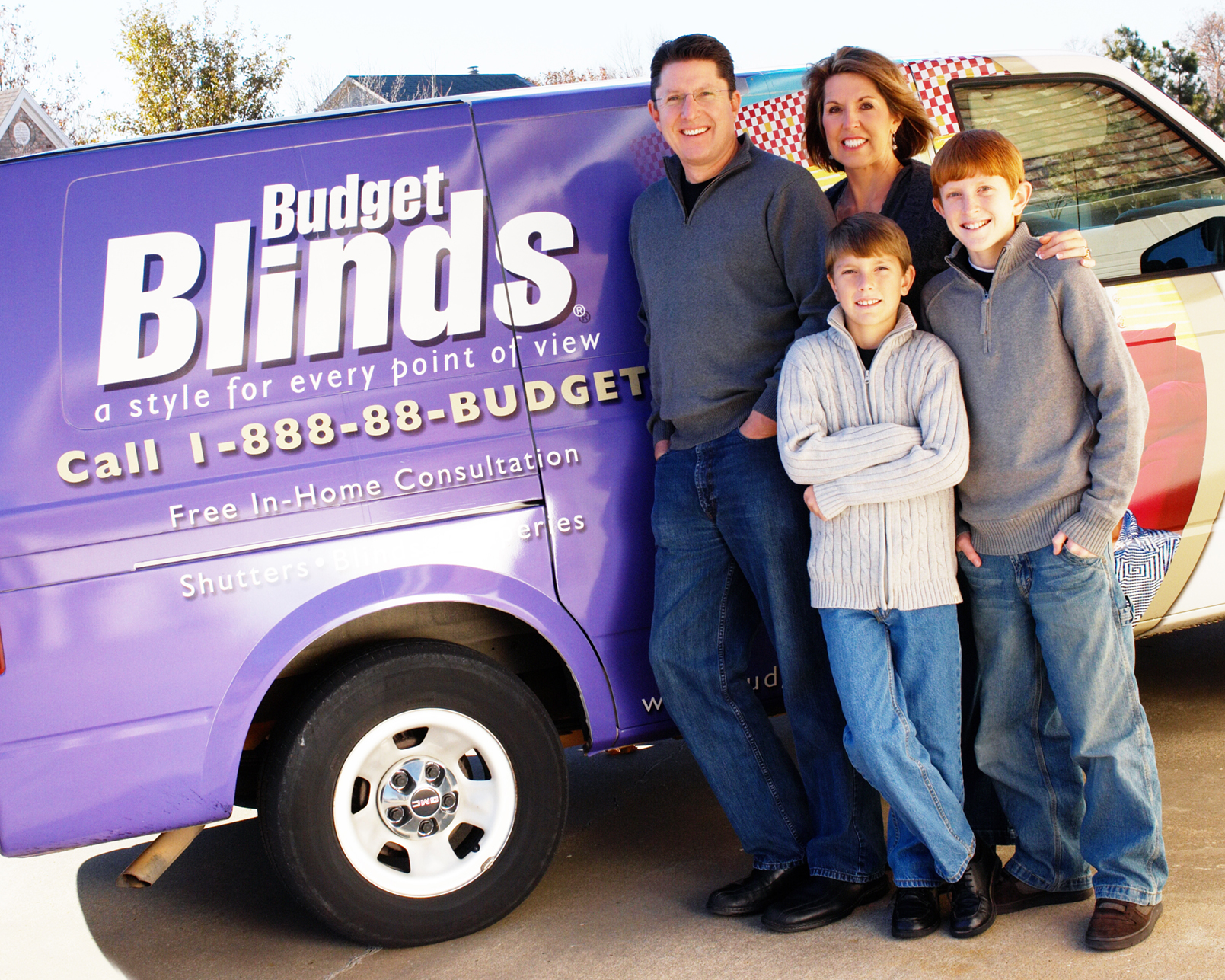 A big welcome to Budget Blinds, a new sponsor on nwaMotherlode.com! You've probably seen their purple van all around Northwest Arkansas. They serve the entire region, beautifying homes with not only blinds but also shutters, Roman shades, decorative rugs and so much more (see more offerings two questions down in this story).
We're excited that Lori Homstad, Budget Blinds co-owner and fellow mom, will also be contributing to our Home Design category (listed under 'Expert Advice') She has a huge bag of tricks to help solve decor problems around the house and we can't wait to read them each month!
In the meantime, Lori answered a few questions for us about the company and her family:
When did you and your husband begin the NWA location of Budget Blinds?
We began in June 2005.
What other products does your company carry in addition to window blinds?
Well, if you're speaking literally, window blinds include mini, vertical and horizontal blinds. But we also carry Roller Shades, Roman Shades, Woven Wood Shades, Cellular Shades, Valances, Draperies, Curtains, Plantation Shutters, Arches and Odd-Shape Window Coverings. We also do window film, and we carry specialty wallprints, decorative rugs, specialty faux iron, outdoor awnings, solar shades and draperies. (Below: Window treatments and wall treatments can give your kids' room the "WOW!" factor. Budget Blinds can create your child's dream room with printed shades from Creative Shadings and with unique borders, murals and more.)
What are some of the brands you offer?
We have over 1,000 stores nationwide and therefore have priority vendors. We carry these great brands and more: Hunter Douglas, Kathy Ireland Home by Alta, Norman Shutters, our own Signature Series, Lafayette Interior Fashions, Mecho Shades, Redi Shade, and more. (Below: Window coverings by Kathy Ireland Home by Alta from Budget Blinds.)
How do you help people who know the windows need "something" but don't know what that "something" is?
We provide a Free Design Guide by visiting our website. Our website also has an online virtual decorator! In addition, we provide expert advice with a one-hour complimentary consultation. We have thousands of samples we'll tote in from all the top manufacturers with low prices to fit your budget.
We've seen your van around town. Is it like a traveling showroom?
It's so much easier to shop where your windows are, so we bring the showroom to your living room. That way you can match the colors and textures more easily. We have kids, and we and understand that kids are messy so please don't clean up on account of us. 🙂
What are some of the most recent innovations in your industry?
Solar Shades for the outdoor patio and indoor windows where you want to preserve the view have been our top seller next to the inexpensive 2″ Faux Wood blinds. We'd like to mention our "Go Green" product, too. The Hunter Douglas Architella Honeycomb Cellular Shade significantly improves your energy savings because the R-Value is 7.18. It's the only blind the federal government will issue a $1,500 tax credit for because of its fantastic energy efficiency.
People assume window coverings will be really expensive. Are there budget-friendly options?
The 2″ Faux Wood Blind is the most popular and most budget-friendly product we have. Ask about our Signature Series line of products as we also guarantee the blinds for 5 years with no questions asked!
What is it like to work with your husband every day? Are you able to leave the office behind at the end of the day?
Do you really want to know.. or do you want the sugar-coated answer? There are more stressors when you're running your own business out of your home. We are both sensitive, strong-willed Leos who definitely step on each others' feelings from time to time, so knowing your role and going to sleep happy is always what we strive for each day.
When you're not working, what do you like to do with your kids?
Our boys are musically talented, and so we love listening to them bang on the drum, play the piano and sing. We have a swimming pool, and so that is always the place to hang out, especially on these wonderful hot days!
Hunter Douglas TRIO Convertible Shade