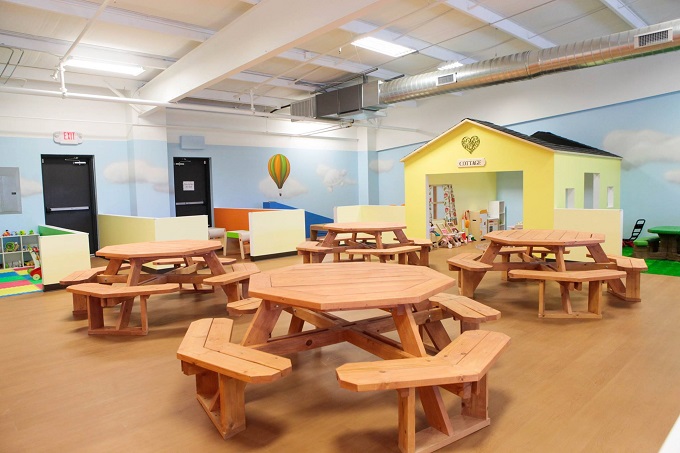 Northwest Arkansas has a new play center and it is AWESOME.
Imagine – A Child's Aventureworld is across from James at the Mill at 3801 Johnson Mill Boulevard (in Johnson!). The play center, one of our newest nwaMotherlode sponsors, is individually owned and created.
We asked the owners of the play center, a husband/wife team, to tell us a little more about Imagine in a quick Q&A:
Q: What inspired you to start this new play center?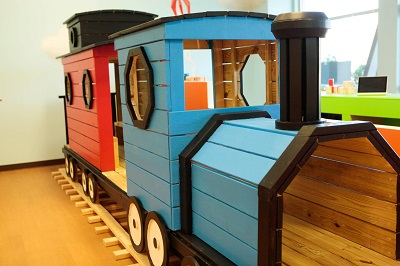 My wife and I have 2 kids of our own, 5 and 3. With our kids, we focus on creativity and imagination when it comes to playing. We want their play time to be an opportunity to invent, to problem solve, and learn to enjoy life.
With this criteria in mind, we observed them playing and took note of what types of toys, interactions, scenarios, and settings helped them do this, and then we started creating Imagine.
We found that many toys would draw their attention for a short period of time but it was the wooden, role-playing type toys that really kept their attention, and this became the focus and the design.
Q: What can parents expect when they bring their children to play there?
Imagine is set up with a center seating, which is surrounded by multiple themed areas.
The walls are all half walls so visibility is open throughout the whole facility. There is a train area which houses a large scale wooden train that the children can enter into and play on, two large built and secured down train tables, and a large mat area where kids have everything available to construct their own train sets.
Next is a child's size cottage with wooden refrigerators, ovens, mixing bowls, wooden food, table, tea sets, strollers, dolls, and high chairs. Each area is a similar concept and include: gardens, construction zone, race tracks, drawing areas, fire station, vet clinic, market, ride on area, and even a cruisers and crawlers area.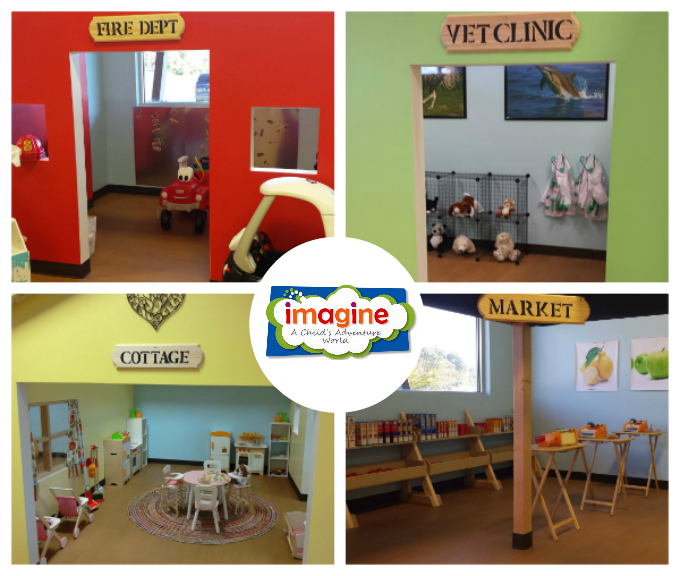 Q: How much does it cost? Do you have monthly passes?
Yes, we have several options. The pricing system is as follows: $4 for adults, $4/hr for children (15mins = $1 with a 1 hour minimum), children under 1 are free, you pay when you leave.
$35 for monthly passes (includes 1 child and 1 adult)
$25 for any additional child
Annual pass $150 (for 1 child and 1 adult)
Q: So far, what do the kids seem to gravitate to the most at Imagine?
So far kids seem to gravitate most to the cottage and the town (which is where the ride-ons, forestation, market, and vet clinic are).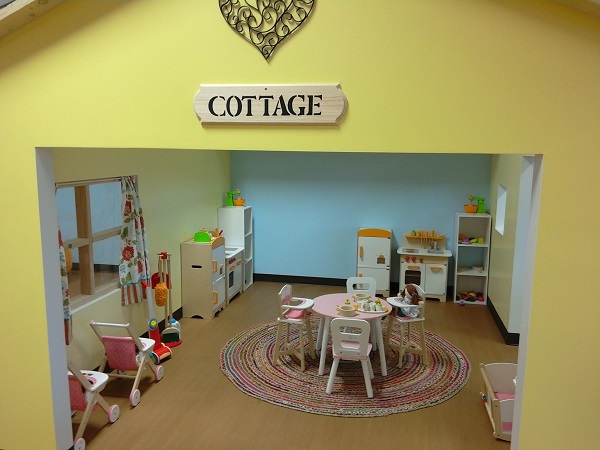 Q: We love that you have healthy snacks available for purchase since parents don't always have something with them! What types of snacks do you have?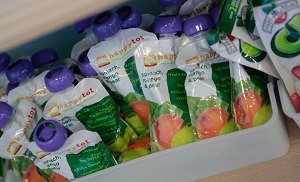 Snacks include; veggie and fruit packs, applesauce packs, skinny pop popcorn, annie's crackers, and dried apple slices. We also have water and organic juice boxes for sale too.
Q: And parents can also purchase toys there?
Yes, we also have a small retail section where we sell the toys found in the play center. The 2 companies we used to fill the stations are Hape and Melissa & Doug.
Q: You have birthday party options, right?
Yes, we have birthday party options! The pricing is based on the number of kids. $200 for 10 kids (not including birthday child), $250 for 15 kids, and $350 for an after hours party or renting of the whole location. The $200 and $250 options will get 45 mins access to the private party room and 75 minutes of play time. The $350 option is a renting of the whole facility and can only be done after 5 pm during the week or on Saturdays.
Note from the mamas: Imagine  just started a special that allows anyone who books a birthday during the month of November to receive $50 off. The birthday doesn't have to be in November, just booked by the end of November.
Q: What kind of feedback have you heard from parents since opening Imagine on Oct. 10th?
The feedback has been great. The parents love the setup that allows them to let their kids play and still feel safe to sit and interact with other adults.
Many have said they like how calm it is. Others have commented on how easy it makes it for them to interact more with their children and play with them. While others have really raved about the wooden toys and clean environment. Most everyone has thanked us for opening up, saying that Fayetteville really needed something like Imagine.
Note from the mamas: We found some insightful reviews written by Northwest Arkansas moms on the play center's Google Maps page. Here are a few:
Katie: "My children are 5.5 and almost 4 years old and love playing here. The variety and quality of toys is wonderful and the different section they have to play is perfect for all ages under 8. They have a vet, house with play kitchen, art supplies, market to grocery shop, train and car section, Legos and more. There is even a section reserved for babies. There are large picnic tables set up in the middle for snack time or for parents!"

Tiffany: "This is a clean and safe place for kiddos to play. Great for rainy or cold days! And it really encourages imaginative play. I love having a place to take my daughter that doesn't involve any screen time!"

Sarah: "We love taking our daughter! We go weekly!!"

Dana: "This place is amazing and just what we needed for this area!"

Tiffanie: "My two boys (ages 8 and 5) and I love visiting Imagine. The layout is appealing to kids and adults, and the toys are so cute that I was even drawn into the play! The first thing my son said as we left was, 'Can we come here every day?'"
Q: What about feedback from the KIDS?! 🙂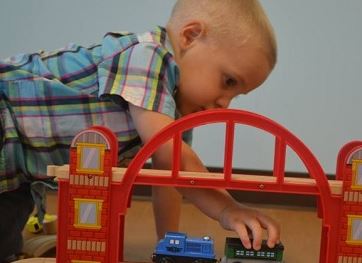 The truth is, our kids helped us design a lot of the location and pick out a lot of the toys so the first approval we ever got was theirs. That being said, most kids don't want to leave. Almost all the kids ask us if they can come back when they are putting their shoes back on.
A couple other things to note: We are a no shoes facility which goes for adults as well. We always have socks for any adult or child who needs some though, which we let them borrow.
We are also very concerned with sanitation and have all kids wash their hands before starting play for which we have a hand washing station. We also have a cleaning and sanitation system for the toys in the facility.
To visit their Facebook page, CLICK HERE. If you'd like to visit their website, CLICK HERE. You can also reach them by calling 479-249-8020.