If you're like us, you are BIG fans of texting. It's so quick and efficient and sometimes it's the only way we have to keep tabs on teenagers.
(Remind me to tell you about the first time Shannon got an iPhone years ago and wondered if she even really needed a data plan for texting. She wasn't sure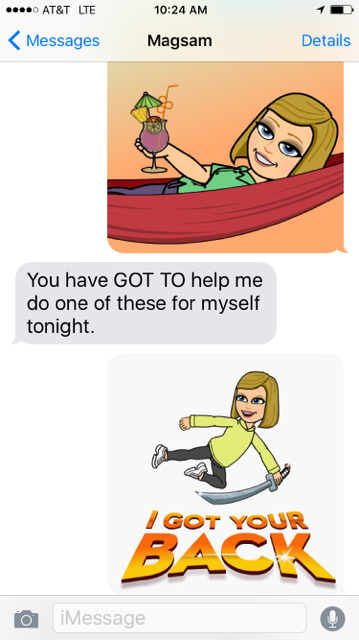 she'd even use texting. HAHAHAHA! We still laugh about that one, mostly by sending each other laughing emojis via text.)
Fellow texting junkies, have you heard about an app called Bitmoji? I downloaded it about a month ago and it has been so much fun. It's basically an emoji picture designed to look more like you! (You pick the face shape, hair, eyes, outfits, etc.) And the Bitmoji version of you is placed in all kinds of common texting phrases like "Running late!" or "Seriously?" or "What's up?" There are tons of options.  Sometimes I can have an entire conversation using the funny pictures on Bitmoji.
(Pictured on the right is a screen shot of a text trail between Shannon and me when I was showing off my new Bitmoji pics.)
It's available on the App store and on Google Play, so check it out if it sounds like fun to you. My kids think it's hilarious. (But do be aware that there are a few of the Bitmojis that are not appropriate for kids, so make sure to tell them that it's not cool to use those.)