Tomorrow is OPENING DAY for the Rogers Aquatic Center! Do you have your discount admission punch card yet? If not, do it by tomorrow because that's the last day to get one, and the discount punch card means that each visit to the Aquatic Center is only $4.20 per person. Woo-hooo!
We got a special sneak peek at the Rogers Aquatic Center last weekend when they invited bloggers to take a tour and ride the slides. Click HERE to read the first part of our review.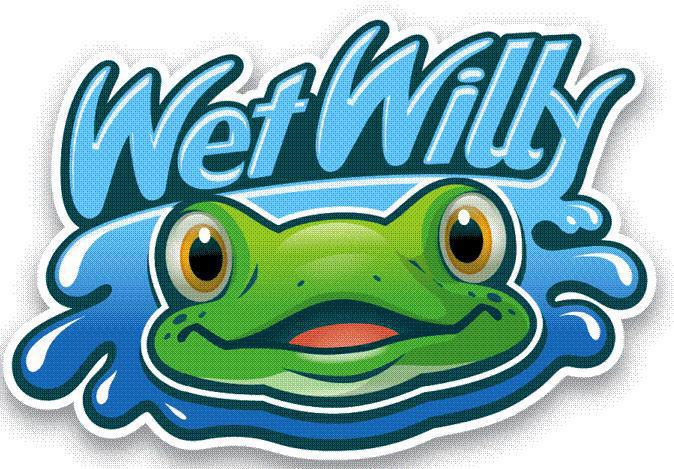 Here are some other important things to know about this new attraction in Northwest Arkansas.
Hours of operation: The Center will be open from 11 a.m. to 8 p.m. Mondays through Saturdays; Open Sundays from 12 p.m. to 6 p.m.
General rules: Click HERE to see a listing of the rules governing the Aquatic Center.
Parties: We mama types are always looking for new, fun places to host kids' birthday parties or family reunions, etc. The good news is that the large, covered cabanas at the Rogers Aquatic Center will be available for rentals. Price is $250 but includes admission for 12 people as well as a beverage ticket. The hours of use on the rented cabanas are limited to 2 1/2 hours, but party-goers can stay and play at the Aquatic Center all day. Officials are already taking reservations for the four covered cabanas, and more cabanas may be built in the future.
Nightly light shows: Things get really interesting after dark at the water park. Each slide lights up in different colors. In addition to the special effects, there's another good reason to check out the center in the evenings. There's a lower admission price for those twilight hours between 4 and 8 p.m.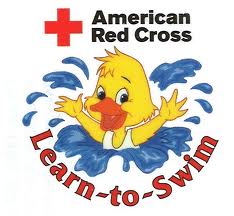 Swim Team and swim lessons: The Rogers Aquatic Center will also be offering swim lessons and a swim team this summer! Whether your child is new to swimming or is ready to learn new strokes and race in swim meets, there's probably a class offering that will fit your needs. The Swim Team name is the "Ballistic Bullfrogs," and they'll be practicing three days a week (although you don't have to attend each session) and swim meets will be held in the evenings or on Saturdays.
If you need swim lesson information, click HERE.
If you want swim team information and a practice schedule, click HERE.
Lap pool: The competition lap pool at the Center is really nice! And there will be times that the pool is reserved for those lap swimmers. (It will also be used for swim meets and general free swim periods.) Fitness/lap swimmers can buy a monthly membership card for $35 per month and use the lap pool daily between 11 a.m. and 2 p.m. and 5 p.m. and 7:30 p.m.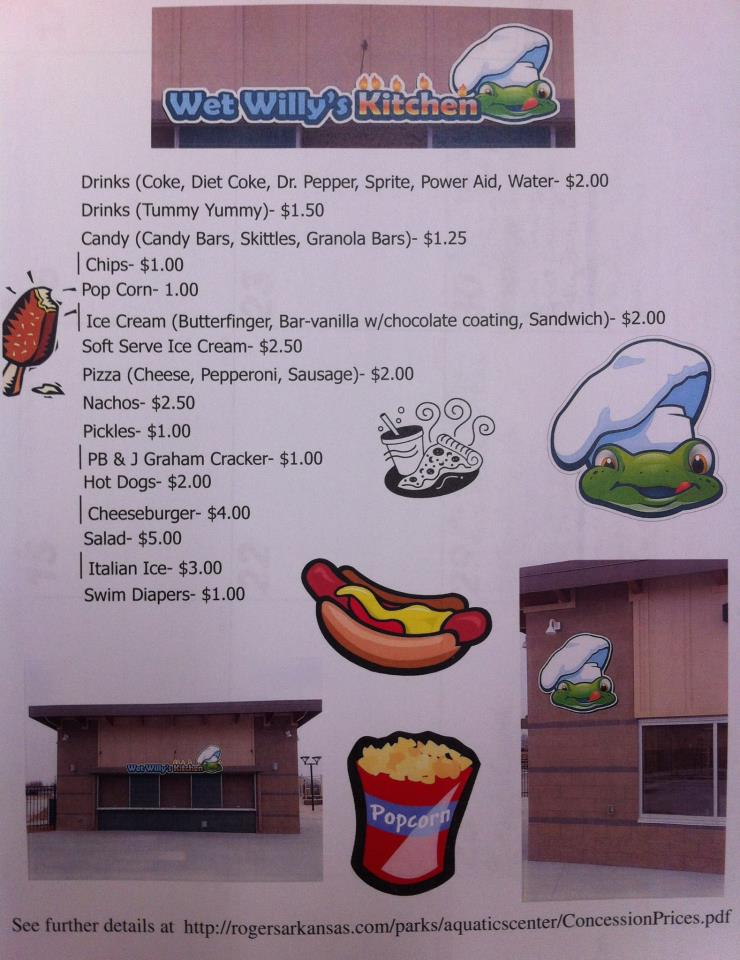 Food:  One of the things we like best about a day at the waterpark is that it includes LOTS of physical activity — something we and our kids really need. All that swimming and splashing and sliding and climbing steps to the slides along with water basketball, rock wall climbing, and balancing on floating lily pads is going to make your kids HUNGRY. So you'll be glad to know that there's a special Wet Willy's Kitchen on site that has things like pizza, popcorn, ice cream, nachos, burgers, juice, soft drinks, chips, candy, salad, Italian ice and more. The prices are very reasonable, with most items costing $2 or less. And there are plenty of covered tables so you can get a break from the sun while you have a snack.
Handicapped access: We noticed that there are several chairs specially built to allow handicapped people to enjoy the pools at the Rogers Aquatic Center. There's one by the rock climbing wall and the competition lap pool. Many older waterparks don't have the same level of accessibility that newer ones do.
One last note: We heard a few moms worrying about taking their little ones to the waterpark because they know the kids will need a naptime, and they didn't want to spend too much on admission only to cut it short when a toddler gets tired. We found out via the Center's Facebook page that, if you get your hand stamped before leaving the park, you can return that same day for more swimming without having to use another "punch" on your punch card and without paying another admission price. Good news!! Just be sure to get your hands stamped before you leave!