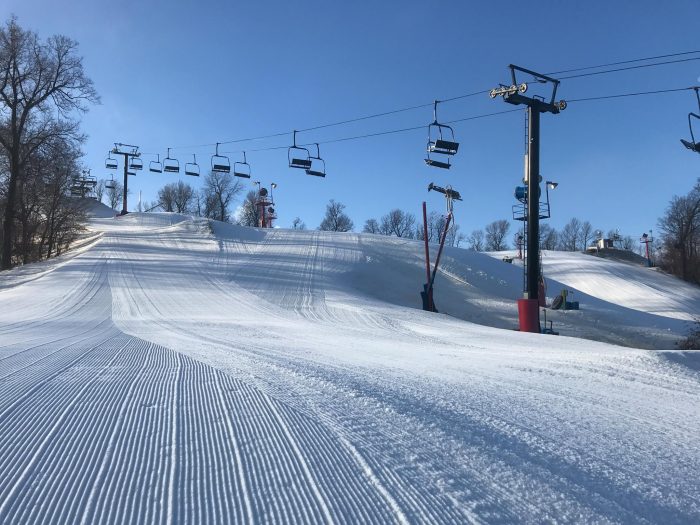 Hi mamas! A few years ago we posted a pic on the nwaMotherlode Facebook page of my kids skiing at Snow Creek Ski Area, which is only about a 4-hour drive from Northwest Arkansas.
Many of you had questions about that place, so we're sharing more of the info here. This is a FUN getaway that doesn't require days of driving or an expensive plane ticket.
According to the Snow Creek Ski Area website, the opening day for the 2022 ski season was JANUARY 7, 2022. (Always check the company's website for a snow report before you go.)
If your family is new to skiing, this is also a great way to ease into the sport before you hit the big mountain resorts of Colorado.
Name: Snow Creek Ski Area
Where: Weston, Missouri (about 254 miles from Rogers, Ark. and 40 miles north of Kansas City, Missouri.)
When: Depending on weather conditions, the facility usually opens in December but was delayed this time because of warmer weather. It closes in mid-March.
Hours: They typically open at noon on weekdays and at 9 a.m. on weekends. Click here for more info on when they're open.
How: Skiing in Missouri? Really? Yep, they make their own snow when Mother Nature doesn't cooperate.
Cost: Lift tickets range in cost from $10 to $47, depending on your age and the day of the week. Kids under the age of 4 get in free. There are also discounts for night sessions. Ski equipment rentals are $31 a day. Click here for a full list of the lift ticket and rental prices. 
Lessons: The ski school is called Rainbow Ridge. Group or private lessons are available. If you have a 3-year-old or 4-year-old, there is a "Ski with Me" program which is a little like a Mommy-and-me skiing class. At least one parent will need to ski with the child during the lesson. (Cost is $90, which includes adult and child lift ticket, rental equipment and two hours of instruction.)
For kids ages 5 to 7, there's a ski instruction program called Snow Monsters. (Parents can enjoy the slopes alone during the ski lesson.)
For kids 8 to 12, the program is called Mountain Explorers. (No parent participation necessary.)
Private and group lessons: We found the group and private lesson rates to be very reasonable, especially compared to bigger ski resorts. If you can, consider booking a private lesson or small group lesson because you and your kids will learn faster with more one-on-one instruction. Plus, ski instructors can tailor the lesson to your specific needs.
A private lesson costs $50 per person for an hour of instruction time, and it's 70 for an hour and a half. Kids must be 2 or older for a private lesson. You could also schedule a private group lesson for your family.
Special needs: If someone in your group has special needs, Snow Creek does offer "adaptive" lessons. Click here for all the details.
Girls' weekend: For a fun girls' weekend getaway, Snow Creek also has a special package for an all-girls group lesson. Click here for the info.
How big is it?
12 trails (30% of them are for beginners; 60% for intermediate; 10% for expert)
5 ski lifts
300 ft. vertical drop
2 terrain parks
10,000 square-foot lodge
Bar and lounge
Self-service cafeteria and pizzeria
Ski patrol and First Aid facility
Souvenir sales
Skis, snowboards and helmets available for rent
Ski boots for toddlers available
Snowboards also available in youth sizes
Snow Tubing at Tornado Alley Info
Snow tubing is so much fun! Each person rides solo, but you CAN link tubes together. For example, if you're worried about your little one sliding down alone, you can hold on to his or her tube while you both slide down together.
You must purchase a separate ticket for tubing. Choose either a 2 or 4-hour ticket. (Buy tubing tickets in the main lodge.)
No age requirement for tubing, but use your best judgement for kids who are really small.
No personal sleds or tubes are allowed.
Cost is $28 for a 2-hour session or $45 for a 4-hour session; If you've already purchased a ski lift ticket, tubing is only $20 extra.
Go to the snow tubing area before you purchase the ticket, if you want to check the sliding conditions first. Sliding speeds vary depending on the weather, but you can't get your money back if you don't like the conditions after you've purchased.
Click here for more info on snow tubing hours of operation.
Personal notes
Mamas, my family of 5 loved our quick trip to Snow Creek. It even snowed for about 15 minutes while we were there. So pretty!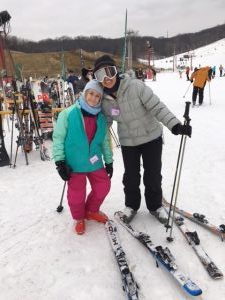 You'll feel like you're in the middle of nowhere while you're on your way to Snow Creek, but once you get there, you'll be amazed at how much this ski area has to offer. The lessons are well worth the price. Be sure to reserve lessons in advance! 
If you have someone who is not skiing during your trip, he or she can wait in the lodge. You can see much of the ski trails from there. The food in the lodge isn't great, but it's okay. Choices include burgers, pizza, chili, chips, fries, chicken nuggets, cheese sticks, etc. (The chili was my favorite of the options.)
If you're new to skiing, be sure to check out their First Time Guide before you go.
There are different buildings at this ski area. Go to the main lodge to check in and get your lift tickets.  Then go to the building next door to pick up your ski boots, skis or snowboard, helmets and poles.
If you or the kids are taking lessons, look for the Rainbow Ridge sign, which is where you'll meet up with the ski instructor.
Also, be sure to check the Snow Conditions Report before you go.
Where to stay
Remember that Kansas City is only 40 miles away, so there are plenty of options there. Click here to see the Snow Creek website recommendations for lodging.
We wanted to stay closer to the ski area so we could get there early in the morning, so we stayed at a Hampton Inn in Leavenworth, Kansas. It was clean and it has an indoor pool, which the kids always love.
Hope these tips are helpful if you and your crew decide to go skiing soon! Have fun!