Same Different Amazing Gallery now open in Little Rock
By April Wallace, Early Childhood Editor for nwaMotherlode.com
A new gallery aims to help families talk with their children about race and inclusion. "Same Different Amazing" is opening soon in Little Rock.
This permanent exhibit at Mosaic Templars Cultural Center will be the first of its kind in the country. It opens September 18, 2021 with a day of music, performance by Tommy Terrific (a children's magician), hands-on activities and crafts—all of which are free and will take place outdoors.
The museum has timed entry for families and is open Tuesday through Saturday 9 a.m.-5 p.m. for no fee.
"Same Different Amazing" was devised over years of thoughtful observation and "heart work," said Key Fletcher, the director of the center. "Love oozes out of it."
Fletcher was promoted to director this summer, but has been with the center for 13 years, which she describes as a wonderful place to celebrate and uplift African American upheaval and achievement.
"It's always been my desire for students to learn interactively alongside parents," Fletcher said. Previously, she traveled the state to speak with students and teachers and created hands-on activities to make museum topics come to life for young Arkansans.
"It's very important, especially in a culture like ours," she said. "We talk to our kids, have difficult conversations. (Growing up, many of us) were taught to not talk about race or visual differences…but here, those 'We don't talk about that' conversations are sparked in the children's gallery."
Fletcher wants to give parents a way to talk about difficult things, or things we're unaccustomed to broaching, meanwhile teaching children what it means to be different and how to be inclusive.
Over the course of five years, Deputy Director Christen Stanley developed the idea while Fletcher wrote the grant and contributed ideas for the space.
"We wanted to make it a unique space that parents could feel comfortable bringing kids in," Fletcher said. "It's a passion project. I wish we'd had it when my daughter was 2. But I'm excited for others to use it."
Upon entering the gallery, families will find a little girl named Ida (named for Ida B. Wells), who tells parents how to use the features and interact with kids in the space. Next to her, you can find color coded cards to lead you to age appropriate activities, divided by ages 0-3, 4-7 and 8-9.
On the far side of the exhibit are houses of various types that represent communities in Arkansas. Children can pop the houses open to take a look at life on the inside of small homes, big suburban houses, large apartment buildings with tiny living spaces and barns of rural areas. It's an introduction to the larger inequities of life, but on a basic level, you can discuss why each is so different from each other or different from your own home and community.
Similarly, some stacking cubes can be opened to reveal characters and different families inside that introduce people and allow kids to learn about them.
On the outside of the cultural center's theatre, children can use magnet words and images to answer "you are amazing because…". Watch your little one fill it in with pictures of books, paintings, families, religious symbols and other things they might self-identify with. Afterward, children can go behind the curtain and playact about what makes them amazing.
All these activities are "affirming that no matter who they are, there are things special about you that nobody else has," Fletcher said.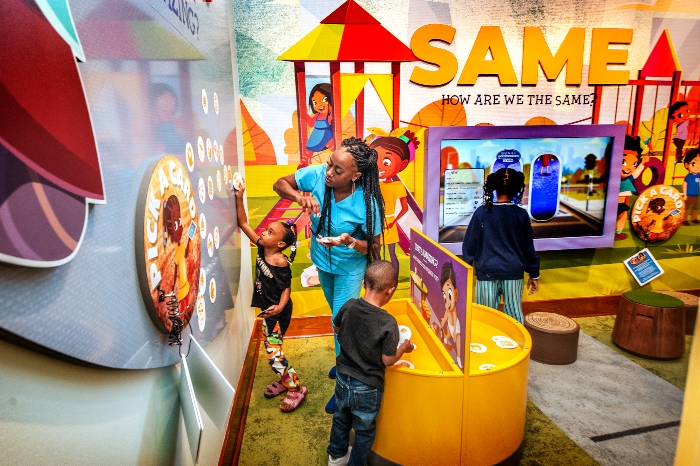 An interactive touch screen allows children to choose a character to meet and use them on any of 20 available different backgrounds. For example, one is Langston (after Langston Hughes), who is from a two-parent family. Once you choose the character, it'll match him with another kid, such as a little girl from New Orleans who speaks Creole and has a single mother.
All of it is to begin conversations about what makes us the same and what makes us different, Fletcher said. "We all have something that makes us really special."
Another of the exhibits is a great, big tree, whose leaves are fingerprints. It represents the fact that every person has a history and a story, and contemplating where those are rooted.
"This is a cool part of the space to talk about family structure and DNA," she said.
A huge magnet wall nearby is designed to let kids go crazy, be silly and imagine who they want to become by reaching into bins and finding objects to put together to express that. Ask them 'What's something your bubba does that you like about them or amazing?' It helps them to see the amazingness and differences and start to self identify, Fletcher said.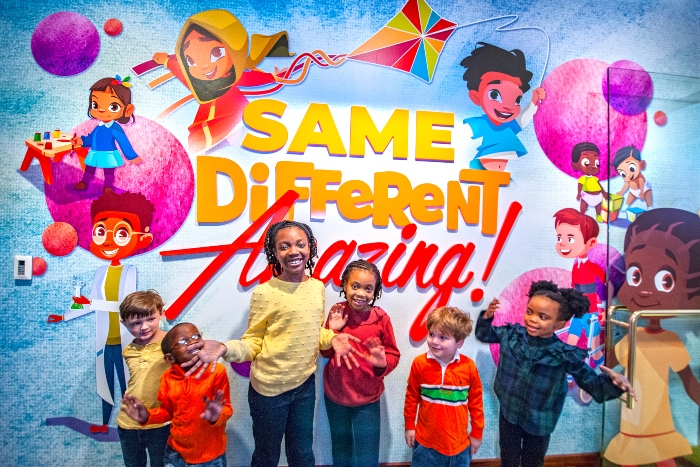 The Magic Door is an exercise to talk about how to be helpers. Kids even at a young age realize that they can contribute to the community. This part of the exhibit gives a chance to discuss how they can do that.
Before leaving the exhibit, families are encouraged to leave a note for someone else about what they experienced, or what they believe. Create your note and hang it up so you can connect with others who will come through the gallery.
Fletcher hopes this space will encourage families to ask "What are we doing to help others," "How can we be kind to friends," and to celebrate African American culture no matter what is going on in America and Arkansas in particular.