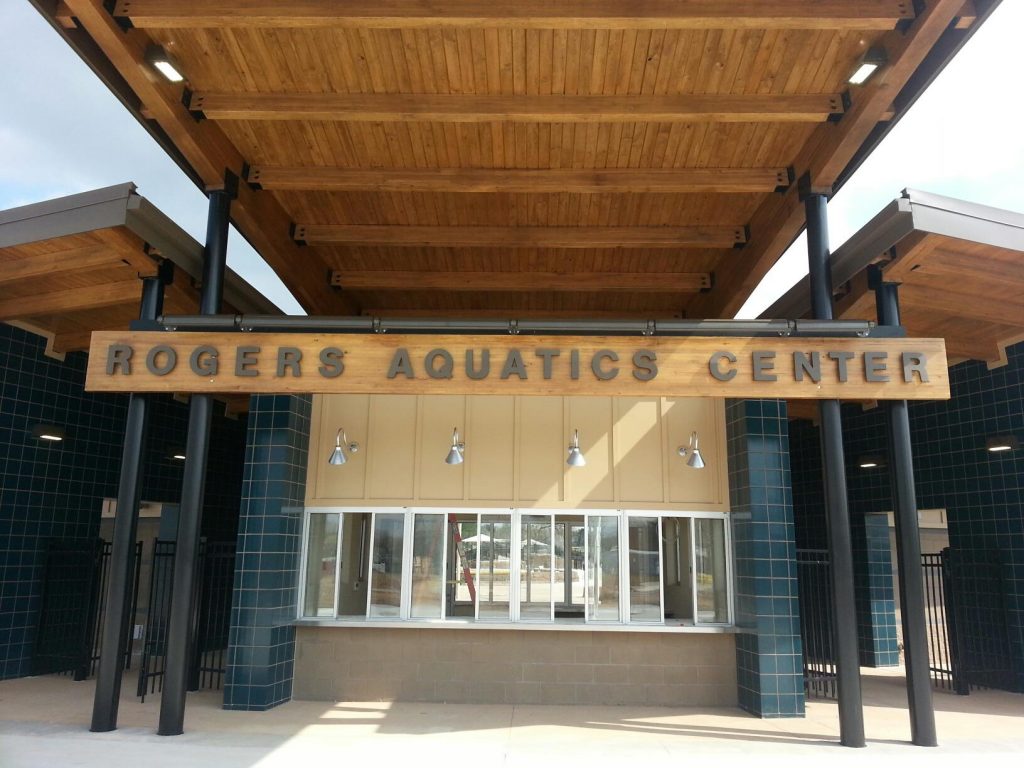 We scored some serious "cool mom" points with our kids on Saturday because we, along with several other Northwest Arkansas bloggers, were invited to a special preview event at the brand spankin' new Rogers Aquatic Center. The center is gearing up for its official opening day this Saturday, May 25, 2013. If you and your kids love the water, this is going to be one of your new favorite places to go this summer. As my 8-year-old son Jack put it, "It is AWE.SOME."
Here's what you need to know about the waterpark.
Price: We've heard there's been some Facebook grumbling about the price of admission to the aquatic center, but with the option to buy discounted "punch cards," we can't imagine that there's anything left to fuss about. If you get one of the discount admission "punch cards," the cost for one visit to the Rogers Aquatic Center is about $4.20. And that gets you into the center for the whole day! That's less than a movie ticket and many of the other kid-oriented activities in the area. Concession stand prices are more than fair.
NOTE: If you want the best admission price, be sure to get the discount punch card THIS WEEK before the offer expires. Each card gets you 10 visits, and one family can use a single card. (If there are four people in your family, your card will be punched four times during your visit.) Buy the punch cards at the Rogers Aquatic Center (located at 1707 S. 26th St. in Rogers between 10 a.m. and 4 p.m.) or at the Rogers Park Department at 113 N. 4th Street in Rogers between the hours of 9 a.m. and 4 p.m.
Prices vary according to height, with pricing tiers for kids under 36 inches tall, those under 48 inches tall and those over 48 inches tall. You have to be at least 48 inches tall to ride the slides.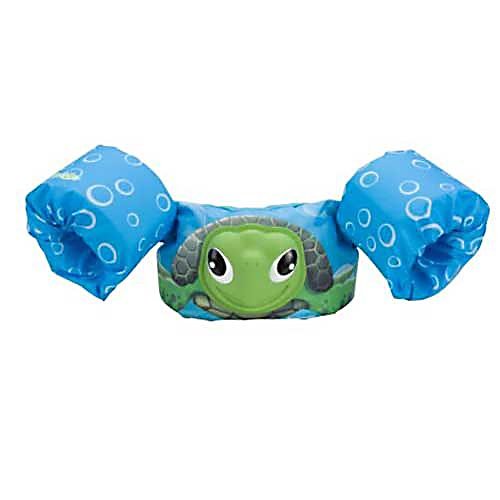 Safety: Making sure we're taking our kids to a safe place is the No. 1 priority for parents. During our tour of the center, we were SO impressed with the level of security built in to every aspect of the waterpark. The center boasts a state-of-the-art surveillance system that will help put parents' minds at ease. The system is so advanced that it even features nighttime video surveillance with infrared technology. (A few teenagers who recently tried to sneak into the park for some late-night partying were caught and handcuffed within 10 minutes of entering the parking lot.)
There are also systems in place for helping parents find kids if they get separated while at the Aquatic Center.
With more than 80 trained lifeguards on staff, there will always be at least 30 of them on duty at any one time at the park. You are allowed to bring your own Coast Guard Approved life jackets into the park for your kids to wear, if needed.
There's even a special cool room at the park designed to quickly help kids or adults who get overheated and need help to cool down.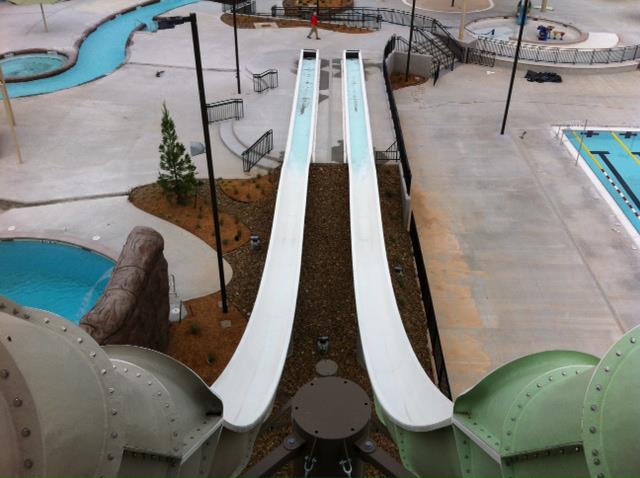 Fun: While we were taking notes on admission prices and safety features, our kids were busy staring wide-eyed at all the slides and saying "WOW. Mom, look at that one!" There's a lot to see and do, and our kids immediately made a beeline for the Hawk's Nest slides that feature platforms 40-feet in the air and two twisting slides racing back down to ground level.
We also really liked the "Super Flush" slide that features a fast descent into a large funnel where you'll slide around in circles before finally plunging through the hole at the bottom into the cool pool below.
The side-by-side Speed Slides were very popular last weekend, too. They feature a sharp drop that sends you sliding at high rates of speed. When you get to the bottom, the shallow water will quickly slow you to a stop.
Shannon and I spent most of our time cruising the Lazy River that meanders through the park, complete with a few whirpools and waterfalls. We love how the easy inner tube floating gives you time to chat with your friends as you enjoy the water.
Family-friendly features: As moms, we all know that some places are very difficult to navigate if you have babies, toddlers or preschoolers. But you'll be happy to know that the Aquatic Center has thought of most of what we mamas need. There are FOUR large family dressing rooms so you won't need to send your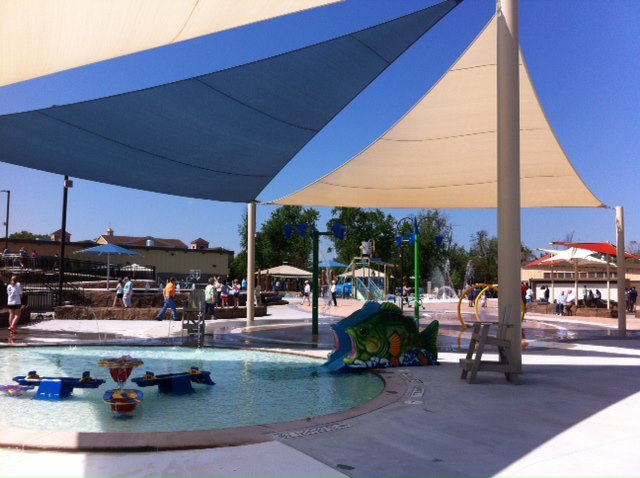 little boys into a separate bathroom/dressing area. There are baby-changing stations, swim diapers on sale, and a LARGE splash area that's safe for the littlest members of your family.
There are also lots of covered spaces so you can find shade for your baby's delicate skin (and yours, too) on the hottest of summer days.
Look for another post on the Rogers Aquatic Center this Friday — the day before opening day — and we'll give you more details on how to book a birthday party at the Aquatic Center, how to get info on the new Swim Team at the park, swimming lessons, lap pool usage, concession stand offerings and prices, handicapped access, evening light shows and much more.
You can also get more info by visiting the Center's Facebook page by clicking HERE.