Remember, we're moving our weekly radio chat on Magic 107.9 to Thursday mornings instead of Fridays. Gwen is on vacation this week, so I'll be flying solo.
Since I'm smack dab in the middle of trying to figure out how to make homework a little less painful around our house right now, this week we'll be talking tips about how to accomplish that. Or at least talk through a few solutions for alleviating some of the drama.
I'll also ask hosts Guy Westmoland and Jennifer Irwin to show me their report cards. Kidding on that, but I will ask them about their own homework habits back in the day.
Tune in between 7:25 a.m. and 8:25 a.m. to join the on-air discussion. Or click on the graphic below to listen to the radio live on your computer.
Here are some of the links we used to prepare this radio topic. Click the title of each article below to read more about it: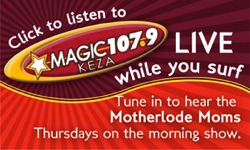 Save