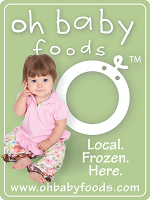 Editor's note: We have a winner! Comments closed.
The great giveaways just keep comin'!
Today we're giving away a Baby Shower Gift Set from Oh Baby Foods! Just in time for your friend's (or your) new arrival, give the gift of a healthy start.
The set includes an organic cotton onesie, organic cotton pull-over bib, and a $25 gift certificate for baby's first foods: Oh Baby Foods. That's a $50 value!
Oh Baby Foods is a new company based in NWA and offers purees for babies and toddlers made from ingredients raised by regional farming families.
In addition to home and office delivery via Old Soul Organics www.oldsoulorganics.com , and online at their website, mom and founder Fran Free Gunsaulis said Oh Baby foods are available in the freezer section of 11 brick-and-mortar stores: six Harp's locations in Fayetteville & Springdale; Ozark Natural Foods; P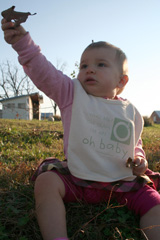 innacle Station Local Market; Cook's Natural Foods; Roger's Natural Foods and Vitamins; and Ozark Herb & Spice.
How to win: Click on the word "comment" at the end of this post and tell us what kind of baby food your baby would probably request if (s)he could talk. (If you have an older child, tell us what (s)he would have requested back when (s)he was smaller). Do they like blueberries, bananas or sweet corn best? Or do green beans really make her smile? Maybe Fran can get some good ideas for future Oh Baby Foods!
About Oh Baby Foods' gear: Their bibs, onesies (infant & toddler sizes), and reusable shopping bags are from a fourth-generation organic cotton farm in Texas. The Oldham Family of www.sosfromtexas.com grows, mills, and prints the products — very cool styles that make great gifts. They also have "Oh Baby On Board" bumper stickers and gift certificates.
To read a story about Oh Baby Foods on Motherlode, click HERE. To visit the Oh Baby Foods website, click HERE.
Good luck!