First Friday: Bentonville in Toyland
The last Bentonville First Friday of the 2012 season will bring in the holidays with Bentonville In Toyland. Walmart will be producing the Bentonville In Toyland experience – with vendors introducing their new holiday toy lines – Radio Disney 99.5 FM, part of the #1 radio network for kids, tweens and families, will also host interactive entertainment and performances on the Walton Arts Center Main Stage The Walmart Visitor Center will be introducing its new neo-retro ice cream and soda shop Spark Café experience. Local artisans and craft vendors, gallery openings, children's activities and a variety of food will also be offered during the First Friday event.  Sponsored by Walmart and the Walmart Visitor Center and Radio Disney.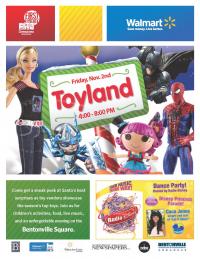 Date: Nov. 2
Time: 11:30 a.m. – 1 p.m. and 4-8 p.m.
Location: Bentonville Square
More info: Click here
Toucan Jam, Fayetteville Public Library
Date: Nov. 3
Time: 10:30 AM
Location: Fayetteville Public Library, Fayetteville
More info: Click here
11th Annual Tontitown Reunion and Old Fashioned Polenta Smear
Date: Nov. 4
Time: 1:30 PM – 4:00 PM
Location: St. Joseph's Parish Church Grounds, Tontitown
Healthy Fresh & Pasta
Come enjoy cooking demonstrations and tastings prepared by some of Northwest Arkansas' Top Chefs. At each demonstration chefs will prepare a seasonal recipe using fresh produce combined with Barilla Pasta & Sauce.
Date: Nov. 4
Time: 1 p.m.
Location: Botanical Garden of the Ozarks, Fayetteville
More info: Click here
NWA Boutique Show
Shop over 150 merchants featuring thousands of one-of-a-kind and custom items!  Home decor, gifts, clothing, gourmet food, holiday decor, children's items, art and more!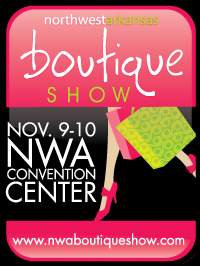 Date: Nov. 9-10
Time: Varies
Location: NWA Convention Center
More info: Click here
UARK Bowl NWA Comedy: Robert Kelly and Sam Letchworth
Robert Kelly has over­come many hard­ships in his life, all of which have made him the actor/comedian he is today. From his early days as a kid grow­ing up in Boston, in and out of Juve­nile Hall, Kelly's unique, hon­est take on his own life and rela­tion­ships make his com­edy clever, abra­sive, funny, but refresh­ingly vulnerable. A modern-day bard, Sam Letchworth enter­tains from a grab-bag of social com­men­tary, shame­less rumi­na­tions on his per­sonal life, and songs on a variety of sub­jects from Valentine's Day to the drug war.
Date: Nov. 8 & 9
Time: Thursday, 8 p.m.; Friday, 8 p.m. and 10:30 p.m.
Location: UARK Bowl; 644 W. Dickson St., Fayetteville
More info: Click here
Renaissance and Fantasy Faire of the Ozarks
RFFO is a combination of a renaissance and fantasy faire. For one weekend, the human realm and the magical realm cross paths for jousting, singing, shopping, and all around fun.
Date: Nov. 10-11
Time: 10 AM – 5PM
Location: Washington County Fairgrounds
More info: Click here
Lights of the Ozarks lighting night
Enjoy the amazing winter wonderland of lights on the Downtown Square beginning November 17th at 6 p.m. with the Lighting Night parade. Nightly carriages and pony rides, fresh hot chocolate and festive holiday music make the Lights of the Ozarks an event that cannot be missed. The romantic and breathtaking display of a half-million twinkling lights is cherished by the locals and visitors alike that stroll or drive through the Lights of the Ozarks each year.
Date: Nov. 17, 2012
Time: 7  PM
Location: Fayetteville Downtown Square
More info: Click here
"Guess How Much I Love You" Boot Camp (ages 4 to 2nd grade)
Trike Theatre artists share their love of puppetry and acting during this 3-hour Bootcamp. Our youngest actors will dive into the familiar stories of Mermaid Theatre of Nova Scotia's production of Guess How Much I Love You, while they make their own puppet and use it to re-tell stories. For campers ages 4 years to 2nd grade. All supplies included. Price: $30
Date: Nov. 17
Time: 1-4 p.m.
Location: Walton Arts Center
Lawrence Plaza Ice Rink opens/skating exhibition/movie
Date: Nov. 17
Time: Rink opens at noon; Arkansas Figure Skating Association exhibition 7 p.m.; and plaza movie "It's a Wonderful Life" at 7:45 (Movie nights at the Plaza run through Dec. 22)
Location: Lawrence Plaza, Bentonville
More info: Click here
Lighting of the Bentonville Square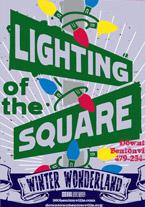 This all-day event on November 17th culminates into an extravaganza of lights, showering the downtown Square in the soft glow of the holiday season.  The activities that day also include food, rides, live music and family activities, as well as the New Balance Girls on the Run, Miss Winter Wonderland pageant, the Lighting of the Square, the season opening of the The Rink at Ernie Lawrence Plaza and the official lighting of the City Christmas tree.  Don't miss the Lighting of the Square ceremony promptly at 6pm.  Musical festivities starting at 4pm.
Date: Nov. 17
Time: 6 p.m. (events all day)
Location: Bentonville Square
More info: Click here