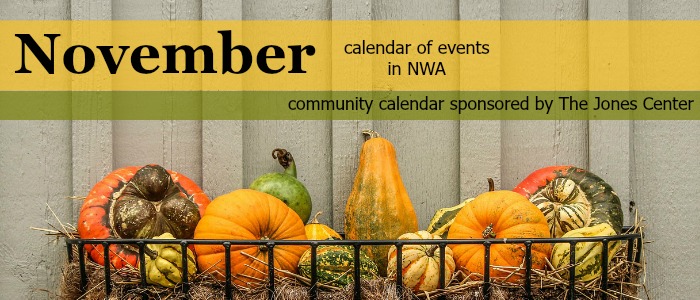 Bentonville First Friday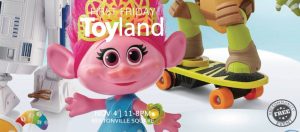 The Bentonville Square is transformed into a dream children's playground where vendors offer all the newest toys for kids (and adults) to play with and decide what might go on their list for Santa. Disney will sponsor the Mainstage with music, entertainment and superstar surprises. Amazing food and lots of other activities.
Date: Nov. 4
Time: 11 a.m. to 8 p.m.
Location: Bentonville Square
More info: Click here
Bentonville Bike Playground Grand Opening
The Bentonville Parks & Recreation along with the Walton Family Fountain and Visit Bentonville invited you to celebrate the Grand Opening of the Bentonville Bike Playground. The new playground is located next to the Bentonville Bark Park at 2400 N. Walton Blvd. After the Grand Opening, be sure to head down to the Slaughter Pen Free Ride Park for the first annual Cyclopath CycloCross race! More information about the race can be found at: http://www.bikebentonville.com/events-1
Date: Nov. 5
Time: 10 a.m. to 12:30 p.m.
Location: 215 SW A St.
More info: Click here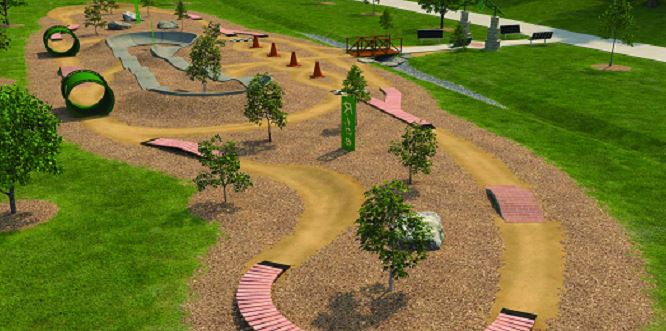 Family Sunday: Dance Party! Crystal Bridges
Crystal Bridges opened its doors on 11-11-11. Five years later, we want to show our appreciation to our members and guests that have made this Museum great. Join us to celebrate our fifth anniversary and explore the temporary exhibition The Art of American Dance with free admission during Family Sunday. Enjoy dance performances, music, artmaking, and more! Free, no registration required.
Date: Sunday, November 6
Time: noon to 5 pm
Location: Crystal Bridges Museum, Bentonville
More info: Click here
Priceless Nights, Amazeum

The Scott Family Amazeum will again host Priceless Nights in 2016. The pay-as-you-wish evenings allow families to visit and make a donation instead of paying admission. All the attractions are the same!
Nov. 9, 16 & 30
Time: 4-7:30 p.m.
Location: Amazeum, Bentonville
More info: Click here

Walton Arts Center Grand Re-Opening Ceremony
The community is invited to come see the newly-renovated Walton Arts Center on Saturday, Nov. 19. The *Grand Reopening Celebration* will kick off WAC's 25th Anniversary Season with a Family Open House: "Behind the Curtain" from 10am-1pm and an Evening Celebration: "Encore!" from 6-10pm.
All events are free and open to the public! Visit bit.ly/2d8z92E to learn more.
Date: Nov. 19
Time: See above
Location: Walton Arts Center, Dickson St., Fayetteville
More info: Click here
Modern Mission Laser Tag event at The Jones Center (Thanksgiving week!)

For the first time ever, experience advanced laser tag at The Jones Center. The Modern Mission experience is coming to The Jones Center. Enjoy all of your favorite games like Domination and Team Elimination in a new layout inside the gymnasium. Modern Mission is teaming up with The Jones Center to offer a discounted rate for people to enjoy laser tag in a unique environment with a whole new arena.
Most kids are out of school for the whole week of Thanksgiving, so this is the perfect time to bring the kids to The Jones Center to enjoy an event that the whole family can participate in. Adults and children are welcome to play. $8/hour or $12 for 2 hours
Date: Monday, November 21st
Time: 1:00-2:00p and 2:00-3:00p
Location: The Jones Center, Springdale
More info: Click here

Grandma's Story Quilt
When Grandpa is sick, he loves to get covered up in Grandma's quilt and tell its stories. The audience sits on the bed and helps Grandpa bring the familiar story to life. A lively tale is sewn into Grandma's quilt and is activated through interactive storytelling, puppetry and music.
Performances @Trike Theatre: November 29 – December10 @ 9:30am & 11:00am
Performances @Arts Center of the Ozarks: December 13 – 17 @ 9:30am & 11:00am
This performance is part of the Little Trike Series: professional theatre geared towards children ages 2 to 5, introducing them to theatre in an engaging, interactive and lively environment.
Date: Nov. 29-Dec. 10 & Dec. 13-17 (see above for locations)
Time: 9:30 a.m. and 11 a.m.
Location: See in description above
More info: Click here to buy tickets. Click here for more info.
The Northwest Arkansas Calendar of Events is sponsored by The Jones Center for Families in Springdale. There's ALWAYS something fun happening at The Jones Center, plus they have all kinds of classes for adults and kids — and great birthday party options at the indoor swimming pool, gymnastics or ice skating rink! CLICK HERE to visit the Jones Center website to see more!