Left: Amazeum's Curiosity Corner, Suprizamals
Surprizamals are just the right size to slip into a stocking! They're small red spheres that, when opened, reveal (surprise!) a stuffed animal! Surprizamals are $4.99
Right: Amazeum's Curiosity Corner, Squishies
Similar to stress balls, Squishies are shaped like every day (and not so every day) objects not known for their ability to be squeezed like hamburgers, sushi, and ice cream cones. Squishies range in cost from $4.99 to $9.99.
Note: Amazeum members receive 10% off purchases of these and other items in Curiosity Corner. (Curiosity Corner is running pop-up sales of 40 – 60% off select merchandise on Fridays, Saturdays, and Sundays through December.)
Where to shop: The Curiosity Corner Gift Shop is located in the front lobby of the Scott Family Amazeum. (Location is 1009 Museum Way in Bentonville. Phone number is 479-696-9280.) Curiosity Corner is full of hundreds of unique toys and gifts designed to spark kids' interest in science, art, math, engineering and technology. We recommend shopping there the next time you make a family outing to the Amazeum. One parent can watch the kids play on the tree canopy or in the indoor water experience while the other parent gets some holiday shoppping done.
Another stocking stuffer-sized gift idea: Here's one more gift idea while you're at the Amazeum. Consider getting a gift membership for your family. It's one of those rare gifts that needs no batteries, won't ever break and keeps the fun going all year. Amazeum members get 10% off on purchases, discounts on special programs and camps, and special members-only events throughout the year. Click here for info on memberships.
See more: Be sure to follow the Amazeum on Instagram and Facebook to stay up to date on events, camps, new exhibits and more Curiosity Corner fun!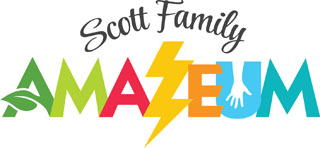 ---

Left: Quirky, funny, irreverent, silly socks (men's and women's)
We think there is something fun about putting socks inside stockings. And there are so many great sock designs to choose from at The Mustache. Their best-selling brands are Blue Q and Sock It To Me. (The pairs shown above are from Sock It To Me.) The blue pair would be great for someone who loves to get outdoors, and the green pair features a banana riding a skateboard. Need we say more? Cost is $11.
Right: Chicago Candle Co. candles
These amazing-smelling candles are made from up-cycled wine bottles and hand-poured soy wax. Each candle features a unique wine, cocktail or drink-flavored scents. Burn time is 22 hours or more for the mini candles and more than 65 hours for the larger size. These candle will fill your home with the rich scent of spiced wine steeped with soothing notes of cinnamon and nutmeg — or Tennessee Whiskey paired with the enticing essence of tobacco and oak. Cost for a 32-ounce candle is $32. Cost for a 4-ounce candle is $16.
Where to shop: Find these items + so many other cool gifts (many of them just the perfect size for Stocking Stuffers!) and clothing at The Mustache in Fayetteville or Bentonville. The Fayetteville store is on the downtown square at 15 S. Block Avenue. The Bentonville store is located at 110 NW 2nd Street in the downtown area. For questions, call the Fayetteville shop at 479.966.4610. The Bentonville shop can be reached by calling 479.319.4677 . You can shop The Mustache online anytime by clicking here to see the website.
See more: Don't miss out on all the new stuff arriving at The Mustache! You can see the latest items by following the store on Instagram, Facebook, and Twitter.
CLICK HERE to see the full 12 Days of Christmas Shopping Guide!
Save
Save