Belle — women.kids.gifts
Left: Last Call Plaid Flannel
Flannel season is here and this red is perfect for the holidays. Pair this cutie with your favorite pair of jeans. It's made of a comfy, cozy 52% cotton and 48% rayon. Cost is $60. Click here for more info on this flannel from Belle.
Right: Story of the Night Velvet Top
This off-the-shoulder velvet top in wine is a great addition to your holiday time – or anytime — wardrobe. It's great with your favorite denim and booties. Cost is $60. Click here for more info on this top from Belle.
Where to shop: Here's where you can see (and try on) the fabulous clothes at Belle.
3575 W. Wedington Drive, Suite 2, Fayetteville
3511 SE J Street, Suite 5, Bentonville
How to contact: 479-435-6267 for the Fayetteville store; 479-876-8085 for the Bentonville store. Keep up with the latest updates and new arrivals at the store via Facebook, Instagram, Pinterest, YouTube, and Twitter.

---
Left: The Jackson Pullover
Colder weather is coming soon, and Lauren James has a pullover you'll fall for right away. Heathered fabric with a pop of color on the outside and an ultra soft sherpa interior make the Jackson Pullover a must have for fall. Price is $99.50. For more ideas, visit the Lauren James Gift Guide.
Right: The Boyfriend Flannel
This is definitely a Lauren James best-seller. Boyfriend Flannel is a must-have for any woman's closet. Made of 100% cotton, this top is super soft and you'll love the oversized fit, pockets and elliptical hem. For more great gift ideas like this one, check out the Lauren James website.
Where to shop: Visit the super cute Lauren James store at 623 W. Dickson St., Fayetteville. You can also find Lauren James styles at Dillard's in Rogers or at Ozark Outpost Clothing Footwear in Tontitown. (Or shop anytime on the Lauren James website.)
How to contact: Call (844) 355-7591. Keep up with the latest fashions by following Lauren James on Instagram, Pinterest, Facebook, and Twitter.

---
Left: Let's Be Clear Bag
These adorable clear bags are perfect for all the things you need for the day — and the small bag inside will take an outfit straight to a concert or dinner in the evening. Cost is $29.
Right: Friday, I'm in Love Outfit
Friday, we're coming for you! You can gift this cute tee by itself or add this perfect skirt and booties to round out the gift. Tee cost is $16. Keep in mind this exact t-shirt might not be there when you arrive because The Haley Boutique strives to keep the store unique by only stocking limited numbers of each piece in the store. New shipments arrive 3 times a week to keep the collection fresh.
Where to shop: The Haley is located at 2011 S. Promenade Blvd. in Rogers. Phone number is 479-936-7000. (Or shop anytime on the Haley's website. Click here to visit the Haley Lookbooks.)
See more: See the latest clothes and accessories to arrive at The Haley by following them on Instagram, Facebook, Pinterest and Twitter.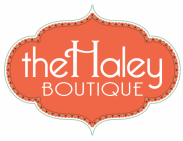 Save
Save
Save
Save
Save
Save
Save
Save
Save
Save
Save
Save
Save
Save
Save
Save
Save
Save
Save
Save
Save