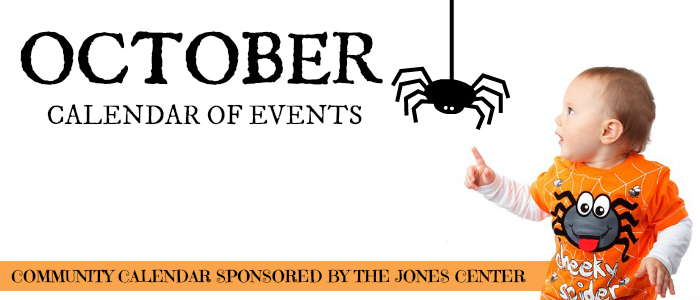 Chix with Stix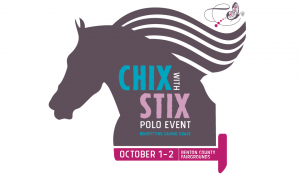 NWA Polo Club is partnering with Saving Grace for their first annual "Chix with Stix" event.  It's on Saturday and/or Sunday, October 1-2 at the Benton County Fair Grounds! Saving Grace will benefit from ticket sales – as well as other proceeds  from this event – which will provide equine-assisted counseling for the girls they serve.  $15 per person, children under 12 are free. Food and drinks will be available for purchase on-site.
Dates: Saturday, October 1st – Qualifying matches (11 AM – 4 PM); Sunday, October 2nd – Finals (11 AM – 4 PM)
Time: See above
Location: Benton County Fairgrounds
More info: Tickets are available for purchase at www.nwapolo.com or at the gate!  Visit the "Chix with Stix" Facebook event page here.
Arkansas Apple Festival
The Arkansas Apple Festival is Sept. 30, Oct. 1 & 2 in Lincoln. The Apple Festival committee and the City of Lincoln have been working hard to bring to our community a great festival this year. We will be having record number of craft and concession vendors. The festival will be selling apples, apple cider, apple butter apple bread, fried pies,beans and corn bread and of course apple dumplings. We will also be handing out free fresh apple slices and cider samples. Hope everyone will come join us for this 41 year old tradition and enjoy the Apple Festival this Friday, Saturday and Sunday in Lincoln.
9:00AM-5:00PM
Date: Sept. 30, Oct. 1-2
Time: 9 a.m. to 5 p.m.
Location: Lincoln
More info: Click here
Tinkerfest

Tinkerfest is a one-day festival that celebrates "the creative, curious, and innovative spirit in all of us". The 2016 event will be at the Scott Family Amazeum from 9 a.m.to 4 p.m. on Saturday, Oct. 1st. If you have a membership it's free, or you can just pay regular admission at the museum. The Amazeum brings together makers, artists, and tinkerers to showcase their work while inviting attendees of all ages to join in the DIY fun.
Tinkerfest brings technology together with craftspeople, educators, families and artists to learn from each other. Whether you are a beginner or an avid tinkerer, Tinkerfest is a great family activity where all can experiment and learn things together.
Date: Oct. 2
Time: 9 a.m. to 4 p.m.
Location: Scott Family Amazeum
More info: Click here
AMP Fest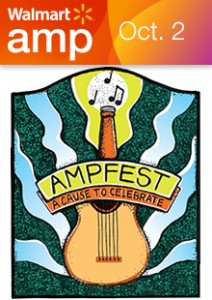 The Walmart AMP is presenting this all-new beer, music and tech festival. The inaugural AMP Fest will be on Sunday, Oct. 2, from 2-6 pm and combines the best in live music, craft beer and the next generation of technology. The festival will feature cutting edge games and tech activations, live music on three stages and craft beer from over 20 local, regional and national breweries. Prices range from $40 for general admission and $95 for VIP, which includes a Fayettechill t-shirt, AMP Fest growler, access to VIP lounge and additional perks.
Date: Oct. 2
Time: 2-6 p.m.
Location: Walmart AMP, Rogers
More info: Click here
Hobbs State Park Fall Festival
A host of FREE and fun family-orientated events will take place at Hobbs State Park – Conservation Area Sunday October 2.  CLICK TO SEE FLYER. Activities will take place at Historical Van Winkle Hollow as well as the Park's visitor center, both located on Hwy 12 east of Rogers. Bring the entire family to learn about how it was done in the past.
Date: Oct. 2
Time: 1-4 p.m.
Location: Hobbs State Park, Rogers
More info: Click here
Miracles and Magic Radiothon.
From 6am-6pm October 6th and 7th, Magic107.9 and NWA Circle of Friends will be sponsoring their 2nd annual Miracles & Magic Radiothon. The Radiothon will bring awareness and raise money for the new Arkansas Children's Northwest Hospital being built in Springdale. Please tune into Magic107.9 on both days, encourage your friends to listen and call in to donate. It will be 2 great days of music, inspiring stories of care, love & hope and building miracles for the kids of Northwest Arkansas as we build Care Close to Home. Until no child needs ACH, ACH needs you!
Call in numbers to donate on Oct 6th & 7th:
(479) 455-5437 – Local Number
(844) 497-5437 – Toll-Free Number
Date: Oct. 6-7
Time: 6 a.m. to 6 p.m.
Location: On air, Magic 107.9
More info: Click here
First Friday Fall Fest
The Bentonville Square is transformed into a Fall Fest blockparty with live music & entertainment, outstanding food options and family friendly activities.
FOOD TRUCKS OPEN | 11am
FREE FUN ON THE SQUARE | 4-8pm
Werthers: Wind Machine to win prizes, photo booth, samples.
Vendor Masters: Bubbles & games
HLARG: Mask Making Craft
Geared Outfitters: Pumpkin Decorating
Trampolines
Ponies
Caricature Artist
Face Painting
Hormel Chili: Games, Samples
MAINSTAGE
4:30 – 5:15pm | Fetts Folly
5:30 – 6:30pm | The Silvershakers
6:45 – 8pm | 412 West
Date: Oct. 7
Time: 11 a.m. to 8 p.m.
Location: Bentonville Square
More info: Click here
Downtown Springdale Runaround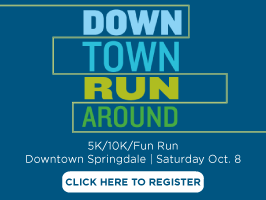 The first Springdale Downtown Runaround, a 5K/10K race, is coming up on Oct. 8. It's a family-friendly event that includes a 1-mile fun run. And let's not forget the after party! After victoriously crossing the finish line, you can expect refreshments, music, raffle prizes, games, inflatables, and more. While running, you'll get to see best of downtown Springdale — the Razorback Greenway trail, Shiloh Square, local businesses, and The Jones Center.
Date : Saturday, October 8
Time: 8:30 a.m.
Start Times: 1 Mile Family Fun Run- 8:30AM
5K/10K- 9 a.m.
*Strollers and dogs on a leash are also welcome to join.
Location: The Jones Center South Lawn, Springdale
More info: Click here
Homegrown Festival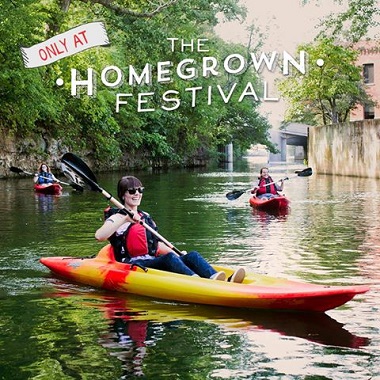 Located in historic downtown Siloam Springs, the Homegrown Festival (Saturday, October 8, 10am – 5pm) showcases locally handmade goods, curated vintage, food trucks, and live music. Vendors offer an array of original, one-of-a-kind, and limited-run items including illustration, printmaking, music, jewelry and accessories, handmade goods, salvaged and repurposed goods, and hand-picked vintage.
Date: Oct. 8
Time: 10 a.m. to 5 p.m.
Location: Siloam Springs
More info: Click here
Beauty and the Farmer's Market
Royalty will be at the Downtown Rogers Farmer's Market from 9:30am-1pm offering face painting designs for $3-$5 each. Come visit and choose from several designs.
Date: Oct. 8
Time: 9:30 a.m. to 1 p.m.
Location: Downtown Rogers Farmer's Market
More info: Click here
Pea Ridge Mule Jump
Date: Oct. 8
Time: 9 a.m.
Location: 977 Weston St., Pea Ridge
More info: Click here
University of Arkansas Children's Choir Pancake Breakfast
Come out and let the talented UACC singers serve you piping hot pancakes. And they'll sing for tips, too. Bring your family and friends out for a fun morning that supports young local talent. Tickets can be purchased at the door. $5
Date: Saturday, Oct. 8
Time: 8-10 a.m.
Location: Applebee's, Fayetteville
More info: Click here
Fall Finale — A Free Tuesday Night at Botanical Gardens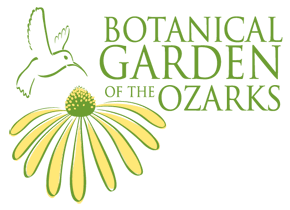 Join us for our annual Fall Finale on Tuesday, October 11th from 5p.m. to 8 p.m. and see our Garden in all its glory for free! Though people typically think of gardens in springtime, autumn is when our Garden is at its peak! Visit with gardeners and volunteers throughout BGO to get all your garden related questions answered. Come ready to learn and participate in short educational demos or talks about gardening. Bring the whole family, we will have children's activities near the education cottage. Picnics are welcome but leave your furry friends at home please. Or you can just come take a peaceful walk in the cool evening air among the flowers and foliage.
Oct. 11
Time: 5-8 p.m.
Location: Botanical Garden of the Ozarks, Fayetteville
More info: Click here
Moonlight Movie Night: Back to the Future
Join us for another free movie night in Downtown Springdale! On Friday, Oct. 14, we'll be showing "Back to the Future" beginning at 8:30 p.m. Grab your blankets, chairs, and snuggle-buddy and plan to come hungry!
Date: Oct. 14
Location: Springdale
More info: Click here
Ozark Folk Festival
The country's longest continuously running folk festival returns for the 69th annual Original Ozark Folk Festival on October 13 through 15 in Eureka Springs, Arkansas.  It will include the Barefoot Bash, Singer/Songwriter Contest, free music, arts and crafts demonstrations, and this year's headline show features Irish American folk rock band, The Elders. The festival kicks off with a free performance on Thursday, October 13 at 7 p.m. at The Auditorium located at 36 S. Main St.  Still on the Hill presents their Still a River concert, with story-songs about the people and history of the Buffalo River while it poignantly reminds us of what we cherish about our nation's first historic national river. Many other activities will be happening over the weekend.
Date: Oct. 13-15
Time: Varies, see link below
Location: Varies, see link below
More info: Click here
Bentonville Art Around Town
The Merchants of Bentonville are proud to bring back a city tradition of hosting pop-up shops of area artists and craftspeople. The Fall 2016 event is being held during the annual Northwest Arkansas Craft Fair Weekend of October 14 and 15. Come shop our local merchants and artisans in the comfort of our restaurants, cafes and businesses.
Date: Oct. 14-15
Time: 10 a.m. to 8 p.m.
Location: Varies
More info: Click here
FPL Literary Festival
True Lit: Fayetteville's Literary Festival will be held Monday, October 17, through Thursday October 27 this fall. The literary festival in its third year, will offer a variety of events, including author talks, writing workshops, and more. True Lit is sponsored by the Fayetteville Public Library, Fayetteville Public Schools, Fayetteville Education Foundation, Fayetteville Montessori School, and the University of Arkansas Program in Creative Writing and Translation.
Date: Oct. 17-27
Time: Varies
Location: Varies
More info: Click here
Mask-a-Read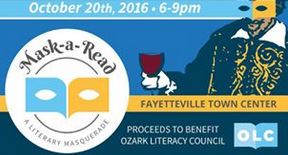 Ozark Literacy Council event. There will be a Barbara Broyles Champion for Literacy Award Presentation, Blind Date with a Book, Cork Pull, and Silent Auction featuring OLC Programs and Services + Literacy Related Items. Live Auction of various Little Free Library Kiosks. Dinner, Music, Pop Up Entertainment Events. Masks available for sale at the door. Costumes optional but encouraged.
Date: Oct. 20
Time: 6-9 p.m.
Location: Fayetteville Town Center
More info: Click here
3rd Friday on the Bricks
3rd Friday offers the perfect opportunity to rediscover Historic Downtown Rogers. Come and join us for a casual evening where you can gather with friends, stroll the sidewalks and shop from the street vendors and find what great talent we have right here in NWA! You can get a taste from the food trucks and best of all your local downtown businesses and restaurants will be open late to enjoy even more shopping and dining. 3rd Friday is an evening that promises hours of fun for visitors of all ages. Stores open till at least 8:00pm. Sponsored by Main Street Rogers.
Date: Oct. 21
Time: 5-8 p.m.
Location: Downtown Rogers
More info: Click here 
Choctoberfest
The Jackson L. Graves Foundation has partnered with local chocolatier, Hello Cocoa, to add another terrific event to NWA! We are merging chocolate with an Oktoberfest theme! Sounds amazing, right?! The very first Choctoberfest will be held on Oct 22 from 3pm-8pm at Hello Cocoa's chocolate factory in Fayetteville! We have some wonderful sponsors on board including Hello Cocoa, Apple Blossom Brewing Company, New Province Brewing Company, Great Ferments, JR's Kombucha, Ozark Natural Breads, and Ozark Natural Foods (just to name a few local favorites).
Choctoberfest will feature local music, local handcrafted chocolate, local craft brews, local sauerkraut, brats and buns. Can we say local a few more times? It all is to support our local family foundation's projects to support local families with a baby in the intensive care unit at local hospitals! One large project includes transforming an unused courtyard into a healing garden to be used by families at Willow Creek Women's Hospital. Currently, the hospital doesn't have a chapel, family room, or any outdoor amenities.
Tickets may be purchased at http://jacksongraves.org/news_events! They are $35 in advance and $45 at the door!
Date: Oct. 22
Time: 3-8 p.m.
Location: Hello Cocoa
More info: Click here
Lake Atalanta Grand Opening event
After 16 months of construction, the renovations at Lake Atalanta are nearly complete. The City would like to invite the public to a Ribbon Cutting Celebration on Saturday, Oct. 29, to give citizens a chance to explore the completed park.
The Grand Opening Celebration will include free family activities from 9:30 a.m. – 1 p.m. and a ribbon cutting ceremony at 11:30 a.m. Tyson Foods will provide complimentary hamburgers, hot dogs and chips near Clark Pavilion on the south side of Walnut Street from 10:00 a.m. – 1:00 p.m. (until supplies run out). Great Plains Coca-Cola will provide water and soft drinks. Informational and interactive exhibits will be featured throughout the event by a variety of local companies and organizations to help promote the types of experiences visitors will enjoy at the Lake. 
Date: Oct. 29
Time: See in description above
Location: Lake Atalanta, Rogers
More info: Click here

Dog Party Halloween Bash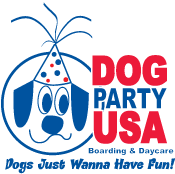 The Annual Dog Party USA Halloween Costume Party/Customer Appreciation Event will be Saturday, October 29th from 5:30 – 8 pm.  All "parents" and puppies are encouraged to dress up. There will be delicious food, live music, games, prizes, goody bags and of course a costume contest.  It is all free and open to the public. This year's theme is "Peace, Love and Paws."
Date: Oct. 29
Time: 5:30-8 p.m.
Location: Dog Party USA
More info: Click here
2nd Annual Ozark Mountain Punkabilly Festival
The festival coming back and this time to Downtown Rogers!  On October 29th, the Downtown Rogers Farmers Market plays host to this family-friendly rock festival. Tickets are $5 at the door and a portion of the proceeds benefits CARE Community Center, Inc and their work to eliminate hunger in NWA. 
Date: Oct. 29
Time: 11 a.m. to 9 p.m.
Location: Downtown Rogers Farmer's Market, Cherry Street
More info: Click here
Click here to see a printable list of all the craft fairs coming up in mid-October!
The Northwest Arkansas Calendar of Events is sponsored by The Jones Center for Families in Springdale. There's ALWAYS something fun happening at The Jones Center, plus they have all kinds of classes for adults and kids — and great birthday party options at the indoor swimming pool, gymnastics or ice skating rink! CLICK HERE to visit the Jones Center website to see more!