October 2022: Northwest Arkansas Calendar of Events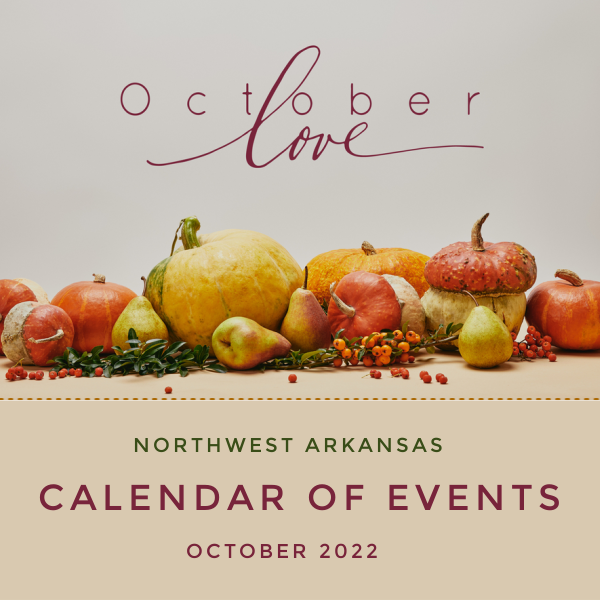 It's Halloween month, pumpkins! As always, we've curated some of the most fun and family-friendly events in Northwest Arkansas. This is the list of regular calendar events. If you're looking for 2022 Halloween events, pop over and check out our big list of things to do.
Click on the name of any event below to find more info! Scroll to the bottom for a list of craft fairs mid-month.
Enjoy arts and crafts of the Ozarks, entertainment and food such as apple dumplings, apple cider, fried apple pies, funnel cakes, kettle corn and more.
Date: Sept. 30-Oct. 2
Location: Lincoln
Meet local maker Ali Mero for her crochet pop-up shop in the Amazeum's museum store, Curiosity Corner. Learn about Ali's creative process and shop for some colorful and wonderful handcrafted products. From pop culture to produce, Ali's creations are whimsical and fun for all ages: Rainbow's Stitches 
Dates: Oct. 1 & 19
Time: Oct. 1, 10-3 p.m.; Oct. 19, 4-7 p.m.
Location: Scott Family Amazeum, Bentonville
An indoor/outdoor event to enjoy free art, live music, food trucks, and beverages for sale. FREE: Pottery wheel mini lessons, sidewalk chalk mural space, button making, ice cream, and watercolor painting. 
Dates: Oct. 1 & 8
Time: 4-7 p.m.
Location: Nadine Baum Studios on Spring Street (just off Dickson Street & the bike trail), Fayetteville
Galleries, museums, businesses, makers' spaces, and boutiques will open their doors for exhibitions and entertainment. Many of the creatives work inside the Outdoor Dining District making it easy for event goers to enjoy food and drink while they take in the art. The ART WALK series that is free to the public.
Date: Oct. 1
Time: 11 a.m. to 6 p.m.
Location: Downtown Springdale
Robert Thomas is scheduled to be at Hobbs State Park to show beautiful images of his favorite flying critters, Odonata (Dragonflies). Immediately following the lecture will be an outdoor dragonfly catch and release at the visitor center. Bring your camera and the entire family.
Date: Oct. 2
Time: 2 p.m.
Location: The Hobbs State Park – Conservation Area visitor center, on Hwy 12, just east of the Hwy. 12/War Eagle Road intersection
Family Bike Night is built for families with bike trailers, cargo bikes, MTBS and pedaling kiddos, too. This ride will take place at the Coler MTB Preserve and will last about 1 hour average.
Date: Oct. 6
Time: Meet at the south side of NW 3rd Street South Gateway Parking Area at 5:15 pm for rubber down at 5:30 pm. (The Applegate Trail trailhead lot).
Location: Bentonville
A free event series full of fun and exciting opportunities for the entire family to enjoy art in The Lower Ramble as they kick off the weekend. Every Friday in September and October from 4:30 to 6:30 p.m., weather permitting.
Date: Oct. 7, 14, 21 and 28: 
Time: 4:30-6:30 p.m.
Location: The Ramble, Fayetteville
The Jones Center is partnering with Pedal It Forward NWA and Buddy Pegs to host the 2022 Runway Bike Park Anniversary Celebration. Kids and families will enjoy free cycling events and activities at the world-class bike park, featuring a skills course, a bike playground and one of the largest cycling pump tracks in North America.
Date: Oct. 8
Time: 11 a.m. to 1 p.m.
Location: 922 E. Emma Ave., Springdale
The Homegrown Festival showcases locally handmade goods, curated vintage, food trucks, and live music.
Date: Oct. 8
Time: 9 a.m. to 5 p.m.
Location: Main Street Siloam Springs
Family Network NWA is hosting its first annual chili cook-off and tailgate for the whole family. Family Network is a nonprofit that's been around NWA for almost 30 years, working with at risk families during early childhood. The program has a home visiting program and also launched the first and only diaper bank in Arkansas, the Diaper Collective. The event will support families and ending diaper need in Northwest Arkansas.
Date: Oct. 8
Time: 3 p.m.
Location: Turnbow Park and Shiloh Square, Downtown Springdale
Disney's iconic Winnie the Pooh, Christopher Robin and their best friends Piglet, Eeyore, Kanga, Roo, Rabbit and Owl (oh… and don't forget Tigger, too!) come to life in a beautifully crafted musical stage adaptation. Featuring the Sherman Brothers' classic Grammy® Award-winning music with additional songs by A.A. Milne, this beautiful, fresh stage adaptation is told with stunning life-sized puppetry through the eyes of the characters we all know and love, in a new story from the Hundred Acre Wood. Recommended for ages 3+
Date: Oct. 21-22
Time: There are four shows over two days
Location: Walton Arts Center
The first ever gaming, tech and Esports festival to Northwest Arkansas. The free festivaland features educational panels, gameplay, music, action sports, and fun for all ages.
Date:  Oct. 21-22
Time: Noon to 8 p.m. both days
Location: Bud Walton Arena at University of Arkansas,
Hobbs State Park's annual fall Living Forest is one of the park's most popular events of the year. Mother Nature will introduce her forest friends. Attendees will be able to visit each creature and learn about them. This is a fun, non-scary, family event. Tours will begin every 20 minutes – strollers and wagons are welcome on the .25 accessible path. The he last tour will begin at 3 p.m. There will be s'mores and beverages at the pavilion at the end of each tour.
Oct. 22
Time: 1-4 p.m.
Location: The Hobbs State Park – Conservation Area visitor center, on Hwy 12, just east of the Hwy. 12/War Eagle Road intersection
This festival educates and entertains Arkansans of all ages about the beauty, value, and interest of insects and other arthropods. It takes most people about 1-2 hours to travel through the festival grounds and all the activities. There are many educational exhibits with expert entomologists to answer your questions.Oct. 27
Date: Oct. 27
Time: 9 a.m. to 4 p.m.
Location: Pauline Whitaker Animal Science Arena
Craft Fairs 
There are several fun craft fairs planned for mid-October this year, including the It's Fall Y'all Craft Fair in Bentonville on Oct. 13-16; the Ozark Regional Arts & Crafts Fair in Fayetteville on Oct. 13-15 and Springdale on Oct. 14-15. One of the most popular craft fairs in the region is War Eagle and it will run Oct. 13-16.