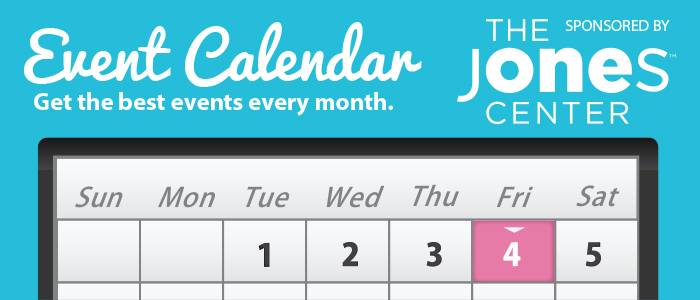 Cinderella
Rodgers + Hammerstein's CINDERELLA is the Tony Award®-winning Broadway musical from the creators of The Sound of Music and South Pacific that's delighting audiences with its contemporary take on the classic tale. This lush production features an incredible orchestra, jaw-dropping transformations and all the moments you love—the pumpkin, the glass slipper, the masked ball and more—plus some surprising new twists! Be transported back to your childhood as you rediscover some of Rodgers + Hammerstein's most beloved songs, including "In My Own Little Corner," "Impossible/It's Possible" and "Ten Minutes Ago," in this hilarious and romantic Broadway experience for anyone who's ever had a wish, a dream… or a really great pair of shoes.
Date: March 1-6
Time: Varies
Location: Walton Arts Center
More information: Click here to purchase tickets
Families invited to plant trees across watershed
The Illinois River Watershed Partnership is looking for volunteers to help plant native trees along creeks and streams in the Illinois River Watershed of Northwest Arkansas and Eastern Oklahoma for the 9th Annual Spring Riparian Project.
Volunteers will plant tree seedlings and conduct creek cleanups at locations in Springdale, Fayetteville, Rogers, Bentonville, Siloam Springs, Prairie Grove, Healing Springs and Oklahoma.
Volunteers are invited to help at any of nine locations:
·       McKisic Creek Tributary, Bentonville; Parking at 3000 N.W. A St. near Slaughter Pen Trail
·       Osage Creek, Rogers; Park at Best Buy and Meet at Mercy Trailhead, S. Rife Medical Lane
·       Spring Creek, Near Lake Springdale; Parking at 2474 W. Pump Station Rd.
·       Spring Creek, Springdale; Parking at AQ Outback
·       Sager Creek, Siloam Springs, Parking at the Former Siloam Springs Library
·       Town Branch Creek, Fayetteville; Parking at W. 19th St., Near 1700 S. School Ave.
·       Illinois River, Prairie Grove; Parking at Bostian Residence, 11464 Orr Rd. (C.R. 67)
·       Healing Springs; Parking at Hwy. 264, Near Cave Springs; Map at www.irwp.org
·       Illinois River, Oklahoma; Contact Oklahoma Scenic Rivers Commission for Location at (918) 456-3251
Bring the whole family to this free event. Snacks and drinks will be provided. Tools will be available, but extra shovels are welcome.
Date: March 5
Time: 9-11 a.m.
Location: Varies
More info: Click here or contact Becky Roark, the Illinois River Watershed Partnership resource specialist, at beckyroark@irwp.org (479) 215-6623.
Free NWA Naturals FanFest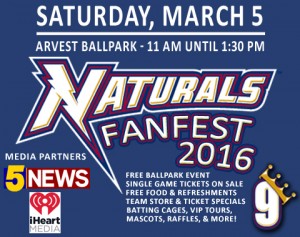 Gates will officially open at Arvest Ballpark at 11 a.m. for Naturals FanFest, which is a FREE event open to the entire family. The special event at Arvest Ballpark includes complimentary food and refreshments for the first 500 guests. The Naturals will also offer tours and activities for fans of all ages as well as specials on tickets and merchandise throughout the event. Along with the Arvest Ballpark Box Office being open, the Naturals Team Store will also be open from 10 a.m. until 2 p.m. and be offering a 25% OFF storewide sale so fans can get the latest Naturals and Royals merchandise in advance of the 2016 season.
In addition to individual tickets going on sale, here are a few of the events taking place only at Naturals FanFest:
FREE Food & FREE Refreshments for the first 500 guests beginning at 11 a.m.  Food and refreshments will be served near the War Eagle Café (Concession Stand 2).
FREE VIP tours of Arvest Ballpark – including the press box, suite level, Walmart Game Room Suite, the home clubhouse, the Naturals' dugout, and the option to walk the warning track of Arvest Ballpark*
Access to the Naturals dugout and field warning track area for fan photos*
Batting Cages open and FREE from 11am until 1:30 p.m.
FREE Skee-Ball inflatable for the kids from 11 a.m. until 1:30 p.m.*
FREE Kids Train Rides around the concourse from 11 a.m. until 1:30 p.m.*
Special appearances by Strike the Sasquatch & Sinker the Lake Creature from 11:30 a.m. until 12:30 p.m.
*Weather Permitting for Outside Activities
Date: Saturday, March 5
Time: 11 a.m. to 1:30 p.m.
Location: Arvest Ballpark
More  info: Click here
Go, Dog. Go!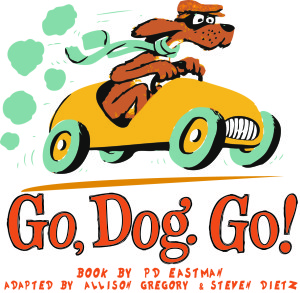 P.D. Eastman's classic children's book comes to life on stage in an explosion of movement, music, color and space. The dogs delve into life with gusto, creating a visual spectacle for the audience to feast upon. They snorkel. They howl at the moon. They ride a ferris wheel. They sing and dance and climb trees. Like a musical pop-up book that comes to life – and never stops. Colorfully adapted by Allison Gregory and Steven Dietz, it's a perfect joy for young children. An ACO Child's Play production.
Date: March 5-6
Time: Varies
Location: Arts Center of the Ozarks
More info: Click here
The Sound of Music, Salzburg Marionette Theatre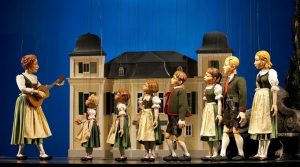 When Rodgers + Hammerstein's beloved Broadway musical The Sound of Music was adapted to the silver screen in 1965, Twentieth Century-Fox made the decision to use marionettes in "The Lonely Goatherd" sequence, resulting in one of the most charming musical numbers ever captured on film. Now, the astounding magic of marionette puppetry animates the entire story, as the world famous Salzburg Marionette Theatre revitalizes the tale of the Von Trapp Family Singers! You can expect all the highlights of the beloved story, including the treasured songs "Do-Re-Mi," "The Sound of Music," "My Favorite Things" and "Edelweiss." The hills are still alive, if you look past the strings!
Date: March 8
Time: 7 p.m.
Location: Walton Arts Center
More info: Click here
Eureka Springs St. Patrick's Day Parade
The 21st Annual Eureka Springs St. Patrick's Day Parade steps off at 2pm down Spring & Main Streets in downtown Eureka Springs. Wear your green and join the fun.
March 12
Time: 2-3 p.m
Location: Downtown Eureka Springs
More info: Click here
Mommy & Me Mini Fair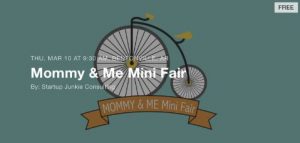 A mini fair showcasing women-owned businesses offering products or services designed for moms and kids. A light lunch and refreshments will be served. For parents and children under 7 years old. Registration is limited and required. CLICK HERE to register.
Date: March 10
Time: 9:30 a.m. to noon
Location: Little Giggles Indoor Creative Play, Bentonville
More info: Click here to register
Outdoor Moonlight Movie: Field of Dreams

Downtown Springdale will come to life every second Friday night of the month (March through October) with outdoor screenings of iconic American movies. The public is invited to bring a lawn chair or blanket and lounge on closed streets or grassy lawns while meeting friends and neighbors from our diverse community. The films will be displayed on the side of the Archer Learning Center at 500 E. Meadow Street, across from Luther George Park. If it's raining at the time of the event, the movie will be cancelled. Otherwise, the show will go on until the rain starts falling!
Concessions and beverages will be available at the event, but participants are also encouraged to visit eateries around downtown before the movie. Parking is available at Luther George Park on Meadow Avenue, the Springdale Senior Center at the corner of Park Street and Meadow Avenue, and the city lot behind the Help Card Building. All of the lots are accessible to the movie site via the city's trail system. Handicapped parking will be available at Luther George Park. A portion of Meadow and Water streets will be closed from 5:30 p.m. through 11 p.m. each film night.
The event is free.
Date: March 11
Time: 8 p.m. (or dusk, whichever comes first)
Location: Downtown Springdale
More info: Click here. For a parking map or extra info, visit: http://www.downtownspringdale.org/event/moonlight-movie-night-field-of-dreams/ or email misty@downtownspringdale.org.
Danu's St. Patrick's Day Celebration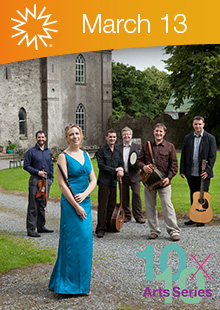 From fierce fiddle reels to pensive ballads, Danú's high-energy performances are a musical journey to their native Ireland, offering a moving and memorable concert experience just in time for St. Patrick's Day! With virtuosic players performing a glorious mix of ancient Celtic music and new repertoire – with songs in both English and Gaelic – this will be an afternoon to embrace the rich musical heritage of Ireland.
For this performance, award-winning vocalist Nell Ní Chróinín and renowned piper Ivan Goff will be joining Danú for an afternoon steeped in the song and musical heritage of Ireland
Date: March 13
Time: 4 p.m.
Location: Walton Arts Center
More info: Click here
St. Patrick's Day Celebration Weekend
Enjoy live Irish music and Irish lunch special at the Bean Palace Restaurant.
Date: March 19-20
Time: 8:30-5 p.m.
Location: War Eagle Mill, Rogers
More info: Click here
On the Map Festival
Date: March 24-25
Time: Varies
Location: Fayetteville Town Center
More info: Click here
Free "Art With An Altitude" Kite Festival at Turpentine Creek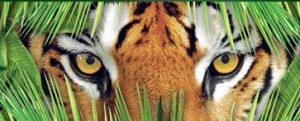 Turpentine Creek Wildlife Refuge hosts it's 26th annual Kite Festival celebration March 26, 2016. "Art With an Altitude," sponsored by KaleidoKites of Eureka Springs, is a free family event inviting attendees to bring their own kites or buy one at the refuge. The celebration includes vendors, contests and fun activities for parents and children.
KaleidoKites' experts will be available to assist children in kite making and flying techniques. Donations to the refuge requested for kite making assistance.
The event is one of the refuge's most popular events each year. Admission is free for kite flying; regular admission prices apply to tour refuge wildlife on display. Proceeds finance rescue and ongoing care for over 135 tigers, lions, cougars and other wildlife that make the sanctuary a life-long home.
Date: March 26
Location: Turpentine Creek Wildlife Refuge, Eureka Springs
More info: Click here or contact KaleidoKites at 479-253-6596, 888-836-6251 or email kaleidokites@hotmail.com. For details on Turpentine Creek Wildlife Refuge, visit www.www.turpentinecreek.org or call (479) 253-5841.
Easter Events & Activities
Easter Bunny at the NWA Mall (arrives March 12)
The Easter Bunny is back and will be at the NWA Mall in Fayetteville March 12 – 26.
Hours
Monday – Saturday
11am – 8pm
Breaks: 2:00pm-2:30pm and 5:30pm – 6:00pm
Sunday
12pm -3pm
3:30pm – 6pm
More info: Click here
Bunny Breakfast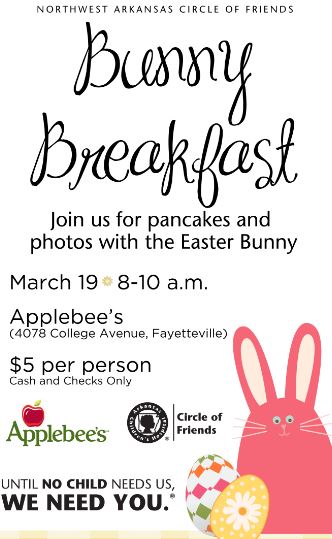 All proceeds from this pancake breakfast will benefit NWA Circle of Friends for Arkansas Children's Hospital. The cost of admission gets the ticket holder a pancake breakfast, and the Easter Bunny will be present, so parents will have the opportunity to take their child(ren)'s photo. Cost: $5 per person, cash or check only.
Date: March 19
Time: 8-10 a.m.
Location: Applebee's Fayetteville, 4078 College Ave.
More info: For more information: Mary Lewallen, 479-725-0405
Donald W. Reynolds Boys and Girls Club Egg Hunt
This annual community wide Easter at the Club event serves more than 3,000 community members every year.  There will be over 16,000 eggs, face painting, games, fire truck and safety trailer for the kids to explore, and door prizes.
Date: Sunday, March 20
Time: 3 p.m.
Location: Boys and Girls Club, Fayetteville
More info: Click here
Easter at Orchards Park
Activities begin at 2 pm with fun inflatables for the kids as well as several food vendors. At 3 pm, the egg hunt will begin with over 40,000 eggs. There will be 3 separate egg hunts broken up into age groups for children 12 and under:
2 pm-Inflatable & Food Vendors
2:30 pm-Egg Hunt (Ages 7-12)
3 pm-Egg Hunt (Ages 4-6)
3:30 pm-Egg hunt (Ages 0-3)
Date: Saturday, March 26
Time: 2 p.m.
Location: Orchards Park, Bentonville
More info: Click here
Spring Egg Hunt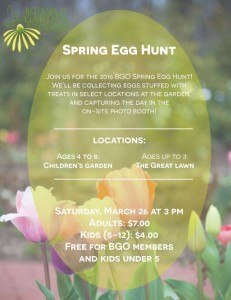 Head out to BGO for some fun in the sun, to hunt for treats and have some fun in the photo booth.
Date: March 26
Time: 3 p.m.
Location: Botanical Garden of the Ozarks
More info: Click here
Easter Sunrise Service
Celebrate the Resurrection of Jesus Christ at the Easter Morning Sunrise Service at The Great Passion Play at 7am at the foot of the Christ of the Ozarks Memorial Statue.
Date: March 27
Time: 7 a.m.
Location: Christ of the Ozarks, Eureka Springs
More info: Click here
The Northwest Arkansas Calendar of Events is sponsored by The Jones Center for Families in Springdale. There's ALWAYS something fun happening at The Jones Center, plus they have all kinds of classes for adults and kids — and great birthday party options at the indoor swimming pool, gymnastics or ice skating rink! CLICK HERE to visit the Jones Center website to see more!