HERE IT IS!  Our new look! If you're a regular on nwaMotherlode.com, we're sure you've noticed that we just "rearranged the furniture" here on the website. You know how we women like to change things up and redecorate from time to time. 🙂
We are LOVING this new look because it has a more open, airy feel and it's light and bright. We wanted to make sure we kept things somewhat familiar, so you'll notice that you can navigate the site pretty much the same as you did before. The big difference is that the "content area", which is what you're reading now, is much wider and is now in the center of the page, balanced by two columns on either side.
On the left, you'll find the "categories" section which will let you click on what you're most interested in. When you click each category, you'll still get a drop-down menu of different areas of the site you may want to visit. For example, click on the "Entertainment" heading, and you'll see a drop-down menu where you can click "Good Gossip" to read the latest celebrity news.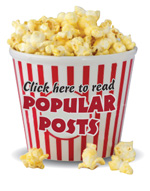 Note that just above the "categories" section is a fun little popcorn bucket that reads "Click Here for Popular Posts." (Get it? Popcorn… popular? Did we mention that we're word nerds?) This popcorn bucket takes the place of what used to be called the "Previously on Motherlode" box. Click on the bucket and you'll see a pop-up window of a piece of paper that has some of most recent articles listed on it. Click on the name of any of those articles if you'd like to go directly to it and read it. Then click the "close" button to put those popular posts back in the bucket.
On the right-hand side of the website, you'll see banner ads from each of our sponsors. Click on any of these ads to go directly to their websites, and shop or read to your heart's content.
And if you happen to be a customer at any of these businesses, please do them (and us) a big favor by mentioning that you saw their ad here on nwaMotherlode.com the next time you are in their store or using their service. (You can also send them an email through their websites.) It really does help business owners when they find out (from actual customers) where their ads are being seen. That way, they know where to focus their marketing budget. Remember that without local businesses like these, websites like nwaMotherlode just simply aren't possible. We really appreciate these guys and want to represent them well with mothers in Northwest Arkansas.
Notice that some of your favorite features like the cute kids' polaroid frame are still here. Click on it to go directly to our online photo gallery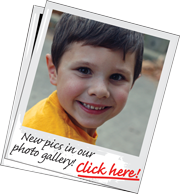 which features snapshots sent in by local moms. And please send us your snapshots so we can show them off for you on the website! Send photos to gwen@nwaMotherlode.com.
You'll also still see helpful things like today's weather conditions, national news headlines, local pollen levels, links to our Twitter feed and Facebook page, and a list of all our archives sitting in the left and right-hand columns. There is also a list of other great websites and blogs we love to surf, and you'll find that listed under "Sites We're Surfing."
Don't forget that you can also sign up to receive a FREE e-mail that will send you the latest Motherlode articles directly to your inbox. Find that sign-up button in the right-hand column on the homepage. And if you're looking for something particular, remember that you can type it into the "search" window and we'll do the looking for you.
So, that's our big news! We love that we're starting the New Year with a brand new look! We hope you love it like we do and we're dying to know what you think, so please click the "comment" button below and let us know.