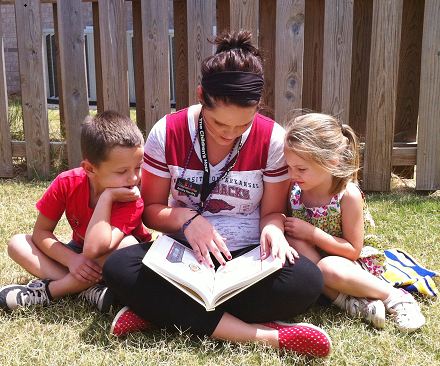 Finding a daycare or preschool where you can trust that your kids will be happy AND safe is a huge relief. And who better to trust about where to go than (lots of) fellow moms?
The Children's Hour in Bentonville recently won TWO awards in the 2012 Mom's Choice Awards, hosted by nwaMotherlode.com and Kid's Directory NWA.
With more than 19,000 votes submitted by local moms (that's a lot of love!), The Children's Hour was voted runner-up in the categories of "Best Daycare" and "Best Preschool" in Benton County. Congratulations to The Children's Hour for both awards!
We asked the director at The Children's Hour, Gretchen Shriver, to share more about the facility with moms who might not know about this great place for their kids:
What do you hear most often from moms about why they love sending their kids to The Children's Hour? 
Moms most often compliment us on our staff. They build strong bonds with the children and keep the lines of communication open between families. This gives parents a peace of mind when leaving their child with someone they know truly has their child's best interest at heart.
If moms enroll their children before August 15th (for summer or fall), the $100 enrollment fee will be waived, right?
That is correct. We want to give families in our community that are looking for quality childcare or that are interested in changing programs an opportunity to see what we have to offer.
Are the children in your care mostly from Bentonville?
Most of our families live in Bentonville, Centerton, and Bella Vista. However, we do have families that live as far as Springdale and Fayetteville that work in the Bentonville Area.
Do you have any special safety measures in place?
Yes, each family has a unique code to allow them access beyond our lobby doors. We ask that only the parents know that code. If friends or family are picking up we check their picture ID at the window to ensure they are on the child's authorized pick up list. We also have cameras in all of our classrooms as well as the playground and exterior of our building.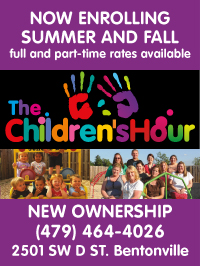 Do you offer part-time rates in addition to full-time?
Yes we do. We have Tuesday/Thursday rates and Monday/Wednesday/Friday rates for each age group. There are a limited number of these positions available.
We know it's critical to have awesome caregivers for all your little clients (and their parents!). Tell us about your staff and about your hiring process:
We have a great staff that are dedicated to providing a safe and loving environment for the children in their care. They go above and beyond to create fun activities that keep the children engaged in learning. During our hiring process each staff member goes through criminal and child maltreatment background checks as well as TB and drug screenings. In addition, our staff complete a minimum of 20-25 training hours each year in early childhood related topics.
What would you say the kids most look forward to during the day?
If you were to ask our children what the best part of their day is, they would tell you they enjoy going outside to play with their friends. We have a large playground area with all types of activities from slides and climbing structures to tricycle tracks and sandboxes. We have a canopy for shade and throughout the summer we have Water Day on Fridays.
You mention new ownership. Can you tell us about the new owner and her philosophy about child care?
We are thrilled to announce our new owner, Leigh Anne Chitmon. Here she tells us a little more about herself and her vision:
"I am very excited to be a part of The Children's Hour. I hold a Bachelors degree in Elementary and Early Childhood Education along with a Masters degree in Educational Administration. Owning my own business and having an outstanding childcare/preschool facility has been a dream of mine for many years and I am thrilled that it is now reality.

New Children's Hour owner, Leigh Ann Chitmon

I believe that the first years of a child's life are by far the most important, helping to lay the foundation for all intellectual and emotional development to follow. Through nurturing and individualized attention, our center takes great care to provide a warm, friendly, and fun environment for the children, while ensuring they receive the guidance and structure they need.

My goal is to provide a place where children know that they are accepted, loved, protected, and wanted; helping to instill in each child a strong sense of self-worth and purpose. It is my hope, that when the day is done, and the children go home, they feel happy and proud of themselves; eager to express the happenings of their day to their families.

I believe that a quality childcare provider never sits back with ease and accepts that there is no more room for improvement. No matter how wonderful the program is, or how well trained the provider, there is always more that can be done. I view my profession as a career, not just a job. Therefore, I look forward to keeping children smiling and safe for many years to come."
What makes The Children's Hour a unique place for NWA kids to learn, use their imaginations and be safe?
We have chosen to be a part or the Arkansas Better Beginnings program to join the dedicated professionals who are committed to supporting meaningful, engaging learning opportunities for children. We strive to make our program a clean and safe environment that fosters creativity and individuality. We accomplish this by creating a nurturing and loving environment that encourages children to express themselves freely whether it be through their play, art, or storytelling.
For more info on The Children's Hour and what it offers, click HERE to visit their website. You can also call to ask questions or schedule an appointment to visit at 479-464-4026 or send an email to gretchen@tchnwa.com. The center is located at 2501 SW "D" St. in Bentonville.