By Autumn Manning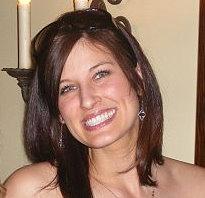 I grew up in a large family with lots of siblings. I have three great sisters and one brother, so you can imagine how loud and crazy our house always was growing up, and how loud and crazy any family get-together is now. Growing up, we fought all the time and when we wanted to communicate anything to anyone, we did it in the form of yelling. People tell me I am overly-dramatic all the time, and I swear it is because I had to be that way growing up to get any personal attention.
Aside from my loud mouth, my family has drastically shaped other things about me, like my views and goals now as a woman, a mom, and a wife, but not always in the way you would think. I can say that I learned a lot of my valuable life lessons from my mother, but I learned what I didn't want to do and believe more than what I should do. My mother, some would argue out of necessity, was rarely around because she was constantly working to support the kiddos. Even though she didn't have the time, money, or emotional energy to give to us, she continued growing our family until we were at five kids. Looking back on it now, I believe she was surrounding herself with people to always love her. Like an insurance policy to provide some sense of security. If one child didn't love like they should, surely one of the other four would.
Since I have been married, I have had this idea that I wanted a very large family. This was pretty much a non-negotiable for me. Just recently, though, I have come to a fork in the road where I have been asking myself, "Why? Why do you feel the need to have so many children?" Just the thought of having another one after Marin is exhausting.
With work and life going and going, I can't even begin to think about how I would devote the time, love, and attention more children would need. But still, it has always been what I wanted, so I push the anxiety away for a while and think something like, "I'll figure out how to do it…no matter what" No matter what…I will have a large family AND a great career.
Only just recently have I taken an honest look at myself and my life and been open to the thought of letting things happen as they will…and possibly stopping after Marin…possibly not. The point is that for the first time, I am not tied to the notion of having many more children no matter what. I am passionate about my future in my career, and I know that I have serious doubts about managing my two lives if I have a huge family. I realize that I don't need to pad myself with kids for our family to have a lot of love to go around. I will say that growing up, it definitely was NOT an overwhelmingly loving environment, so the theory for my mother of quantity = quality was wrong if you ask me. I want to have the time, the attention span, the patience, and the love to give each of my kids. If I strive to have a successful career, be an awesome wife, AND be an amazing mother, I just don't think I have the resources to give more than Miles and Marin at this point.
One very valuable lesson stands out from my childhood now. If you choose to have a child, you better be willing to do whatever it takes to love and nurture that child every day of her life. No matter how hard it gets. I cannot do that if I continue down this career path and continue having kids every two years. Miles and Marin deserve a better mother than that.
You'd think that this decision is not that big of a deal. So what?! You changed your mind to have fewer kids, maybe. Big deal! It's bigger than that. Part of me felt like I was compromising my personal life so that I could continue to have a great career. I felt like I was giving in, finally, to what was inevitable all along. I would have to make a choice and give something up along the way. But is it really like this? I wonder if other mothers experience this at some point. Do you feel like you are compromising something in your personal life to be able to achieve what you want in your professional life? And … is this really a compromise, or is this a natural part of maturity?