Editors' note: Congratulations to Sylvan Learning Center one of our website sponsors who recently earned a Mom-Approved Award in the "Best Tutoring Service" category. Get info on all that Sylvan has to offer in today's featured profile.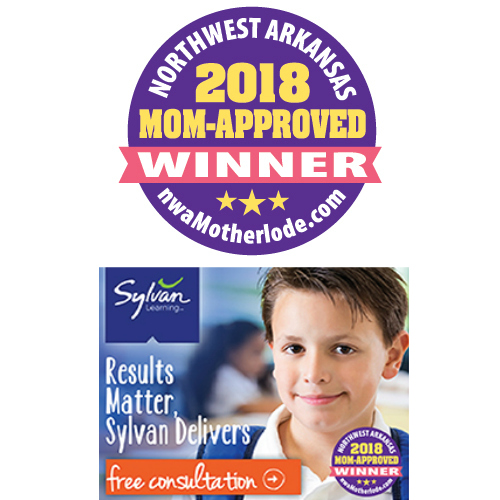 Voted as a 2018 Mom-Approved Award Winner in the
"Best Tutoring Service" category
Winner: Sylvan Learning Center of Rogers

Operating since: June 1, 2015

Location: Kingston Plaza shopping center, 4408 West Walnut, Suite 3, Rogers, AR 72756
Contact information: Call Sylvan at 479-903-7210; email at info@sylvannwa.com; or drop by the Kingston Plaza shopping center. Our Fall/Winter hours are: Monday through Friday 12:00 pm to 6:00 pm and Saturday 9:00 am to 12:00 pm.
Tell us about your STEM programs:Sylvan STEM programs are offered throughout the year. Our Coding classes introduce kids to programming skills by building projects such as comic design, animation, and even game design. Our Robotics classes teach kids to build and program sophisticated robots. It helps teach advanced problem solving and engineering skills in a fun, creative environment. We offer classes monthly as after school programs and we offer several summer day camps.

How do you assess a student's tutoring needs?

We can evaluate the grade level of a student in various subjects, using the Sylvan Insight Assessments. It gives us insight into a student you won't get anywhere else. It includes a skills assessment with a computer adaptive test that pinpoints a student's strengths and needs.
Our Sylvan Observations where we evaluate a student's abilities in oral reading, writing and basic math operations. Finally, it has a student Self-Assessment where we take into account a student's habits and attitudes toward school, measuring things like academic self-confidence, perseverance and school engagement which can affect performance.
Our assessments allow us to identify the root cause of a student's problem and allow us to build a personalized program to help fix the issue quickly and efficiently. The assessment shows us exactly what we need to teach our students so they become proficient in the skill and build their self-confidence. After the initial assessment, we meet with parents and go over their child's results, including a nationally rated scaled score and a grade level equivalency score, so that they can make an informed decision on their child's needs.
Can you share some info on the free consultation?
If you're wondering if Sylvan of Rogers is right for your family, you can come in for a free consultation. During the consultation you can:
Discuss your child's personal needs and goals with a Sylvan tutoring expert.
Explore how we make learning personal to your child.
Ask any question you want to feel 100% comfortable.
Tour the center to see why kids love coming to Sylvan
Testimonials from local moms:
My child has only been attending for about two months and we have seen some positive changes in her reading. She has gained confidence and she really enjoys coming to tutoring and all the tutors she has worked with. ~ Kimberly I.

Amazing! My son has improved his ready skills and confidence by leaps and bounds. ~ Jimmie C.