12 ¶ Therefore, as the elect of God, holy and beloved, put on tender mercies, kindness, humility, meekness, longsuffering;  Colossians 3:12 NKJV  
By Bro. John L. Cash
After a graveside service, the funeral director said something that surprised.  "Brother John," he began, "I'm going to let you in on a little trade-secret. Whenever the phone rings at the funeral home and we start planning for a service, we always take special note of the pastor who's going to be preaching it. Just wanted you to know, we're always glad when we find out that it's you. You're on 'The Easy List.'"
Well, I was intrigued by this and asked him some questions. It never occurred to me that preachers would fit on any kind of "list." I wanted to know what kind of things would make a person cross over to "The Hard List."
He told me that preachers on The Easy List fulfill the role God has given them. Since God made them pastors, they shepherd the family by comforting them and by delivering the message.  But the preachers on The Hard List try to do the jobs God has given to someone else; namely, they tell the funeral directors how to direct. I was glad to hear that I'm on The Easy List.
I did a lot of thinking about what he said. And I came to realize how many people I've met (in all professions) who are very proud to be on The Hard List. They say things like, "I told that cashier at the grocery store that I'm going to go to the manager because she bruised my lettuce," and "I told that nurse I'm not going to take a breathing treatment until after I've finished my coffee." People on The Hard List think they're being empowered and assertive; But really, the poor nurses and cashiers just go home exhausted and tell their spouses what a bad day they've had. You see, being on The Hard List is not a virtue. It's a sin.
So, let's all do our best to be on The Easy List this week. I'll bet the Lord will put us on His list, too….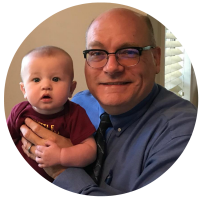 Dr. John L. Cash is the "Country Preacher Dad." He was raised in Stuttgart, Arkansas, and has spent the last 32 years being a country preacher in the piney woods five miles south of the little town of Hickory, Mississippi. He's a retired Mississippi public schoolteacher with grown sons, and is now a stay-at-home-grandpa with his grandson, Landon Cash.  He and his lovely wife, Susan, live in a brick house in town (where we've had a rainy week.) You can send him a note at brotherjohn@ilovechurchcamp.com.