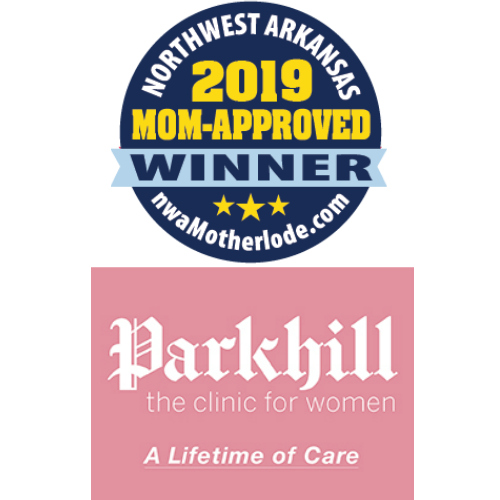 Voted as a 2019 Mom-Approved Award Winner in the "Best Women's Clinic" category

Winner: Parkhill Women's Clinic
Operating since: 1965
Locations: 
Fayetteville location: 3215 N. North Hills Blvd., Suite 3, Fayetteville, AR 72703
Bentonville location: 901 SE Plaza, Suite 1, Bentonville, AR  72712
Phone: (479) 521-4433
Hours of operation:
Fayetteville clinic: Monday through Friday from 8 a.m. to 5 p.m.
Bentonville clinic: Monday through Thursday from 8 a.m. to 5 p.m.; Friday from 8 a.m. to noon
Doctors available at Parkhill:
From left to right: (Back row) Dr. Julian Terry; Dr. David Duke; Dr. Scott Bailey; Dr. Robert Hix; Dr. Jason Hurt; Dr. James Gorman; (Front row, left to right) Dr. Lindsey Seale; Dr. Emily Hinton; Dr. Paige Partridge
All of Parkhill's physicians are Diplomates of the American Board of Obstetrics & Gynecology.
Services available at Parkhill Women's Clinic:
Parkhill is known for: Total healthcare for women for over 50 years.
What local moms are saying:
"I had such an amazing experience with all of the doctors and nurses! Thank you for helping us bring our new baby girl into the world!!" — Laura Cramer
"I absolutely adore the staff, nurses, and doctors at Parkhill. Dr. Terry delivered my Noah this past March and did a FANTASTIC job! I went into labor at 37 weeks his heart rate started dropping. It was safest for both baby and I to have a C-section to get him out as fast as possible. I delivered a perfectly healthy 8 pound baby boy. Dr. Terry took great care of Noah and I. My incision is barely noticeable and he did an excellent job! Dr. Terry also helped me get through some very serious PPD.. (post partum depression) he took my concerns very seriously, compassionately, and made sure I got the help I needed. The nurses were always very caring as well and made me feel like I was their top priority during my appointments. I will forever be a patient of Parkhill and Dr. Terry." — Katie Light
"Caring physicians, wonderful staff, and a beautiful facility." — Samantha Jo
Congrats to the staff at Parkhill Women's Clinic for being a Mom-Approved Award Winner!
Click here to visit their website.