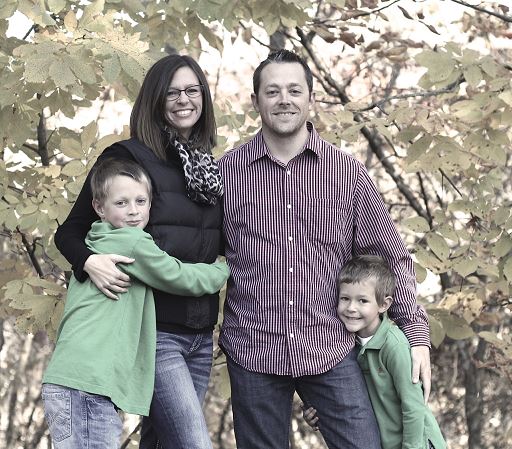 Congratulations to Tricia Griffith, winner of the Metro "Big Chill Giveaway" refrigerator.
We had to convince Tricia that she really did win! We think it will sink in when Metro delivers that beauty to her house! Tricia has been a "regular" on Motherlode for many years and we're thrilled that she won the fridge.
We asked Tricia a few questions so we could all get to know her better:
What did you think when you got the email that you'd won?

When I received the email, I honestly thought it was a joke. I have no idea why I thought you would randomly send emails out telling people they had won, but it just seemed way too good to be true!
And believe me, we could use a new fridge! I'm somewhat of a stickler when it comes to big purchases. And I'm the kind of person who believes in the saying "if it's not broke, don't fix it".  Our 14 year old refrigerator now has yellowing handles, a VERY slow water dispenser, and a broken light in the freezer. But it's still kickin' in the cold department!
 Tell us about your family:
I am a stay at home mom who is never at home. I teach Zumba one night a week and on occasion work at Imagine Art Studios or substitute for Mother's Day Out (A girls gotta have her spending money). But I LOVE being free to go to class parties, field trips, school lunches and every once in awhile, have a shopping day with friends!
I am married to Kevin, a super hot drummer/ computer nerd (is that an oxymoron?) who has worked for Walmart in the IT department since we moved to Bentonville in 2000. We have two boys. Peyton, 8, is an aspiring class clown and social butterfly. Nothing is serious, he laughs constantly, and he loves to be around people. Brandt, 4, wants to be a soccer player when he grows up, is the loudest person I know, and probably won't smile at you if you're not on his short list.
What's your fave feature of the new fridge?
My favorite feature about the new fridge may be the flip up, slide under shelves to make room for taller things. But I'm almost as excited about the SMUDGEPROOF stainless steel! Anything to keep fingerprints from showing gets an A+ from me!
 What do you expect to be transferring over from your old fridge to the new one?
I can't wait to transfer all my fresh veggies and fruit over to the new fridge! And maybe a bottle of wine and celebratory dessert for me and a few friends. Kevin says "more room for beer", and the boys are excited to fill it with cheese.
Where will you be celebrating Thanksgiving and Christmas? Will family and friends get to try out the new fridge?
Just until yesterday, we thought we were celebrating Thanksgiving at my in-laws house, but the boys insisted that we have "a feast" at our house this year. So the new fridge will be here to hold Thanksgiving dinner and share with family. We will also be here for Christmas, so Santa's milk and cookies will have a brand new place to wait!
I can't say Thank You enough to NWAMotherlode and Metro Appliances for offering such an amazing giveaway! NWAMotherlode has been a go-to website for me since it started and has always been full of great information and support for moms in NWA! I am so thankful that there were two moms out there who decided to share such an amazing website with the rest of us!
From us and the folks at Metro, you're welcome! Enjoy your new refrigerator, Tricia!!! And please send a few pics when it's delivered. We want to live vicariously through you 🙂