We love finding new ideas for dinner (and great, natural products) on the Ozark Natural Foods website.
Below is a recipe for cranberry relish that would be beautiful on a holiday table.
Cranberry Relish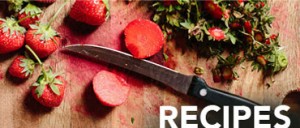 2 cups fresh cranberries
2 granny smith apples, cored
1 large orange, peeled
1-1&1/2 cups turbinado sugar
Directions: Mix all the ingredients together in a bowl, then blend together in a food processor. Use the lighter settings so it doesn't look like mush but more of a coarse blend, chill and serve. Add more or less sugar depending on your taste preferences (I prefer tart flavors over sweet so I use less sugar). You can also substitute the sugar with dates or try adding other fruits like mangoes, pomegranate seeds, or even pineapple.
Recipe from Pauline Thiessen, Produce Manager
If you'd like to see more ONF healthy cooking recipes, click here. If you're thinking about holiday gifts, they have gift cards available for purchase on the website. Click here to buy a gift card for the person who's really hard to buy for, but loves all things fresh, natural and organic! They can also use the gift cards for lattes and lunch in the cafe 🙂