Happy day-before-Valentine's Day, mamas! If you feel like busting out an extra special dessert in honor of Valentine's Day, we've got one for you. One reviewer called this dish "crazy good," and that's all it took to sell us on it. With whipped cream, hot fudge and cherries, how can you go wrong?
Ingredients:
1 pkg (15 ounces) refrigerated pie crusts
2 teaspoons flour (divided)
1 pkg (8 ounces) cream cheese, softened
1 cup confectioners' sugar
1 teaspoon almond extract
1/2 cup heavy whipping cream
2/3 cup hot fudge ice cream topping
1 can (21 ounces) cherry filling and topping
Directions:
Allow both crust pouches to stand at room temperature 15 to 20 minutes. Remove one crust from pouch; unfold. Press out fold lines.
If crust cracks, wet fingers and push edges together. Sprinkle 1 teaspoon flour over crust. Turn crust, floured side down, on ungreased cookie sheet. Using paper pattern as guide, cut crust into heart shape. Generously prick heart crust with fork.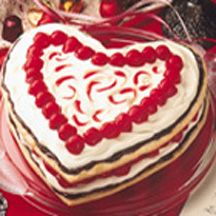 Bake in a 450 F. oven for 9 to 11 minutes or until lightly browned. Let cool. Repeat with the remaining crust.
Combine cream cheese, confectioners' sugar and almond extract in a small bowl; beat until smooth. Add whipping cream and beat until thickened.
To assemble, place one heart-shaped pie crust on serving plate; spread wtih 1/3 cup of the hot fudge. Carefully spread half of cream cheese mixture over hot fudge.
Remove 28 to 30 cherries from cherry filling; set aside. Spoon 2/3 of the cherry filling over cream cheese.
Spread second crust with remaining hot fudge and place over filling. Carefully spread with remaining cream cheese mixture. Arrange reserved cherries over cream cheese mixture in the shape of a heart about 1-inch from edge. Swirl remaining cherry filling inside of heart. Refrigerate until serving time. Store any remaining torte in refrigerator. (Click here for a printer-friendly copy of this recipe.)
Source: Cherry Marketing Institute, Inc.
For more meal inspiration, click here to check out the HUGE collection of recipes on the Harps website. You can register (for free) on the site and save all your favorites (or share one with a friend) by clicking one button. It's super easy to search for ingredients, and we love how organized the recipe collection is. While you're there, sign up to use the Harps Digital Coupon program. (No more forgetting your paper coupons at home!) Just enter your phone number at checkout and your coupons will be applied to the total. It's so easy, and it's one more reason we love shopping at Harps.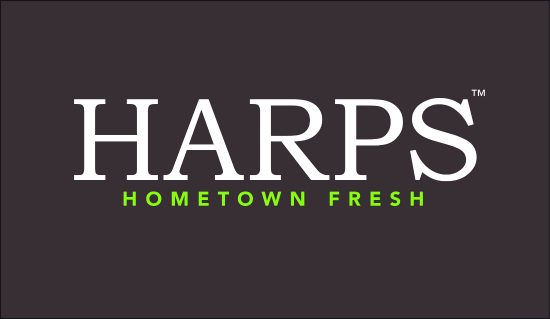 Save
Save
Save
Save
Save
Save
Save
Save
Save
Save
Save
Save
Save
Save
Save
Save
Save
Save
Save
Save
Save
Save
Save
Save
Save
Save
Save
Save
Save
Save
Save
Save
Save
Save
Save
Save
Save
Save