Some mom friends of ours recently started sharing their weekly menus as a way to help pull each other out of the dinner doldrums.
I think we can all relate to these words from Fayetteville MOM'S Club member Shannon Jones: "I am so bored and frustrated with my dinner menu and I think with the kids being home full time this summer it is even more challenging with breakfast, lunch and dinner."
Another mom said, "Ugh, this is my biggest challenge as a mom. I recently read one of those funny e-cards "Why do they want dinner every single night?" — pictured a woman with her head held down on a kitchen counter. I felt that one."
Here are a few of the recipes that were passed around among moms. Try sharing weekly menus/recipes with your own friends to help spice up family meals!
Chicken Vesuvio
4 boneless, skinless chicken breasts
salt and pepper
2 Tbsp. olive oil
1.5 pounds baby red potatoes (tiny ones), scrubbed and halved
2 garlic cloves, minced
1 tsp. minced fresh rosemary
1/2 tsp. dried oregano
1/2 C. white wine
1.5 C. low-sodium chicken broth
1 cup frozen peas, thawed
2 Tbsp. butter
2 tsp. lemon juice
1. Dry chicken with paper towels and season with salt and pepper. Heat 1 tablespoon olive oil in large skillet over med-high heat until just smoking. Cook chicken until golden, about 3 minutes per side. Transfer to plate.
2. Add remaining oil to pan and heat until shimmering. Cook potatoes, cut-side down, until golden brown, about 7 minutes. Stir in garlic, rosemary, oregano and 1/2 tsp. salt and cook until fragrant, about 30 seconds. Add wine and broth, scraping up any browned bits with wooden spoon, and bring to boil. Return browned chicken to skillet on top of potatoes. Reduce heat to med-low and simmer, covered, until chicken is cooked through and potatoes are tender, about 12 minutes. Using slotted spoon, transfer chicken and potatoes to serving platter; tent with foil.
3. Increase heat to med-high and cook, uncovered, until sauce is reduced to 1 cup, about 5 minutes, Stir in peas and cook until heated through, about 1 minute. Off heat, whisk in butter and lemon juice and season with salt and pepper. Pour sauce over chicken and potatoes. Serve.
Pork Chops with Mustard Sauce

From Fine Cooking magazine.
8 1/2 inch-thick boneless pork chopskosher salt and freshly ground black pepper
3 T all-purpose flour
1 T unsalted butter
1 T EVOO1/2 cup dry white wine
3/4 cup heavy cream
/2 cup lower-sodium chicken broth
1/4 cup stoneground mustard
Season the chops with salt and pepper and dredge in flour; shake off excess. Put butter and oil in 12-inch skillet over medium heat.
When hot, add 4 of the chops and cook, turning once, until golden on both sides and just cooked through — about 6 minutes total.
Transfer the pork to a serving platter and tent with foil. Repeat with remaining chops, adding another T of oil to the pan if necessary.
Pour off any fat in the pan, add the wine, and scrape up the browned bits from the bottom of the pan with a wooden spoon. Increase the heat to medium high and boil until the wine is reduced to about 2 T, about 2-3 minutes. Stir in the cream, chicken broth, and mustard and boil until reduced to a saucy consistency, about 5 minutes.
Season to taste with salt and pepper.Return the pork and any juices (mmm) to the pan, turn to coat with the sauce, and then transfer back to the serving platter.
Drizzle any sauce remaining in the skillet over the cops and serve. It's great with a rice pilaf or couscous to soak up the extra sauce, which is really, really good.
Crispy ranch chicken
3/4 c. Crushed corn flakes
3/4 c. Grated Parmesan cheese
1 envelope ranch dressing
8 boneless/skinless chicken breasts
1/2 c. Butter or Chobani Greek yogurt
Combine corn flakes, cheese, and dressing. Dip chicken in yogurt (or butter) and roll in corn flake mixture. Bake uncovered 350 for 45 minutes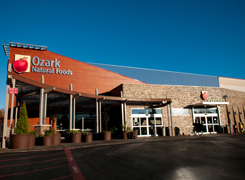 Ozark Natural Foods is a locally owned consumer cooperative dedicated to participatory democracy. Its mission is to provide owners and the Northwest Arkansas community with natural and organic products that encourage healthful living and a sustainable planet. Click here to become an owner, which has all kinds of special benefits!