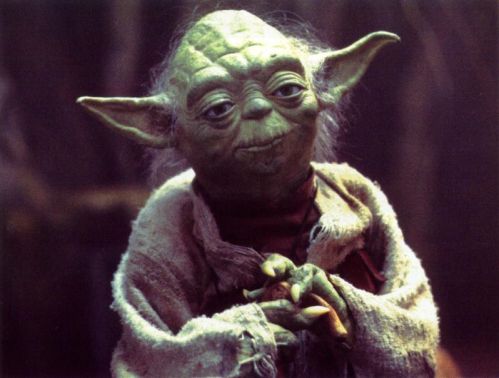 "Do or do not… there is no try."  — Yoda
By Laurie Marshall

There's been a lot of "try" going on at my house this year, without a lot of success.
I have been "trying" to lose weight and get in better shape. This was going pretty well up until about two months ago when, for no reason I can put my finger on, I quit going to the gym and let some of my new eating rules slide.
My husband has been "trying" to get his boxes of keepsakes and stuff organized and off the floor of our bedroom. This may not sound like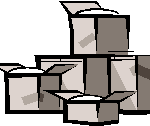 something that should take up a lot of time, but believe me when I say this project has been dragging on for moooooonnthhs…
I have "tried" to make meal plans each week. I think I did it twice. That means I didn't do it 50 times.
I have "tried" to be a better doggie mom. I did get our guy in to the vet more regularly and provided him with fun and frolic at a doggie daycare when we were out of town, but daily walks and a fenced in play yard still haven't happened. This has been very difficult because I'm the only person in my household who has this on their priority list. Can I get an "AMEN!!" on things that mom thinks are important that are not important to anyone else???
I have "tried" to find more time to write. This is just laughable.
My daughter has "tried" to get her one unfinished final exam done to get her high school diploma. I frequently suspect her idea of trying and mine are solar systems apart.
Obviously, I need to be more like Yoda. There is no room in my busy life for making a lot of lists and hoping and wishing and being determined… I just have to make things happen that need to happen. I do it with the daily living stuff – laundry, meals, picking up the constant messes in our living spaces, replacing the toilet paper (why does no one else in my house think this needs be done???) – but the "extras" tend to be pushed off the page in my head when I just have too much clutter taking up space in my life.
The irony is that if I de-clutter my life, there will be more space for the extras like working out and planning meals… but as you can all probably understand, it's that life de-cluttering that is the most difficult kind. Cleaning out that junk drawer in the kitchen has nothing on cleaning out the junk drawer in my head and my daily schedule.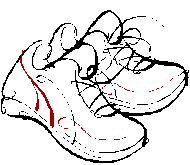 2011 starts tomorrow. Like every January 1st that has ever come around, the day is nothing special by itself. But it carries with it a brand new date designation that makes it perfect for Making Big Changes. I've already rejoined the online version of Weight Watchers, and will be creating a spreadsheet on my iPad to help me plan meals. I will also sign up for a Zumba class and work out at least two more times each week, and I will take our dog for a walk/run every evening before he goes in his crate and I go in my jammies.
I hope you are all making lists that inspire and challenge you but that are truly DO-able. Aside from the big hairy ears and green wrinkly skin – I am planning to will be more like Yoda in 2011!

Look for Laurie's fitness tips and updates on her personal health-focused journey every other Friday on nwaMotherlode in Mom Blogs. Send questions or input to her at mamas@nwaMotherlode.com. Or click on the comment button below and share your thoughts right now! To read previous installments of Getting Healthy for Good, click HERE.