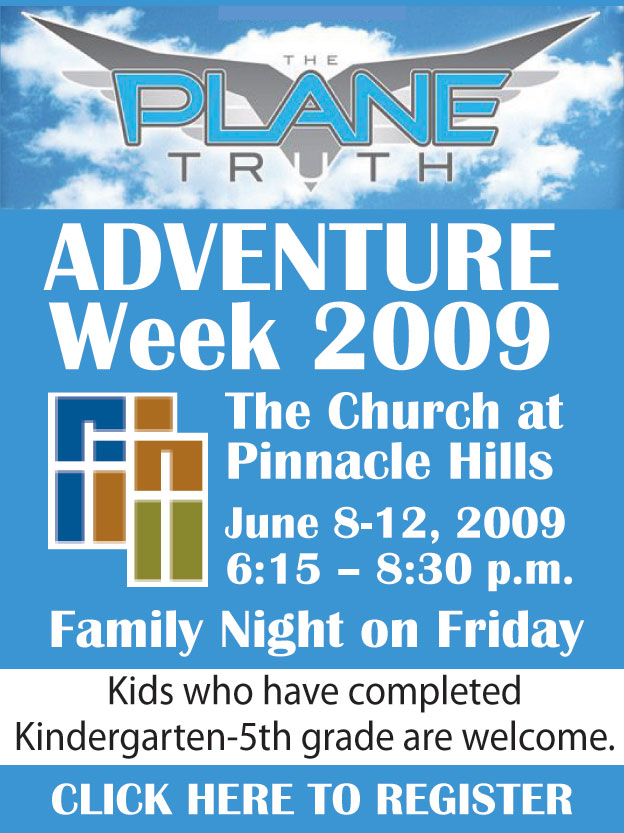 Now that school is out for the summer, lots of us are looking for fun things for the kids to do. We have good news. "Adventure Week" at The Church at Pinnacle Hills begins next Monday, June 8th and runs through Friday, June 12th. Cost is only $10 per child, and no child will be turned away for lack of funds, as some scholarships are available. And "yes," you still have time to register, but do it now!
The theme for this year's Adventure Week is "The Plane Truth," and the week will be based around an airplane/flying theme that ties all the lessons and activities together. This annual event is popular with area kids, drawing in about 450 kids last summer and even more expected at this year's event. You do not have to be a member of The Church at Pinnacle Hills to attend this community event.
"This is all about having fun while learning about God's Word," said Jamie Lantzsch, director of children's ministries for The Church at Pinnacle Hills. "We want everyone to be a part of this. The whole church comes together to make this a really great event for kids."
Those who have completed kindergarten are welcome to come as well as grades 1-5. Each evening event begins at 6:15 p.m. and ends at 8:30 p.m. The event times are designed to make it easier for moms and dads who can't leave work during the day to bring their kids to participate.
During Adventure Week, kids will begin each session with an opening ceremony and then rotate through various centers including outdoor water games, a snack session, Bible study, a fun experiment and finally a closing ceremony where kids can participate in "dirty, messy games" (Nickelodeon-style) on the church stage. If you're concerned that the big group might be intimidating for your little one, don't worry because kids will be divided into smaller groups according to age. I've heard wonderful things from friends about how this event is conducted.
The week's grand finale on Friday is "Family Night" when parents and younger or older siblings are also welcome to attend. Family Night will include games, giant inflatables and free food!
The Church at Pinnacle Hills is located just off Interstate 540 (exit 83) in Rogers. (It's the one with the three huge white crosses and the beautiful reflecting pool. You can't miss it.) To register for the event, just click here or on the graphic above to go to the church website and register online. Or send an e-mail to Lyndi at lyndie@churchph.com or call her at 479-271-7799 for more information. Now… go have an adventure!