Northwest Arkansas Calendar of Events for March 2023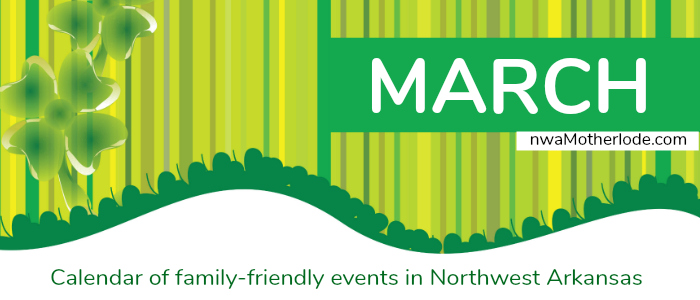 We can't believe it's already March 2023! We're ready for it, though. As always, here's our monthly curated list of some of the best family-friendly things to do in Northwest Arkansas. (Don't forget to wear green on Saint Patrick's Day, March 17!)
If you're looking for things to do over Spring Break (including camps!) pop over to our big list. 
Click on the name of any event below for more information:
In celebration of the upcoming Best Friends Pet Resource Center grand opening on March 11-12, Best Friends Animal Society will pop-up throughout Northwest Arkansas with prize giveaways, local vendors, Best Friends swag, entertainment for pets and people, and much more. The Best Friends on Wheels tour is free and open to the public. Each stop will offer a glimpse of what the community can expect at the new Pet Resource Center with activities and entertainment for the whole family, including furry friends.
The tour will have stops in the parking lots of the following locations:
Thursday, March 2 | 3 – 6 p.m.




J.B. Hunt | 615 J.B. Hunt Corporate Drive Lowell

Saturday, March 4 | 12 – 3 p.m.




Wilson Park | 675 N Park Ave, Fayetteville

Monday, March 6 | 4:30 – 6:30 p.m.




Bentonville Brewing Company | 901 SW 14th St, Bentonville

Thursday, March 9 | 3 – 6 p.m. General Mills | 5001 Founders Dr, Rogers
Arts Live meets Shakespeare in this original and modern adaptation of this comedy. 
Date: March 2-5
Location: Arts Live Theatre, Fayetteville
This event is a fun, non-stop weekend filled with screenings, networking, food, music and entertainment. The festival lets filmmakers compete against their peers in categories based on experience and budget. 
Date: March 3-5
Location: Arkansas Public Theater/Victory Theater, Rogers
Hobbs State Park-Conservation Area will host "Friends of Hobbs Speaker Series: Tick Smart: Staying Safe in Tick Country" at the visitor center. Dr. Sonya Graves-Zawada, professor of biology at Northwest Arkansas Community College in Bentonville, will help visitors separate tick fact from fiction and learn best practices to safely enjoy the outdoors. Although many tickborne illnesses are endemic to Arkansas, that doesn't have to spoil time spent outdoors. Visitors will learn about the time of day that ticks are most active, what smell they strongly dislike and clothing colors that are less attractive to them. Other fun facts involve whether ticks fly, if they rely on sight to find prey and if they will survive a trip through the laundry. The program is free to the public. It is recommended for ages 12 and above. For more information, call the park visitor center at 479-789-5000.
 Date: Sunday, March 5
Time: 2-3 p.m.
Location: Hobbs State Park
On the eve of her performance at a community festival, Indigo Blume falls asleep, nervous and unsure of herself. She wakes up in a dream world with the characters of her favorite book, Acoustic Rooster and his Barnyard Band. Dairy Parton and Chickee Minaj are rehearsing, and they invite Indigo to join the group! When a storm destroys their barn, can Indigo help the band save their home? And will she find her voice in time for the festival? Two beloved children's books by Kwame Alexander come to life on stage! This show is great for kids who are 5 and up. Tickets are only $10.
Date: Sunday, March 5
Time: 4 p.m.
Location: Walton Arts Center
All experience levels are welcome for a fun day of free access to The Quiver Archery Range. You'll get instruction and safety guidelines from certified staff before you begin. Pre-registration is required for this free event.
Date: March 5
Time: 11 a.m. to 5 p.m.
Location: the Quiver Archery Range, 1701 SW F St., Bentonville
Crystal Bridges is filling the museum grounds with superhero-themed games, outdoor activities, art projects, and more inspired by this year's book, Marion Jensen's acclaimed middle-grade novel Almost Super. Featuring activities from Bentonville Schools, Bentonville Public Library, the Amazeum, the Museum of Native American History, and Trike Theatre, there's plenty to do and enjoy whether you're a hero, villain, or book lover in-between. Free, no tickets required. Drop by anytime.
Date: March 5
Time: Noon to 4 p.m.
Location: Crystal Bridges Museum
Walton Arts Center and Fayetteville Film Festival are collaborating to present an evening of films from Arkansas filmmakers and artists at 8 pm on Saturday, March 11. The Arkansas Filmmaker's Showcase features seven short films from the growing movie industry here in Arkansas. Movies can make us laugh, cry, cheer and they can inspire us to create, especially when those stories come from our neighbors and fellow Arkansans. From all across the state, local directors are using film to spark conversation about life, from dating and family relationships to growing older and honoring memories. Visit this blog post to read more about what inspired the directors. 
Tickets are only $15. 
Date: Saturday, March 11
Time: 8 p.m.
Location: Walton Arts Center
Are you looking for a fun and educational activity for your preschooler? Join the Rogers Historical Museum and Rogers Public Library for Museum and Me, an hour-long, free program at the Rogers Historical Museum for children ages 3-5 that helps foster interest in history, reading and museums. Each month features a themed story and fun activities that preschoolers are sure to love. There are only 20 spots available each month so be sure and signup today at rogershistoricalmuseum.org/museum-and-me. Sign up is only required for children, but parents/guardians are asked to stay with their children during the program.
March 14: Farm Animals

April 11: Water in Northwest Arkansas

May 9: Apples
Time: 9 a.m. (for each program)
Location: Rogers Historical Museum
Tour Crystal Bridges' permanent collection where local florists will display floral arrangements inspired by magnificent works of art. A part of the museum's Spring Break Specials, the weekend will feature live music, artmaking in the studios, rare book displays, and family activities uniting the power of art and the beauty of nature.
Dates: March 24-27
Times: Museum hours
Location: Crystal Bridges Museum
Deep in an Indian jungle skulks the tiger Shere Khan. Mowgli, a human girl, must learn the language of the jungle to face this fierce hunter down. An original adaptation of this well-known story, The Jungle Book mixes theatrical storytelling with classical Indian dance. A collaboration of Trike Theatre, Ra-Ve Cultural Foundation and Megha Rao of Dhirana Academy of Classical Dance, this performance features NWA youth actors and dancers amid professional adult actors. Witness the strength of the jungle in The Jungle Book.
Date: March 25
Time: 4 p.m.
Location: Walton Arts Center