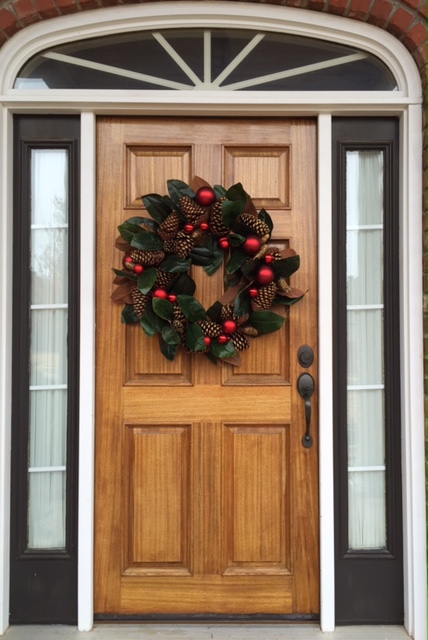 By Shannon Magsam, Ladybug's mama
What is it about my new front porch?
While looking for houses over the summer, I went to a house with a beautiful front porch. I didn't realize how much I wanted a big front porch until that moment.
I wanted that house. I was in love.
It was a little out of our price range, but we were considering an offer.
Later that day, while I was at Lowe's for the five hundredth time to buy a gadget to repair or prettify something at my old house, the realtor texted me and said someone had made a good offer on the house and it was basically off the market.
I thought of the front porch and all the pretty windows. My love was gone, snapped up by another woman. She would rock on "my" porch and gaze out "my" windows.
I pouted for a while, then my mama told me there was something even better waiting. And I heard God's voice, too, saying the same thing. I was at peace.
But, just like someone who has loved and lost again, I didn't quite give my heart to another house again over the next few weeks. And I looked a LOT. I was a woman on a mission to find "the one".
And even while I was looking at the other fish in the sea/houses on the Northwest Arkansas market, there was this one house …. I called it "the fantasy house". I thought it was probably out of our price range. But that front porch? WOW. The fantasy house even had a room just inside the beautiful front door that we could make a "reading room" (a library sounds too stuffy for us).
I would drive by the house and stare at that front porch, imagining big black rockers and red poinsettias flowing down the front steps.
After running the numbers, my husband and I decided making an offer on the house was doable. Eeeeeekkkk. But we couldn't exceed a certain figure. We didn't lowball them, but we offered what we could afford. They came back with a figure slightly above, but still within doable.
Are you serious?
That front porch was MINE now?
And I laughed, because I realized God had once again exceeded my expectations. That other front porch was just validation that I wanted a front porch. And then God brought this one to me. It turned out that our new house went on the market the same day our old house did.
The people who lived here before us are fabulous. When our buyer's financing fell through, the wife broke realtor protocol and called me. She knew how much I loved the house and even after I acknowledged to her "You have to do what you have to do", she told me: We can wait.
They did indeed wait and happily, our buyer's financing went to another broker and the sale was saved.
The day we closed, we finally met our sellers. I hugged the wife tightly and she gave me a stack of pretty magazines and a hand-written note welcoming me to the new house.  We have since met up a few times to pass along mail and have plans for a little Christmas get-together.
One of my new neighbors, Whitney, told me the house has a history of nice people living inside. I told her we would try to live up to those standards. 🙂
Whitney's comment reminded me that at the beginning of house hunting I prayed our house would go to a good person who would be a good neighbor to all my friends on the street – and that our new house would be a place for gathering old friends – and all the new.
My old house was smallish and I always used that as an excuse not to invite people over, lest we run out of room. In the new house, I told God, I would invite friends over and enjoy.
I feel like that's why I have a new front porch. To share with friends.
Front porch friends.
And can you believe it's nice enough to front-porch sit the second week in December?
Come on over, y'all!
Shannon Magsam is co-founder of nwaMotherlode.com, nwaMomProm.com, and the proud mama of a 13-year-old lady(bug). She's married to John, a fellow writer and entrepreneur.