We all have a few tricks up our sleeve for those days when the kids are bouncing off the walls and it's a zillion degrees outside and too hot to play. One of my best tricks involves a few hours at Jumpzone in Bentonville — a place that offers kids a potpourri of huge inflatables for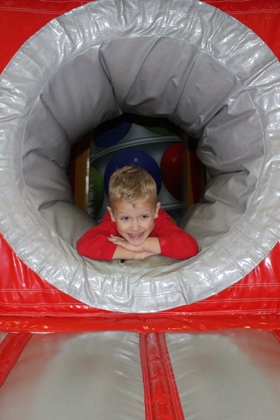 sliding and jumping. Jumpzone was recently voted "Best Birthday Place" in Benton County in the Mom's Choice Awards.
(Pictured here are a few of my favorite snapshots taken of my kids at Jumpzone. We've logged a lot of jumping hours there over the years.)
Most of us have been to birthday parties at Jumpzone, and those are always fun, but don't forget that there are plenty of "open play" times when you can go and let your kids burn off some energy, get some exercise and not get sunburned or overheated in the process. Jumpzone is air-conditioned (and they have free wi-fi for parents — yay!) so the kids can be active and rambunctious without tearing your house apart.
It's also a great place to meet up with friends for an indoor playdate. My kids always love the giant pirate ship slide and my youngest likes the Nemo inflatable a lot, too.
It really pays to know which specials are being offered at Jumpzone because you'll save money on your visit. For example:
Fridays are "Friends Fridays" and each paying child can get 1 friend into Jumpzone for FREE. (Woo-hoooo! Love this idea.)
Saturdays are "Silly Socks Saturdays" and you'll get $2 off the cost of admission if your kids wear a silly mixed matched pair of socks. (Remember that you must have socks to play at Jumpzone so leave a few pair in the car  in case your kids wear sandals and forget.)
Sundays are "Savings Sundays" which means that ALL open play admissions only cost $5 each.
T-shirt discount: If you wear a Jumpzone t-shirt (they cost $10) then you'll get $2 off the admission price every time you come, so it'll pay for itself quickly!
Regular Jumpzone admission price for Open Play times is $8.50 each for kids age 6 and up. (Parents are always free.) But if you buy one of the 6-Visit Pass, the cost is $40, which offers some savings.
If your kids are ages 2 to 5, open play admission is $6.50 per child. (Kids under the age of 2 are free with one paid admission.)
And here's one thing we LOVE about Jumpzone. It's owned and operated by a bonafide mama. And we like some of the special features and rules she has in place, like this:

Special Needs Night: On the first Wednesday of every month, children with special needs and their families can come play at Jumpzone from 5 to 7 p.m. for FREE. (The next session is scheduled for July 3rd.)

Separate times for little ones: We all know how nerve-wracking it is when your toddler is in the same bouncy house with BIG kids. It's easy for them to get hurt. So Jumpzone has a special Toddler Open Play time — only for kids ages 2 to 5 — every Wednesday morning from 9:30 a.m. to 12:30 p.m. You won't have to worry about your 3-year-old getting mowed down by a 10-year-old.

Rules: To protect younger kids in the inflatables, Jumpzone also has a rule that states that kids who are over the age of 13 can slide at Jumpzone but aren't allowed to jump because of the weight and size differences between them and younger kids. This rule will help keep all the kids safer while they play.
Here's a list of times when you and the kids can head over to Jumpzone — no birthday party invitation required — and enjoy some summer fun while staying cool. Click HERE to see the latest calendar of events and play times on the Jumpzone website.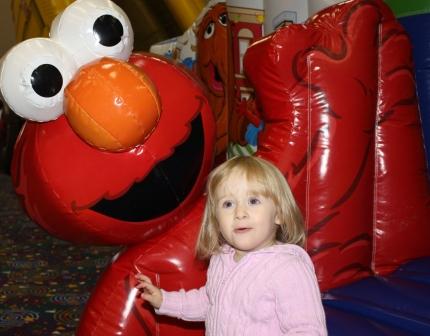 Sundays: Open Play from 3 to 7 p.m. (Rate is only $5.)
Mondays and Tuesdays: CLOSED
Wednesdays: Toddler Open Play from 9:30 a.m. to 12:30 p.m.
Thursdays: 9:30 a.m. to 12:30 p.m. and 5 to 8 p.m.
Fridays: 9:30 a.m. to 12:30 p.m. and 5 to 9 p.m.
Saturdays: 5 to 9 p.m.
For more info, call Jumpzone at 479-202-4476. They're located at 805 SE 22nd St. in Bentonville.