Hey, mamas! Just wanted to let you know about the open play times at Jump Zone this month. I think everybody on the planet has probably been to at least one birthday party at Jump Zone, but keep in mind that they do have open play times as well, which are great for those days when you need to help the kids burn off some serious energy in an air-conditioned, safe play area. (And you won't have to mess with coins, tokens or reloading cards.)
As a bonus, it's a Wi-fi spot so Mom can check her e-mail or read nwaMotherlode.com while the kids bounce around. Love it!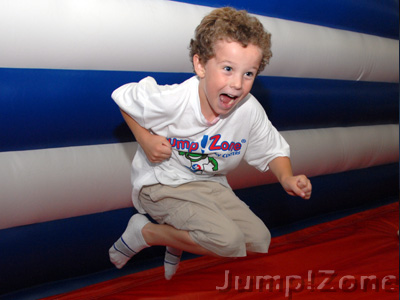 Tuesdays and Thursdays: 10 a.m. to 1 p.m.; and 5 p.m. to 8 p.m.
Wednesdays: 10 a.m. to 1 p.m.
Fridays: 10 a.m. to 1 p.m.; and 5 p.m. to 9 p.m.
Saturdays: (Reserved parties only)
Sundays: 4 p.m. to 8 p.m.
Mondays: closed for cleaning!
Cost: For kids age 2 to 5, the cost for open play is $5. (Parents are always free.) For kids over age 5, the cost is $7 for open play. Kids under age 2 are free with one paid admission.
Questions? Call 479-202-4476 or visit them online by clicking here! Jump Zone is located at 805 SE 22nd Street in Bentonville.