Good Thursday morning, mamas. We'd love for you to tune in to the Magic in the Morning radio show today around 8 a.m. and join in our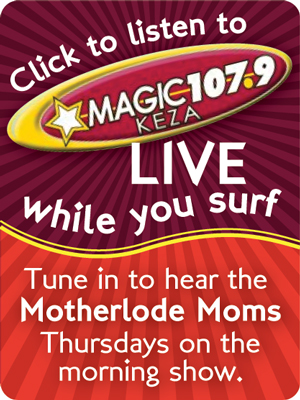 conversation about Halloween.
Call in and tell us about your kids' costumes this year or one of your favorites as a child. Click here or on the graphic on the right to listen to Magic 107.9 live on your computer. 
Today we'll be talking about the most popular pop culture-inspired costumes for 2010 (along with feedback from managers at some local Halloween costume stores about what's flying off the shelves there), favorite trick-or-treat candy, some last-minute "no sew" costume options and MUCH more!
Click here to see the gobs of good "no sew" ideas from Parenting.
Click here to see s list of local dentists who are involved in Operation Buy Back, a program where dentists will pay $1 per pound of candy (all those leftover Halloween goodies!) and then ship the candy to troops overseas.
Click here to read a list of Halloween events going on around NWA this weekend.
Click here for tips on helping pets handle Halloween.
We'd love to hear your thoughts on any and all of this, so call in to the station. It's so much fun to talk to listeners on air and we'd love to hear from a few of our nwaMotherlode "regulars".

We leave you with some adorable pictures from local mom, Paula Wicklund. She generally makes her kids' costumes every year, often going all out and producing some awesome props to go along with. Aren't they cute?