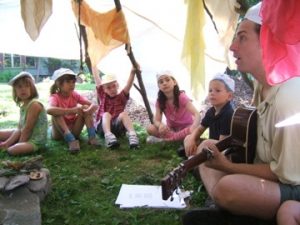 The Fayetteville Public Library will welcome Joe Crookston for three days of songwriting workshops for kids, teens, and adults, as well as a special Friday, July 11th concert.
Crookston is an artist, writer, singer, guitar picker, painter, claw hammer banjo player, eco-village member and believer in all things possible.
Crookston will be at the library for three days teaching a variety of songwriting workshops and performing for various age groups.
He is no stranger to teaching. He received a year-long songwriting grant from the Rockefeller Foundation to travel throughout New York State, collect stories, and write original songs.
Joe Crookston Musical Performances:
♦ Joe Crookston Kids' Concert
Wed, July 9 at 1pm & 2pm
♦ Joe Crookston Family Concert (Preschoolers)
Thurs, July 10 at 10:30am
♦ Joe Crookston Live In Concert at FPL
Friday, July 11 at 7pm
Songwriting Workshops with Joe Crookston:
♦ Creativity and the Song Inside of You – Kids Songwriting (Completed 3rd-5th)
Wed & Thurs, July 9 &10 at 4:30pm
Online registration begins June 18.
♦ Teen Songwriting Workshop with Joe Crookston
Thur, July 10 at 1pm
Online registration begins June 19.
♦ Joe Crookston Workshops' Concert
Thurs, July 10 at 6:30pm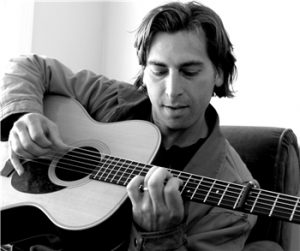 Crookston performed during the 2013 Fayetteville Roots Festival, where FPL Executive Director David Johnson met Crookston as they helped kick off the festival on KUAF.
"After hearing and visiting with Joe, I knew we had to invite him back to Fayetteville and to the library," Johnson said.

Crookston's style of teaching was what moved Johnson and his staff to contact him for their very popular Summer Reading programming. "He has a unique way of helping others find their creativity."
As for his own music, his CD, "Able Baker Charlie & Dog" received the most airplay of any folk acoustic recording and was awarded: "Album of the Year" by the International Folk Alliance in Memphis, TN.
His performances pull audiences by the magic and musical world he creates and draws the crowd into the moment. His story songs are universal, masterful and his concerts are a grand celebration of all of us.
Click here to visit the Fayetteville Public Library website and see what else is happening this summer!