The King and I is coming to Walton Arts Center Oct. 3-8 and we can't wait to see this beautiful, epic show.
In anticipation of the musical, we got to interview Joan Almedilla, who plays "Lady Thiang".  She's so much fun, but we have to tell on her a little bit. When we called Joan at the designated time for our telephone interview she didn't pick up. We left a message.
She called back, breathlessly, about 10 minutes later, full of apologies. She said she'd been making a snack for her son and didn't hear the phone ring.
We laughed and told her, "Who could better understand this than fellow moms who run a website for mothers? No problem at all! We've been there!"
Joan was easy to talk to and we hit it off immediately. We couldn't wait to ask her about working with her son on stage for the first time.
Joan said that after becoming a mom eight years ago (and after more than 16 years after being discovered at the Apollo and having an amazing stage career) she stuck close to home in L.A. singing and acting in local or regional shows.
When she got the role of Lady Thiang, she was a little concerned about traveling away from her son. But then she found out he'd been cast as one of the royal twins in the show. Now she's back on the touring circuit, but this time her son is traveling with her and — how cool is this? — they share the stage together. They're one of two mother-son duos in the show, in fact.
CJ is one of 9 children in The King and I and he loves his fellow young castmates, Joan said, especially his "twin" whose mom is in the ensemble. Aren't they the cutest: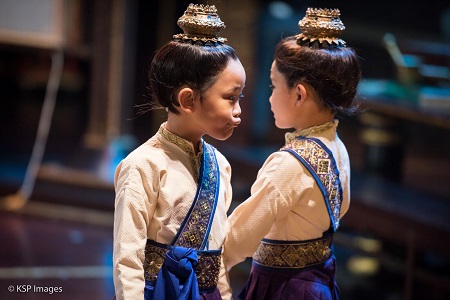 The boys and the other kids in the show have a tutor who travels around with them.
They also have a "child wrangler" who helps make sure they don't miss their cues during shows. Yes, Joan said, that's the official job name – and it's indeed very descriptive.
The King and I cast has been traveling together since Halloween of last year. Joan said they take breaks for about two weeks or so, then it's time to take the show on the road again.

In case you haven't seen it before, The King and I is set in 1860's Bangkok and the musical tells the story of the unconventional and tempestuous relationship that develops between the King of Siam and Anna Leonowens, a British schoolteacher whom the modernist King, in an imperialistic world, brings to Siam to teach his many wives and children. Winner of the 2015 Tony Award® for Best Musical Revival.
Joan said her character, Lady Thiang, is the King's first wife and ruler of the roost. Joan said even though her character is short on smiles and words, her strong presence is felt throughout the palace. Joan said in real life she's very chatty, smiles often and is quick to give hugs, so she's had to curb her normal personality for the role.
"Lady Thiang is very purposeful in everything she does," Joan said.
Her son, CJ, loves his role as one of the royal twins. Joan said she's always so proud of CJ when he's on stage and she's grateful they have the opportunity to work together.
Joan has homeschooled CJ since he was 4 and traveling for The King and I has been the ultimate field trip. They always explore when they visit a new city.
Joan asked about good places to take the kids and where she could find some good restaurants in Northwest Arkansas. We told her she wouldn't have any trouble finding fun things to do with CJ and friends — and that she'll also find plenty of delicious food here.
Click here for The King and I show times, ticket details and sneak peek videos.
Joan's credits include: Broadway and National Tours: Miss Saigon (Kim), Les Miserables (Fantine), Jesus Christ Superstar (Soul Girl, Mary u/s) Regional Credits: The King and I (Lady Thiang) at the Muny, Chess (Svetlana) at North Carolina Theater. At East West Players: Road To Saigon, Krunk Fu Battle Battle (Jean Lee), TEA, with Music (Himiko Hamilton), Chess (Florence), Criers For Hire (Baby), Mama Bares: Once Upon A Play date. At Rubicon Theater: It's Only Life (Joan), Songs For A New World (Woman 1) Joan played Imelda Marcos in Here Lies Love with David Byrne at Carnegie Hall.
She has also performed at Walt Disney Concert Hall with the California Philharmonic. She was discovered by a Broadway Executive producer while she performed on Showtime at The Apollo. She had the pleasure of narrating Sergei Prokofiev's Peter And The Wolf with the Filipino-American Symphony Orchestra. She's a proud member of Actors Equity Association and all-female group, Mama Bares.
CJ's credits: This is his first National Broadway Tour. He has been performing almost half of his life. He holds a black sash in Wing Chun Kung Fu. When not performing he is interested in filmmaking, stop motion animation, golf and robots. Credits include: Untitled MTV Pilot (Little Tony), Tosh.0 (Little Orphan), SXSW 2014 Industrial (Christian LaBlanc), Virginia529 (Little Monster).
We look forward to the show, Joan and CJ! Thanks so much for the interview and we'll see you the first week of October!