Now that the temperatures have finally thawed a little, it's a good time to take the kids to the outdoor skating rink at the Pinnacle Hills Promenade Mall and finish off the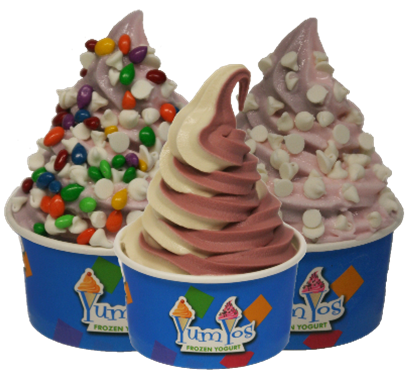 outing with a fun trip to Yum Yo's. It's a great way to have dessert without having it show up on your thighs or overload the kids with sugar.
And we LOVE the idea of using Yum Yo's gift cards as stocking stuffers, teacher's gifts and gifts for your kids' friends. Right now they're offering a special on gift cards. If you buy 4 gift cards, you get a fifth one of equal value for FREE. *Yum-Yo's has extended this deal through the end of the year!
There are lots of new flavors at Yum Yo's which means it's virtually impossible not to find something you love. Here's a run-down of the current flavors: (There are 21 of them!)
Egg Nog
Pecan Praline
Nutty Sweet Egg Nog
No Sugar Added Vanilla
Apple Cobbler
Apple Cobbler A-La-Mode
Mango Sorbet
Cheesecake
Mango Cheesecake
Peppermint Candy Cane
No Sugar Added Chocolate
Chocolate Peppermint
Pumpkin Pie
White Chocolate Mousse
Pumpkin Mousse
Strawberry Banana
Orange Sorbet
Frozen Fruit Salad
Cookies & Cream
Birthday Cake
Cookies & Cream Cake
For those of us trying not to gain the "Holiday 15" pounds, remember that you control the portion size at Yum Yo's as well as the toppings. The yogurt does NOT come from a powder and it contains TEN times the levels required by the National Yogurt Association for live and active cultures. Yogurt also contains probiotics, helps with digestion and is a great source of calcium.
Click HERE to see the Yum Yo's website for more info about the yogurt and locations or click HERE to see the latest news from them on Facebook.
OH! AND DON'T FORGET: Tonight, Tuesday December 17th, is the last chance to take your kids to the Pajama Party with Santa at the Pinnacle Hills Promenade Mall. It starts at 6 p.m. in the Santa photo area. Click HERE for the details.